"In this series I'll share which B.C. wine pairs best with select recipes from the best chefs in B.C." 
Roast Eggplant with lamb & pine nuts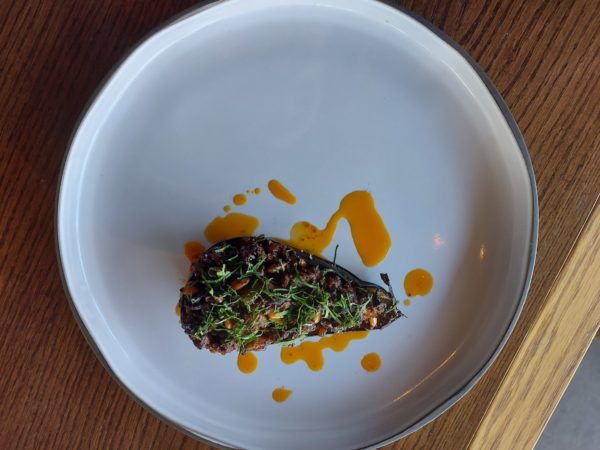 3 large eggplants
300 g ground lamb
1 medium onion diced small
2 tsp ground cinnamon
1 tsp cumin
1 tsp paprika
1/4 cup pine nuts
2 tsp tomato paste
juice of 1 lemon
1/4 cup chopped parsley
Nice extra virgin olive oil
kosher salt
fresh cracked black pepper
Preheat the oven to 425ºF
Cut the eggplants in half from top to bottom and place in a baking pan cut side up drizzle with olive oil and season with salt and pepper place on the top rack of the oven and bake for about 20 minutes until nicely browned
In a large sauté pan, heat a tablespoon of olive oil,
add the onions and spices and cook until onions are tender
add the lamb and cook until no pink remains
add the tomato sauce and lemon juice and mix well
season
divide the lamb between the roasted eggplant in a large baking pan
add a half cup of water and bake in the oven for about 45 minutes to an hour, basting it with the juices a couple times while baking.
place on a platter, drizzle with pan juices and sprinkle with the parsley
Chef Van Geest recommends:
Oldfield Reserve Syrah

TASTING NOTES: Lively nose of fresh figs, plums and clove upfront. Layers of coffee cake and pear tart come through next, showing the richness of the wine. The palate is so and textured with more plum jam and stone fruit, with bright red fruit coming through in a fresh lifted style. The wine has good power, but in an incredibly drinkable style that finishes with textbook Okanagan Syrah savoriness, olive tapenade and dried, cured Bresaola.
Use this link to see more wine suggestions as featured in #FavouriteThings Holiday Gift Suggestions
Jeff Van Geest, Executive Chef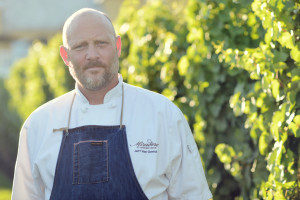 With Tinhorn Creek's reputation as a sustainable winery, it should come as no surprise that the executive chef of Miradoro Restaurant is all about local food. Chef Jeff Van Geest is one of British Columbia's most celebrated chefs, focusing on locally procured foods from sustainable producer partners.
Jeff was born in St. Catharines, the heart of the Niagara region. His grandparents were farmers and taught him to respect what farm-fresh meant – which might explain Jeff's desire to have a small garden on site at Miradoro, even if he doesn't have time to tend it every day.
With his culinary training at the Vancouver Community College, Jeff landed an apprenticeship at Bishop's restaurant in Vancouver – one of the earliest pioneers in sustainable cuisine. He worked his way through the ranks to Sous Chef before leaving to start his own restaurant: the Aurora Bistro. Highlighting field-to-table and honouring the farmer/chef relationship earned Jeff a reputation in the restaurant industry as someone who walked (or cooked) the talk.
After closing Aurora, Jeff accepted a position of Executive Sous Chef at Diva at the Met – another name on the who's who list of British Columbia restaurants. Yet at every move in the culinary chain, thoughts of Jeff's grandparent farmers stayed on his mind and the allure of rural living grew stronger. When Miradoro called in 2010, Jeff answered by moving his family to the Okanagan and the heart of British Columbia's agricultural country.
You can just as easily catch Jeff at Miradoro's kitchen door buying produce from a local forager, as you will find him talking to a group of 50 as they sit down for a communal table dinner. Look for him: Jeff's the really tall guy with his thumbs hooked behind the bib of his apron and wearing a big smile on his face.
Chef Jeff Instagram @chefjeffvg1
About Miradoro
Miradoro Restaurant is a partnership between Tinhorn Creek and BC culinary legend Manuel Ferreira.
Panoramic views of the valley below; clean lines, and a comfortable atmosphere. Locally sourced ingredients prepared by an award-winning chef. All of this, in the heart of the south Okanagan – with a hint of Mediterranean on the palate.
It's where rustic meets elegant in delicious harmony.
With an emphasis on seasonal products and a commitment to sustainable practice, the menu at Miradoro is a study in culinary creativity. From the authentic forno oven to a diverse wine list (including library wines), this is the place for food lovers to indulge.
Open from March through December, Miradoro is where you can enjoy a leisurely meal and a glass of wine – whether you're visiting wine country or you live down the road.
With thanks to Chef Van Geest for another fabulous recipe and for the images. Wine bottle shot and tasting notes courtesy of Tinhorn Creek.
If you would like to be featured on MyVanCity.ca please connect with your pr agency or email myvancityval@nullgmail.com for full details.