"In this series I'll share which B.C. wine pairs best with select recipes from the best chefs in B.C." 
We are excited to be bringing you a recipe from Chef Yoann Therer, Chef de Cuisine at L'Abattoir. If you are up for a challenge then this recipe is for you. Want to impress? This recipe is definitely for you. This is the optimal season for this dish.
Corn chawanmushi with sea urchin and chanterelle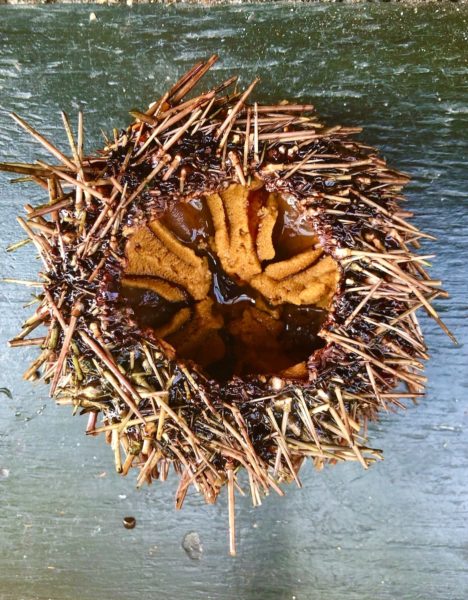 Recipe by Chef Yoann Therer 
Sea urchin: 
Method: 
With a pair of scissors open the four sea urchins carefully cutting around the mouth.

•

With a small spoon carefully harvest the uni from each shell. 

Clean the shell. 

Set aside 
Pickled chanterelles: 
75 g chanterelles 

200 ml water 

100 ml champagne vinegar 

50 g sugar 

3 g thyme 
Method:  
Clean the chanterelle to remove any soil 

In a pot of water, add sugar, vinegar and thyme. 

Bring to a boil then add the clean chanterelles and allow them to cool down in the  liquid. 
Corn Dashi: 
4 ears of corn 

10 g sliced ginger 

20 g BBQ leeks 

1 piece of kombu

5 g dried shitake mushrooms 

35 g bonito flakes  

4 litre of water 

1 tbsp canola oil  
Method: 
On a barbecue or a hot pan, char the leek 

In a pot, sweat the ears of corn and ginger in the canola oil until fragrant

•

Add the charred leek, kombu, dried shitake and water to the pot 

Cook on low heat for 1 hour 

Do not boil 

After 1 hour take off the heat and add the bonito flakes, let it steep for 20 minutes

•

After 20 minutes drain the dashi carefully through a muslin 

Set aside for later 
Corn puree: 
200 g corn kernels 

30 g unsalted butter 

20 g sliced shallot 

5 g sliced garlic 

250 ml whipping cream 
Method: 
In a pot, sweat the garlic and shallot in butter until fragrant 

Add the corn kernels and cook for 2 minutes 

Add the cream and cook on low heat until the kernels are soft 

Blend the puree in a Vitamix or blender and strain through a fine strainer

•

Set aside for later 
Corn chawanmushi: 
600 ml corn dashi (prepared earlier) 

200 ml corn puree (prepared earlier) 

6 whole eggs 
Method: 
Mix 600 ml corn dashi with 200 ml of corn puree. 

Lightly whisk 6 whole eggs 

combine the corn with the eggs

pour 200 ml of this custard in the sea urchin shell if you have no shell a ramequin will  do 

Bake them in a water bath (water pre-heated) at 300 for approximately 15-20 minutes

•

When you can poke a cake tester in and it come out clean its ready.

•

Unwrap them and set aside to cool down 
Plating: 
Sit the sea urchin on a bed of salt.  Carefully cover the chawanmushi with the fresh uni.  Cut the pickled chanterelles in halves and places them on top of the uni. Season with fleur de sel and olive oil and enjoy!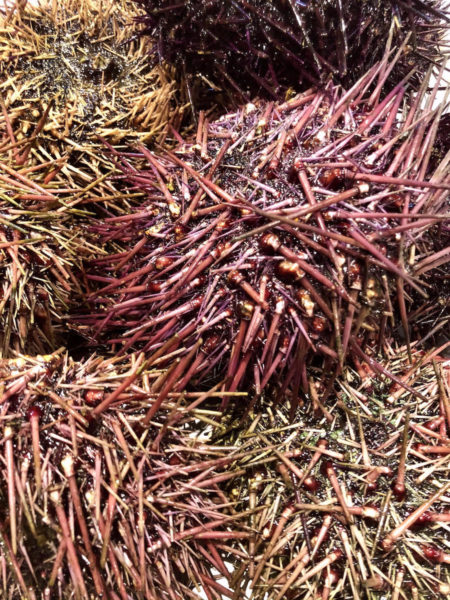 Seafood City, The Lobster Man, and Fresh Ideas Start Here carry sea urchin but we suggest you call ahead to be sure.
I think this dish needs something that's just a bit special. There are so many fabulous sparkling that I picked out just a small selection for your consideration.
Noble Ridge "The One" 2015 Sparkling

"The One" sounds like a confident name. And this bubbly is so good it has earned the right to be confident."

Tasting Notes
Notes of Brioche with subtle flavours of Apple and citrus. Generous texture on the palate.
SILVER – 2019 National Wine Awards of Canada SILVER – 2018 San Francisco International Wine Competition
Vineyard Notes
Okanagan Falls sub-GI designation. Clones: Chardonnay – Clone 76 and 95 Pinot Noir Clone 115 and 777 Viticulture: Geneva Double Curtain (Pinot Noir), Modified Scott Henry (Chardonnay)
Winemaker Notes
Whole Cluster pressed, Cool fermented Méthode traditionnelle En tirage 28 months</em
Food Pairing Notes
Oysters, Fried Chicken, Shellfish, Good Friends and Celebrations.
 Meyer Blanc de Blanc 2014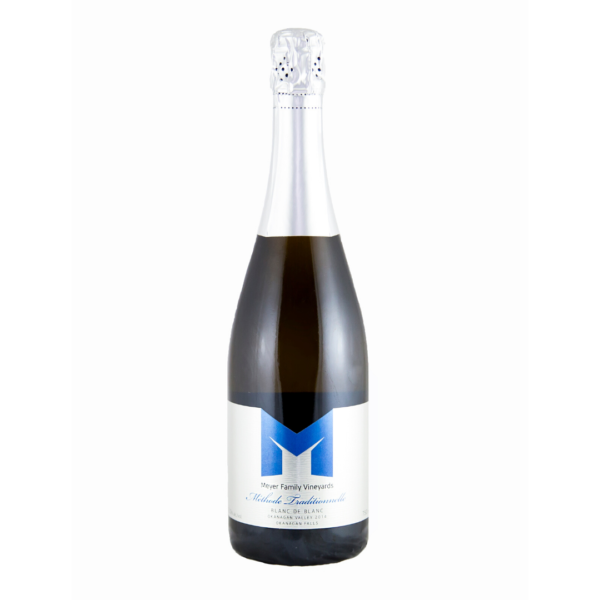 Our first 100% Chardonnay sparkling wine, made in the traditional champenoise style. The base wine was aged for two years, then underwent its secondary fermentation and 28 months of bottle-aging, before being disgorged with no dosage in the spring of 2019. This elegant wine is prêt à faire la fête! 
Winemaker Notes
The fruit (100% Chardonnay) for the sparkling wine was loaded into the press whole cluster immediately after picking was completed. A special champenoise press program was employed; this is a very slow and gentle press program lasting over 4 hours. This allows for maximum quality juice extraction while minimizing astringent phenolics. The juice was cold settled overnight then transferred off the heavy sediment into a stainless steel vessel where it commenced fermentation. Once completed, all batches were combined and the base wine was aged for 2 years with several rackings throughout this time to eliminate deposits/lees. The base wine went through a full natural malo-lactic fermentation and was then bottled under crown cap where it would carry out its secondary fermentation in the summer of 2016. The bottles were then aged on lees for 28 months and were disgorged early spring 2019 with no dosage.  This wine is unfined and unfiltered to preserve its inherent characteristics.
ABOUT L'ABATTOIR | Located in the heart of historic Gastown since 2010, L'Abattoir is situated in a refurbished 19th­ Century heritage brick ­and­ beam building that pays homage to its history as the site of Vancouver's first jail in the city's main meat­packing district. Today, L'Abattoir has staked its claim as one of Canada's best restaurants with a diverse array of French­-inspired West Coast fare focusing on locally sourced, seasonal ingredients along with an ever­ changing selection of classic and signature cocktails and a broad list of BC and imported wines. Whether in its front­ of­ house bar and lounge, elevated dining room or glass­ and­ steel­ accented atrium, L'Abattoir currently offers dine-in dinner service and take away menus from Tuesday to  Saturday from 5:00 pm to late.
217 Carrall Street, Vancouver, BC  V6B 2J2 | 604­.568­.1701 | labattoir.ca
Facebook: /labattoir | Twitter: @LABATTOIR_VAN | Instagram: @labattoir_van
With thanks to Chef Yoann Therer and his team for sharing his recipe with us. Recipe and images courtesy of L'Abattoir. Bottle shots and wine notes (in italics) courtesy of the wineries. I have previously enjoyed both of these wines and they have been featured in our #FavouriteThings Holiday Gift Suggestions campaign and I received a complimentary bottle of each of these wines to facilitate those features in 2019. See all of the #FavouriteThings suggestions here. If you would like to be featured on MyVanCity.ca please email me at myvancityval@nullgmail.com for full details. Wine samples accepted for review.