"In this series we bring you our #FavouriteThings Holiday Gift Suggestions which we personally recommend"
Welcoming back Tinhorn Creek with a trio of Oldfield Reserves for #FavouriteThings Holiday Gift Suggestions. Any of these wines would make a very special gift for someone on your list this year. Lovers of rich, red wines will be especially pleased to receive an Oldfield Reserve.
Oldfield Reserve Wines
Throughout the growing season, winemakers often find a golden spot – or two – in the vineyard that tempts creativity and allows for experimentation and to push the boundaries. The Oldfield Reserve wines are our premium tier wines that truly showcase what best defines that vintage.
Oldfield Reserve Merlot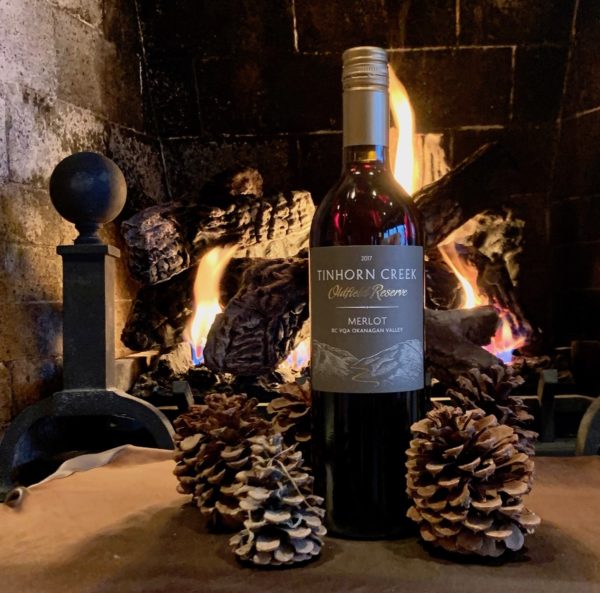 TASTING NOTES: Deep dark purple/reddish colour, reminiscent of freshly sliced beets. The aroma is still showing early stages of oak integration. Graphite and freshly baked rye bread lead into black cherry on the nose. The palate is tightly wound still, giving notes of espresso, black licorice and baking spices.
After about an hour of air, it starts easing up showing of dried fig, dried cherries and fresh plum. Bright acidity gives this full-bodied wine some great freshness and carries the nish nicely, with dense but focused tannins. Will benefit from an hour decant and another year or two in the bottle.
Oldfield Reserve Syrah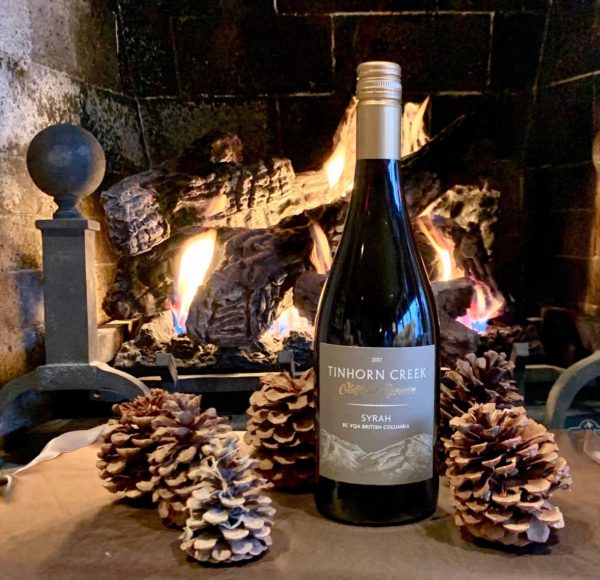 TASTING NOTES: Lively nose of fresh figs, plums and clove upfront. Layers of coffee cake and pear tart come through next, showing the richness of the wine. The palate is so and textured with more plum jam and stone fruit, with bright red fruit coming through in a fresh lied style. The wine has good power, but in an incredibly drinkable style that finishes with textbook Okanagan Syrah savoriness, olive tapenade and dried, cured Bresaola.
For a fabulous pairing with the Tinhorn Creek Oldfield Reserve Syrah check out our feature #TasteofThursday for Chef Van Geest's lamb recipe here.
Oldfield Reserve Cabernet Franc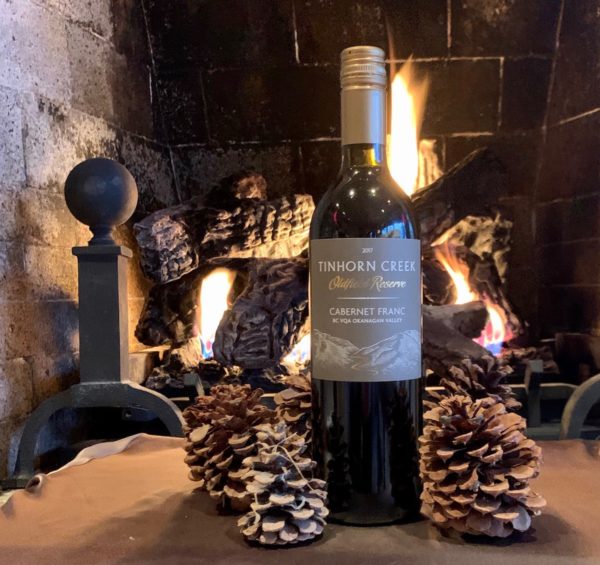 TASTING NOTES: The colour shows a youthful purple hue with good depth. The nose has a dusty
cocoa powder note with black cherry, strawberry and rhubarb pie and a delightful pie crust with it.
Lots of red currant and rhubarb on the palate, and fine tannins and bright acidity give the tactile profile of a good Chianti, but with new world freshness of red fruits.
Gift Card Choose from $25 to $300
Varying amounts from $25 to $300.
Tastings
Open daily 11am to 5pm
Seated Tasting
Tinhorn Creek Vineyards offers a $5 per person seated tasting (+ GST) flight of 4 wines from 11am to 5pm daily, 7 days a week.Tasting fee is refunded with purchase of 1 bottle of wine per flight. Wine flights are pre-set, seating capacity has been reduced and tastings are indoors. Reservations are encouraged. please book below or call us at 1-888-484-6467.
Black Glass Tasting
Join us for a Black Glass Tasting at Tinhorn Creek Vineyards. Tasting fee is $15 per person. One of our wine ambassador will guide you through a structured wine evaluation. You will taste 4 samples of wine, each of them hidden in black glasses. With the help of your senses and our guide, you'll have to guess what each wine varietal is. Guess 2 of the 4 wines correctly and your tasting fees are waived! Every Tuesday, Wednesday, and Thursday, join us for a special Happy Hour and enjoy 50% off our Black Glass Tasting fee. $15 Tasting fee waived with the purchase of two bottles of wine.
Offered daily, 12pm, 2pm, and 4pm. 30 minutes.
Crush Club Lounge
Join us in our Crush Club Lounge, where our members are invited to bring their friends and host them with a structured wine tasting in varietal specific stemware. For non-club members, the tasting fee is $15. The $15 Tasting Fees waived with the purchase on two bottles of wine.
Offered daily, 11am, 1pm, and 3pm. 30 minutes.
All images, bottle shots and tasting notes courtesy of the winery.  I received complimentary bottles of the wines in order to facilitate this feature. All opinions are my own.
If you would like to be featured on MyVanCity please connect with your pr agency or email to myvancityval@nullgmail.com for full details. Wine samples accepted for review.