"In this series we bring you our #FavouriteThings Holiday Gift Suggestions which we personally recommend"
Coolshanagh Chardonnay is a wine I tasted for the first time this past spring and very much enjoyed the experience.
You will see my own tasting notes following those of the winery. I always like to taste and make my notes before reading those of the winery. It can be interesting to compare. If, however, your notes appear totally alien to those of the winery or winemaker do not despair, wine is made to be enjoyed and if you like it that is all that matters.
I urge you to try this Chardonnay to decide for yourself. I think you will be sure to buy a bottle or two for the wine lovers on your list this year.
COOLSHANAGH Chardonnay 2016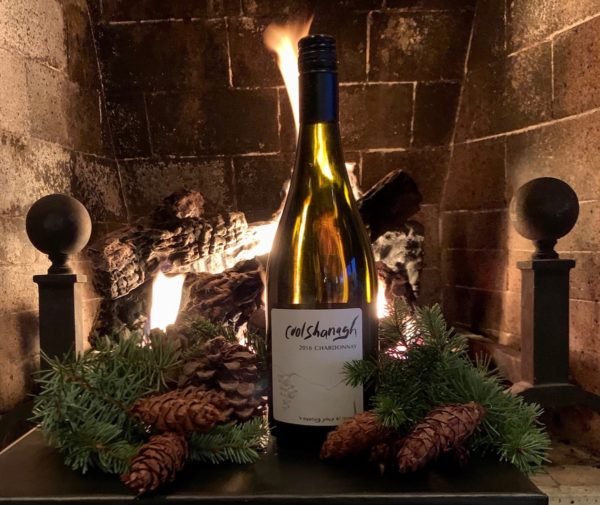 As determined by Parra, each block of Chardonnay grapes is hand-picked at a different time, with the first picking taking place in mid-September and the last in early October 2016. Each section was treated differently to optimally express each unique vineyard location. For 11 months, a percentage of deeper, clay soil sections were whole cluster pressed into new oak puncheons to ferment, with the remainder being fermented in a concrete egg.
The wine underwent minimal handling and had lees stirring and bottling without fining or filtration. The idea was to create three separate parts that were uniquely represented in the whole wine. Alone, the parts showed the different sections and together the entire vineyard and all its nuances are brought into balance. This elegant wine exhibits aromas of straw, green apple and lychee, with a rich and layered texture. All flavours and textures are as nature intended. Dumayne says that this wine will reward aging.
The first scents of this delicious Chard said it all. This is a Chardonnay for true lovers of the grape. It is full bodied and bold, and dare I say "buttery". Yet at the same time this wine is also delicate enough for those still exploring the nuances of a fine Chardonnay. Fruity with just the right touch of acidity.
$36.90 suggested retail
93 points "One of the premier Chardonnay producers in the Okanagan" John Schreiner.
Coolshanagh Chardonnay:
Limited bottles of Coolshanagh Chardonnay 2016 are available. For case orders please order via email or 250-809-4695. For those in USA, please order Coolshanagh online via Wine VIP.
You may also be interested in this fabulous wine pairing with a wild pacific halibut recipe from Chef Ned Bell of the Naramata Inn, #TasteofThursday (recipe & suggested wine pairing Coolshanagh)
Information and video provided by the Anna Knowles Trialto Wine Group Ltd. I received a complimentary bottle of wine to facilitate this feature. Any opinions are my own.
If you would like to be featured on MyVanCity.ca please connect with your pr agency or email myvancityval@nullgmail.com for full details. Wine samples accepted for review.