"In this series we bring you our #FavouriteThings Holiday Gift Suggestions which we personally recommend"
Welcome to our #FavouriteThings Holiday Gift Suggestions winery Fort Berens. Long a favourite but new to our gift giving list of wineries and wine we recommend for your wine shopping pleasure. This list includes three new Reserve wines that I know you will want to try. Give as gifts from this impressive list, or stay at home this year to #PartyLikeIts2020
Chardonnay 2019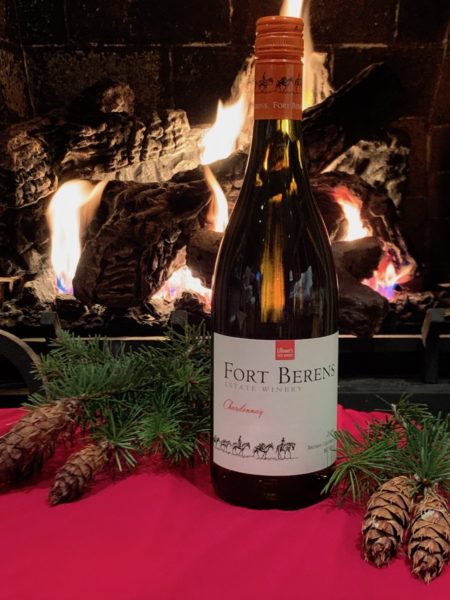 After our 2018 Chardonnay won Top White Wine at Cornucopia 2019, we moved through the balance of this wine very quickly. With that success behind us, we are excited for the release of our 2019 Chardonnay.
Winemaker's Notes
The grapes for this Chardonnay were 83% sourced from Fort Berens Estate Winery's estate vineyard and 17% from the Riverbend vinyard in the Similkameen.
Tasting Notes
Made primarily from estate grown Chardonnay grapes, this lightly oaked wine has aromas of ripe yellow apples, pineapple, and lemon curd. Medium bodied with flavours of fresh peaches, aprictot and granny smith apples leads to a light, tasty finish. Pair with roasted chicken or pasta alfredo.
$20.99 available at BCLS (on sale for $19.99 until November 28)
Cabernet Franc 2018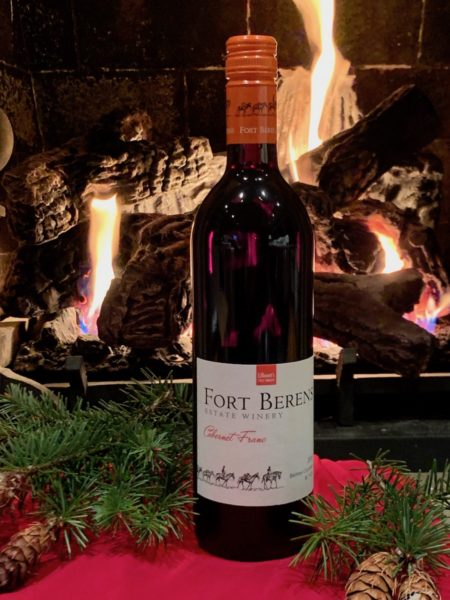 This wine was made predominantly with estate-grown grapes from our Dry Creek Vineyard in Lillooet. Half of the grapes were whole cluster fermented and half were destemmed. Called partial carbonic maceration, this winemaking technique resulted in a wine that is very fruit-forward. It went through spontaneous fermentation for 9 days. This wine was aged in French and American oak barrels, and then further aged in bottles in our cellar before release.
TASTING NOTES
On the nose, this complex wine is very aromatic with notes of blackberries and blueberries, white pepper, and rose petals. The soft, light tannins in this smooth, fruit-forward wine offer a beautiful mouthfeel with flavours of blackberries and raspberries, and a very long finish. While this is a delicious food-friendly wine, it is also a great stand-alone wine. It can be enjoyed paired with a great book, an evening of Netflix, or a night by the fireplace.
This wine is ready to drink now, or with proper cellaring, this wine can be cellared for 5 plus years.
A touch of acidity in this wine makes it a very food-friendly wine. Pair this elegant Cabernet Franc with barbequed steak, lasagna, lamb kabobs with lemon garlic potatoes, or a portobello mushroom burger.
Meritage 2018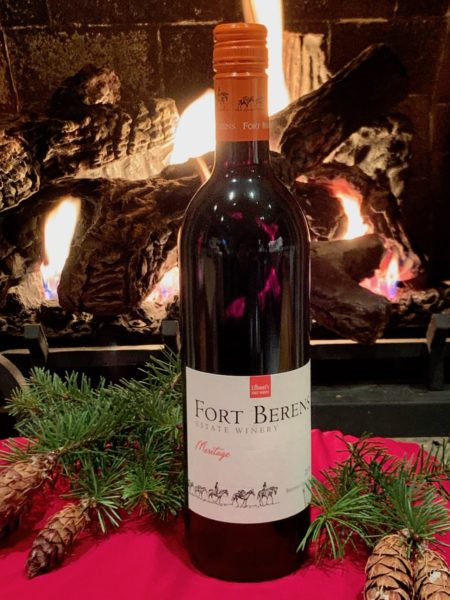 Tasting Notes
Savour the aromas of wood, spice, black currants, and bright black cherries in our classic Merlot-predominant Meritage. This full-bodied wine is juicy with a complex palate featuring notes of dark cherries, spice, and oak. It is elegant with soft, but lengthy tannins and a nice, long finish.
Winemaker Notes
This complex Meritage is a blend of 68% Merlot, 30% Cabernet Sauvignon, and 2% Cabernet Franc. Each fraction of grapes was fermentated and aged seperately. The estate-grown Merlot was fermented with wild yeast, while the non-estate grown Merlot was fermented with commercial yeast. The Cabernet Sauvignon was fermented in 1000 litre tanks to increase the skin to juice ratio. The fractions were blended together before bottling. This process helped bring out the best in each grape varietal. This wine was aged in barrels, and then further aged in bottles in our cellar before release.
Food Pairing Notes
Pair this mouthwatering wine with espresso rubbed beef or pork tenderloin, eggplant parmesan, or a charcuterie board with hard aged cheeses like hard gouda and applewood smoked cheddar.
White Gold 2018
Vineyard: Dry Creek Vineyard, Fort Berens Estate Winery in Lillooet
The grapes from a special block in our Dry Creek Vineyard were whole-cluster pressed and settled at ambient temperatures. We introduced yeast hulls to the juice to increase surface area and allowed the naturally occurring yeast to take over fermentation. Fermentation occurred at 18-20C in French oak barrels and lasted around 2 weeks. After fermentation, the lees were stirred up once a month.
TASTING NOTES
White Gold is crafted exclusively from our finest estate grown Chardonnay grapes. Our French oak barrel aged Chardonnay Reserve has a luxurious mouthfeel with warm and inviting notes of candied apricot, freshly homemade canned peaches, and orange blossoms. Full bodied, it is rich and voluptuous with soft oak notes.
Pair this sumptuous wine with white fish, scallops, lobster, roast chicken, or popcorn with truffle oil.
This wine is ready to be enjoyed now, or you can cellar this age-worthy wine until 2025.
Cabernet Franc Reserve 2018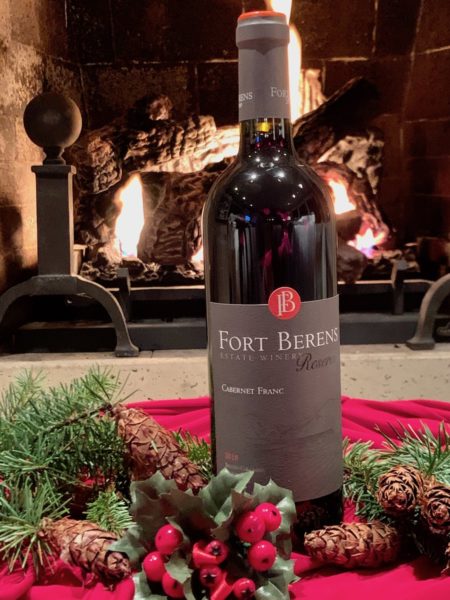 Tasting Notes
Deep ruby in colour, this wine features aromas of ripe plums, raspberry jam, chocolate covered berries, and coffee beans. The palate is bristling with notes of black currants and fresh red berries. Full bodied and highly balanced, it has a good mid-palate weight, and a lengthy finish.
Winemaker Notes
A portion of the Cabernet Franc grapes were left whole cluster on the bottom of the tank while the balance of the grapes were destemmed and left whole berry. This allowed for natural carbonic maceration in the tank. The berries were left to cold soak for 4 days before natural fermentation started. The wine was aged in barrels for 14 months. Then during blending, a small portion of Cabernet Sauvignon was added to provide more depth and complexity.
Food Pairing Notes
Enjoy this versatile wine on its own by the fireplace, or pair with grilled steak, roasted eggplant, and root vegetables.
Meritage Reserve 2018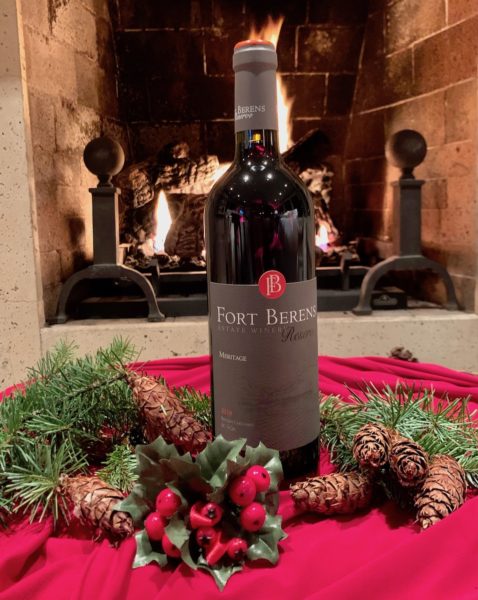 Tasting Notes
On the nose, this wine has aromas of raspberry shortcake, vanilla, and leather. It features notes of jammy red fruit, plums, and peppercorns. This complex wine with smooth layers of flavours is medium-full bodied. Decant this wine to aerate it and open up the aromas and flavours.
Winemaker Notes
This wine is a blend of 57% Merlot, 26% Cabernet Franc, and 17% Cabernet Sauvignon. The Merlot and Cabernet Franc grapes were fermented with 25% whole clusters and 75% crushed, using natural fermentation. A portion of the Cabernet Franc was made passimento style. These portions were aged in a mix of French and American oak barrels. The Cabernet Sauvignon was cold macerated for 48 hours before inoculation with a commercial yeast strain. This portion was aged in American oak barrels.
Food Pairing Notes
This perfect fall and winter wine pairs beautifully with lamb, beef short ribs, roast pork, or butternut squash soup.
The following two Fort Berens wines are conveniently available at select BCLStores.
Riesling 2019

This crisp and just off dry Riesling is perfectly balanced with bright fruit aromas of pineapple and lychee. Very versatile wine for pairing with any foods, including spicy foods, or drink as a casual sipper.
Food pairings: Fruit Salad, Ceviche, Gravalax, Pasta with Spicy Tomato Sauce, Sushi, Raw Fish, Spicy Chicken Stir-fry, Fresh Cheese, Cream Cheese, Chocoloate-dipped Strawberries, Crepes Suzette, Spicy Seafood hotpot and pho
Rosé 2019

An exciting new growing area for BC; 100% Pinot Noir. Cranberry, strawberry fruit notes.
Fort Berens Estate Winery
1881 Highway 99 North
PO Box 758
Lillooet, BC V0K 1V0
TF: +1 (877) 956-7768
P: +1 (250) 256-7788
F: +1 (250) 256-7780
E: info@nullfortberens.ca
Notes courtesy of the winery. All images, except as noted, MyVanCity. Riesling and Rosé bottle shots and tasting notes – BCLS. I received complimentary bottles of wine to facilitate this feature. 
If you would like to be featured on MyVanCity.ca please connect with your pr agency or email myvancityval@nullgmail.com for details. Beverage samples accepted for review.