"In this series we bring you our #FavouriteThings Holiday Gift Suggestions which we personally recommend"
We welcome Moraine Winery to our #FavouriteThings Holiday Gift Suggestions list of welcome gifts for all the wine lovers on your list this year. Featuring a terrific and diverse line-up of wine to suit every taste.
Silver Medal, BC Wine Awards 2015
This Crisp, fruit forward wine is made out of 60% Pinot Gris and 40% Gewurztraminer.
Tasting notes: The aromas of tropical fruits, nutmeg and stone fruit.
Food pairing:Curry dish or sip just as it is on the patio in the sunshine.
Platinum Medal, Great North West Competition, USA 2017
Gold Medal All Canadian Wine Championship, 2017
Gold Medal British Columbia Wine Awards, 2017
Gold Medal, BC Best of Varietal, Okanagan Wine Festivals, 2017
Platinum Medal, Great North West Competition, USA 2016
Gold Medal, International Fingers Lake Wine Competition, USA 2016
Best Light White Wine, Vancouver Magazine International Competition 2015
Gold Medal Best of BC Wine Awards 2015 by Okanagan Life Magazine
The art of a winemaker evolves into something beautiful, like our expressive Riesling distinguished by its full flavour and electric character.  Light floral aromas, layered notes of crisp Okanagan green apple, soft minerality and a mouthwatering finish.
Tasting notes: Fresh citrussy notes, with green apples and limes.
Food Pairing: Dare to pair this white next to steamed mussels in a creamy curry sauce, roasted snapper with lemon, or enjoy with a plate of fresh fruit and cheese.
Silver Medal BC Wine Awards 2017
Our Chardonnay is sourced from some of the oldest vines on the Naramata Bench.
Tasting notes:  Packed with acid-driven citrus, fresh tropical fruit and ripe apples while hinting of toasted hazelnuts and fresh baked brioche after being aged in French oak barrels.
Food Pairing: This is a stylish and versatile wine that tastefully pairs with anything from a creamy pasta dish to rich, buttery seafood or, on the nights that you skip dinner, enjoyed with a bowl of popcorn.
Silver Medal, International Fingers Lake Wine Competition NY USA, 2016
Silver Medal, WineAlign National Wine Awards of Canada, 2016
The Cliffhanger Red 2019 is part of Moraine's signature Cliffhanger series. It is a wonderful blend of Merlot and Malbec, and is made from grapes grown on the Anastasia vineyard right here at Moraine Winery. It is an approachable fruit-forward wine with notes of vanilla, cherries, and oak.
Food Pairing:  The soft tannins in this wine make it pair wonderfully with barbecue or as an exclusive patio wine to sip on its own.
Gold Medal All Canadian Wine Championship, 2018
Fruit was exclusively grown on our Naramata Bench Sophia Estate Vineyard.  A classic representation of clone 777 Pinot Noir that has been cultivated and cared for with "white gloves".  Hand harvesting and fermenting whole berry, with the cap being punched down by hand, has ensured gentle tannin extraction and maximum flavour.
Tasting notes: Heady aromas of violet, Rainier cherries, old-fashioned rose petals and just a touch of toasty oak make this a memorable and enjoyable wine to share with family and friends.
Food pairing: Try pairing it with a creamy mushroom risotto or some marinated grilled pork; you won't be disappointed.
The fruit was exclusively grown on our Naramata Bench Anastasia Estate Vineyard.  Malbec, being cultivated this far north in the Valley is a rarity and required extremely careful management in the vineyard, to ensure full ripeness.
Taste Profile: A vibrant palate replete with red and blue berries co-mingling with pie cherries and a touch of wild desert sage.
Food pairing: Serve with a light chill and your favorite BBQ fare all season.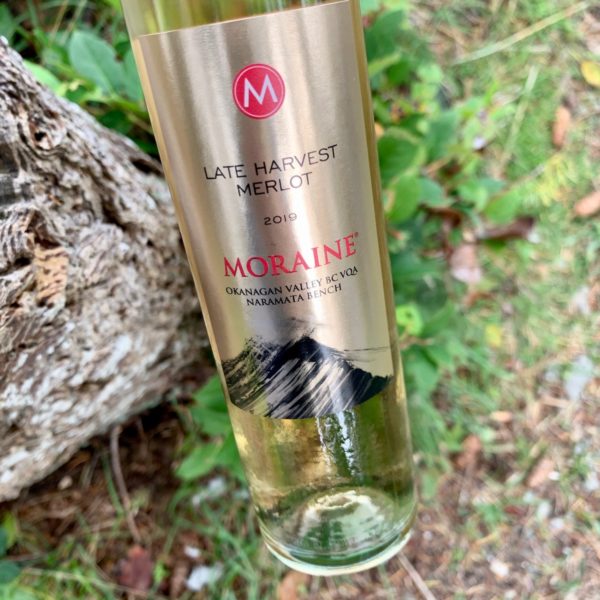 In December 2019, our grapes were harvested with a desired sugar level. Then they were cold soaked on the skins for 72 hours and pressed.  The wine was cold fermented over a 6 week period in stainless steel tanks.
Tasting notes:  Our Late Harvest Merlot has an inviting aroma collaboration of cherries, raisins, plums and cranberries, which is then enhanced with a hint of cinnamon. The Merlot is silky smooth and finishes full and rich, a classic not to be overlooked.
Food pairing:  Satisfy your simple pleasures with a glass of Merlot while snacking on some delectable desserts; fruit salad, chocolate, or cheesecake to name a few.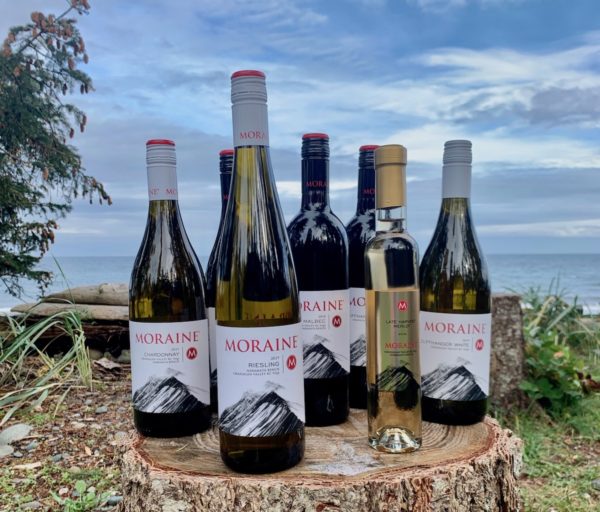 Moraine is a family-owned winery and vineyard overlooking Okanagan Lake, located just minutes from the city of Penticton. From its shelf-like location above striking clay bluffs, Moraine peers over the landscape and water. These iconic glaciated white clay cliffs comprise the breathtaking Naramata Bench and inspire the winery's land-formed name.
The winery owners are the husband-wife team of Oleg and Svetlana Aristarkhov, who, at a time when they were ready to make a life change, were enchanted by Moraine's setting. The couple believes that wine offers one of life's most simple, enjoyable, and accessible pleasures; and this philosophy spurred their leap into the wine industry. They relocated from Alberta, where they had lived for 15 years, to make premium Okanagan wines.
Feature image and tasting notes courtesy of the winery. Bottle shots MyVanCity. I received complimentary bottles of wine to facilitate this feature.
If you would like to be featured on MyVanCity.ca please connect with your pr agency or email myvancityval@nullgmail.com for full details. Wine samples accepted for review.