Rocky Mountain Flatbread is excited to introduce a new creation – Frying Pan Pizza Kits – to provide delicious and nutritious pizza making at home. These kits will appeal to families, foodies and businesses who are looking for fun and fabulous ways to connect over the holidays. There is a Rocky Mountain Flatbread pizza kit available for every pizza lover including vegan, gluten wise, and kids!
With more people cooking at home during the pandemic and looking for fun ways to celebrate virtually over the holidays, the Rocky Mountain Flatbread team has designed a pizza kit that replicates a forno-fired pizza for home kitchens in minutes.
Each Frying Pan Pizza Kit contains two servings (2 pizzas!) and includes fresh local ingredients from our restaurant kitchens. The step by step cooking instructions demonstrate the frying pan pizza method which cooks the base of the pizza on the stove top and finishes it off under the broiler for that forno-fired pizza taste that is so loved at Rocky Mountain Flatbread restaurants.
Newly available are Rocky's Margherita Frying Pan Pizza Kit, Kids Frying Pan Pizza Kit, AND the Cosmonaut Cocktail Kit (as an add on). The Greater Vancouver Food Bank will receive a $1 donation for each pizza kit ordered for take out at Rocky's two Vancouver restaurants, Main Street and Kitsilano.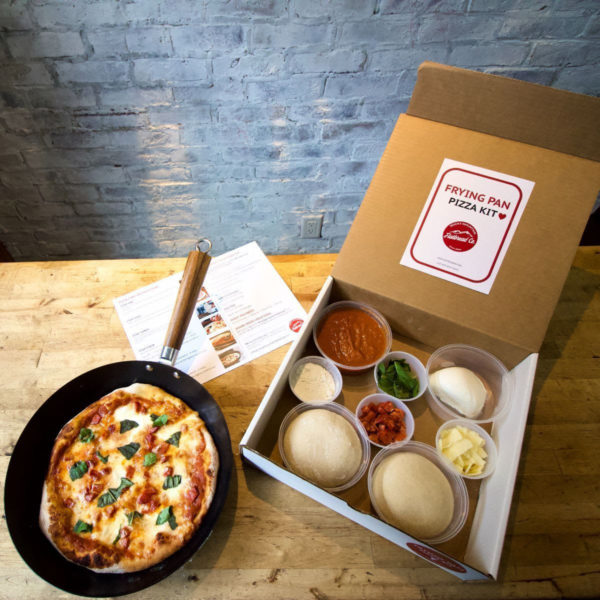 5 Ways to "Style" the Rocky Mountain Flatbread Frying Pan Pizza Kits
Perfect for a weekly pizza and movie night at home
Add the Cosmonaut Cocktail Kit to your order for an extra splash of fun!
A unique family or corporate gift idea
Creative corporate holiday party: order the pizza kits for delivery, set up a video call, and invite your staff to join you remotely in their ugly Christmas sweaters
Family and friends holiday party: come one, come all to your favourite video call platform to make your pre-ordered pizza kits together for holiday cheer.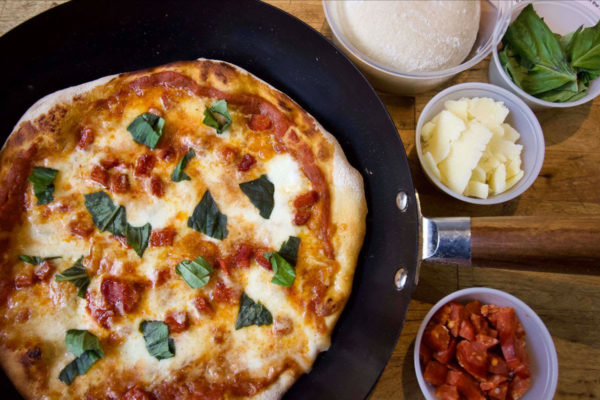 Margherita Frying Pan Pizza Kit
Roll up your sleeves to prepare for some pizza making fun! The Rocky Mountain Flatbread team has assembled a Frying Pan Pizza Kit to create two delicious margherita pizzas using a frying pan in your home kitchen. Rocky's double fermented organic dough, house made tomato sauce, Canadian cheeses and fresh basil are included along with easy to follow step by step instructions. Vegan and gluten wise options are available by request.
Serves 2, Cost: $26. Gluten wise kit, add $6 ($3 per crust). Add Chorizo sausage or Beyond vegan sausage, $4.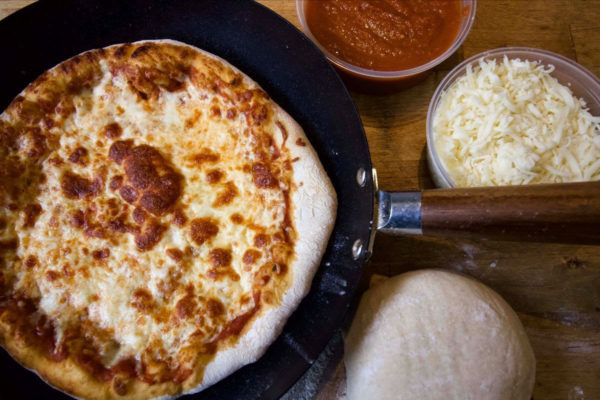 Kids Frying Pan Pizza Kit, for Little Chefs
The Kids Frying Pan Pizza Kit guides little chefs to create two 8 inch mozza pizzas at home. The kit contains Rocky's favourite ingredients – organic flour and pizza dough, house made organic tomato sauce, and all Canadian shredded mozzarella along with easy to follow instructions. Also needed: one adult helper! It's delicious fun for the kids complete with double chocolate brownies for dessert!  Vegan and gluten wise options by request.
Serves 2, $22. Gluten wise kit, add $6 ($3 per crust).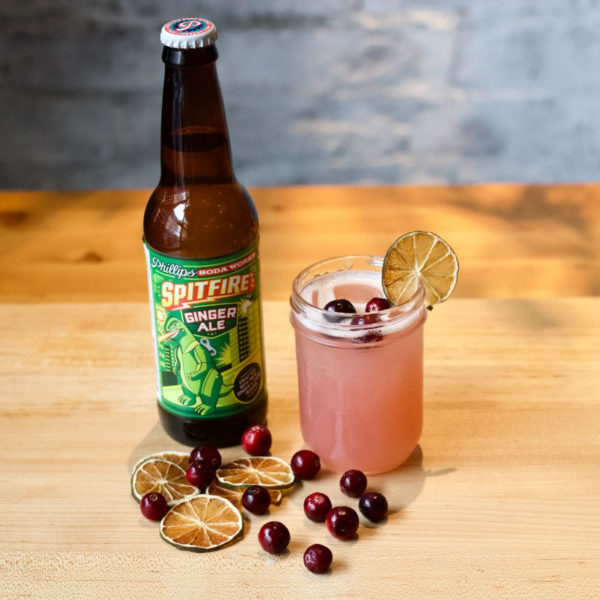 Cosmonaut Cocktail Kits
The Rocky Mountain Flatbread team has assembled a unique cocktail kit to create two delicious Cosmonauts at home! The Cosmonaut is a cross between a Moscow Mule and Cosmopolitan, and features Rocky's house made ginger syrup. The Cosmonaut Cocktail kit contains easy step by step instructions and all ingredients including vodka, Rocky's house made ginger syrup, dehydrated lime wheels, fresh cranberries, ginger ale, and mason jars. Collect a few ice cubes from the freezer before rolling up your sleeves for some cocktail shaking fun!
2 servings. $26
Order a Kit
Frying Pan Pizza Kits and Cosmonaut Cocktail Kits will be available via Doordash, and for takeout and online ordering from Rocky's website at www.rockymountainflatbread.ca.
To order for a larger corporate party, or for more information, email info@nullrockymountainflatbread.ca.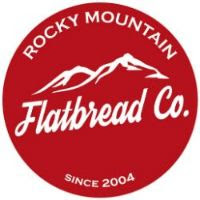 About Rocky Mountain Flatbread
Rocky Mountain Flatbread takes pride in providing sustainably produced, local food that connects the farm, family and community. Visit the two Rocky Mountain Flatbread restaurant locations in Vancouver (Main Street & Kitsilano). In Alberta, visit our Calgary and Canmore restaurant locations. The South Surrey location has been closed. Food court locations include Rocky Mountain Flatbread Express in Banff. For more information, visit rockymountainflatbread.ca.
Media release and images courtesy of Lori McGrath, Lori McGrath PR.