"In this series I'll share which B.C. wine pairs best with select recipes from the best chefs in B.C." 
There is nothing more traditional than a family Sunday dinner. This recipe from Chef AK will help you up your game with some delicious additions to your roast beef dinner. Even if you don't have your own smoker there are lots of ways and ideas on the Internet to make it happen.
Summer Sunday Roast – Smoked Pepper Crusted Beef Rib Roast w/ Chimichurri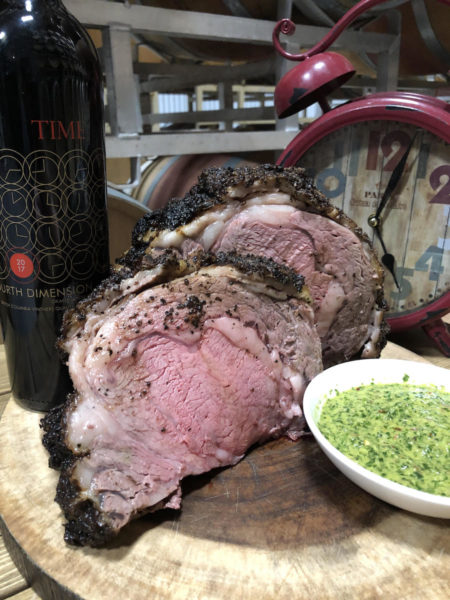 Smoked Rib Roast
Ingredients:
1 bone in beef rib roast (3 bone minimum for best results)
1 part salt
2 parts black pepper, coarsely ground
Method:
Trim any excess fat, maintaining at least a 1/4" fat cap.
Cut the ribeye free from the rib bones, then use butcher twine to tightly truss the ribeye back onto the bones. (This will make for easier slicing once the roast it cooked.)
Allow roast to come to room temperature. (This allows for more even internal cooking.)
Preheat your smoker to 225F
Once the roast is at room temperature, mix salt and coarse pepper and crust the roast liberally on all sides.
Smoke the rib roast until it reaches an internal temperature of 120F, approximately 35 minutes/LB. (For a medium roast smoke to an internal of 135F, or 40 minutes/LB) Regardless of how you like your beef cooked, at this point you want it to be about 15 degree less than your finished target.
Remove roast from the smoker and allow to rest for a minimum of 30 minutes.
Meanwhile Preheat a BBQ or oven to 450F.
Once the roast has rested transfer it to the 450F bbq or oven and roast for 10-15 minutes to form a caramelized crust. (if using a BBQ make sure you don't have the roast over direct heat.
Cut and remove the butcher twine, left the roast away from the ribs to a cutting board, and slice as desired.
Chimichurri 
Ingredients:
1 cup fresh flat leaf parsley, packed
1 cup fresh cilantro, packed
1/2 cup shallot, peeled and roughly chopped
1/4 cup fresh oregano, packed
2 Tbsp garlic, minced
2 Tbsp lime juice, plus zest of 1 lime
2 Tbsp red wine vinegar
1 red fresno chili, stemmed and finely chopped (optional)
1/2 tsp crushed chili, or TT (optional)
1/2 cup quality olive oil
salt TT
cracked pepper TT
Combine all ingredient, except olive oil, in a food processor.
Pulse ingredients until well combined and finely chopped.
Slowly incorporate the olive oil while continue to pulse the mixture until well combined, scraping down the sides as needed.
Adjust seasoning as needed.
Serve right away or store in an airtight continuer in the refrigerator for up to three days.
Alternatively, for a more authentic texture, this sauce can be made in a mortar and pestle.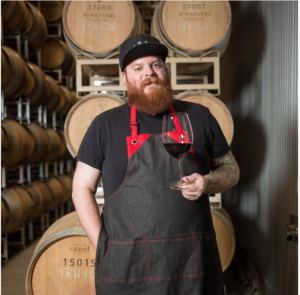 Chef AK Campbell
Executive Chef – Alexander Keith Campbell, known as AK, is the creative force behind the culinary team at TIME. He develops sensational menus that compliment our wines for both the restaurant and private events. Chef AK has extensive experience and has previously led kitchen teams in hotels, resorts, and wineries in the Okanagan. He believes in the importance of simplicity in his use of ingredients and working with the seasons to make his dishes truly shine.
Suggested Wine Pairing:
Fourth Dimension

New Product Release – 2019
Albert Einstein famously characterised "time" as the fourth dimension. In tribute to this is a blend of four varieties: Merlot, Syrah, Cabernet Franc, and Cabernet Sauvignon, with appealing notes of cherry, raspberry, red fruit, black pepper and delicate spice notes. Soft and smooth with great balance, this
boldly flavoured and juicy blend is a crowd pleaser, ready to enjoy with friends and family… anyTIME.$35.00 available online
TIME WINERY & KITCHEN
Come and explore our fully-functioning winery, complete with a tasting bar and restaurant, located in the heart of the Okanagan Valley, in downtown Penticton.
Home to our family of wines; TIME Winery, Evolve Cellars, and the McWatters Collection, the winery was created within an historic and stunningly revitalized space that once housed a movie theatre.
Step up to the tasting bar for a taste, or take a seat and enjoy a flight alongside a selection from our menu created by Chef AK Campbell and his culinary team. Feel like rolling up your sleeves? Take part in one of our cellar experiences, where you can taste from a thief or learn to sabre.
IT'S TIME FOR YOU TO VISIT.
Recipe, all images, Tasting notes and bottle shots courtesy of Time Winery & Kitchen. 
I received a complimentary bottle of the Fourth Dimension in order to facilitate a previously published feature. 
If you would like to be featured on MyVanCity.ca please email myvancityval@nullgmail.com for details. Wine samples accepted for review.