Angolo della Rosina is a husband and wife team, located in the Novello village. When we want mushrooms, we always choose this place. They specialize in the best fried porcini and mushroom pastas.
What makes Italian food so great is that the cuisine is simple but the ingredients are high quality and tasty. We are lucky to live in a place where fresh porcinis grow but you could even use button mushrooms or perhaps portobellos.
Fried Porcini Mushrooms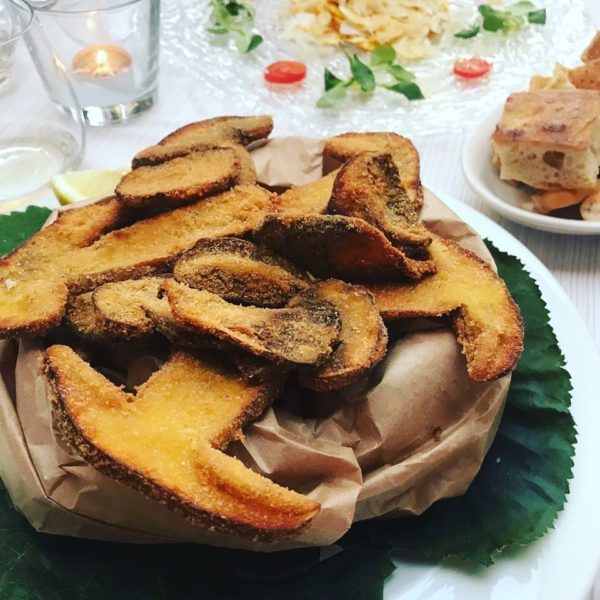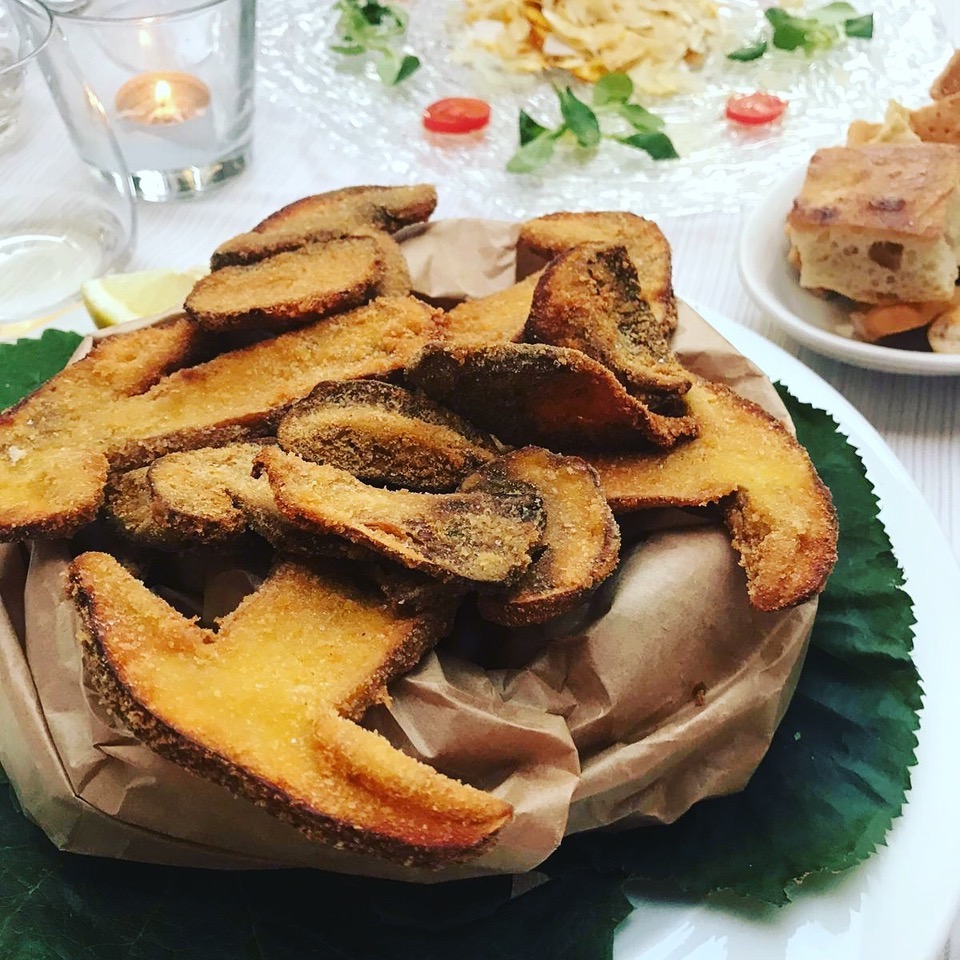 INGREDIENTS
Fresh mushrooms
Panko breadcrumbs
Egg
Peanut Oil
METHODClean the mushrooms by scraping off the dirt or if they are very dirty, you can rinse with a small amount of water but when working with mushrooms, the less water the better.Cut mushrooms in 1/2 cm slices
Bread the mushrooms with egg and panko breadcrumbs
Heat the oil very hot and fry, flipping them often until they are a nice golden color.
Drain, and blot with paper towel
Sprinkle salt and Voila!
So which wine are we pairing with summer mushrooms?
PODERI COLLA EXTRA BRUT – 'Blanc de Noir' *
The long aging on the lees of this structured wine go great with the hearty flavours of mushrooms with the bubbles cutting the fat and refreshing the palate.  We decided to feature Chef Luca from their small restaurant in Novello (one of the Barolo villages) because this is our go-to spot for delicious fresh mushroom dishes.
* When I first looked for this specific wine I was disappointed that I was unable to find any reference to it being available in Canada. I did find reference to it in Quini interestingly.
My disappointment turned to delight when I discovered that an equivalent wine is available from Backyard Vineyards and Tantalus also makes a Blanc de Noir.
Blanc de Noir Brut

This Blanc de Noir Brut is Fraser Valley from beginning-to-end and handmade the hard way ("Méthode Traditionelle") from 100% estate-grown Pinot Noir grapes.
Borrowing from the Methode Champenoise, the Blanc de Noir Brut offers delicate hints of apples on the nose, while the fine streams of bubbles in the glass are the hallmark of a naturally well-made sparkler. Ideal for all occasions.
2017 Blanc de Noir

After a year hiatus, we are delighted to welcome back our traditional method Blanc de Noir to our portfolio!
Hand-picked from a single block of 1985 "Clone 93" Pinot Noir, this wine has emerged as quite the charming bubbly in our growing sparkling program. Perfectly suitable for special celebrations or everyday enjoyment!
A pale sunset pink in the glass, this wine is flush with aromas of candied mandarin zest, baked walnut bread and almond paste, with intriguing notes of dried fig and rose petal. The palate is refreshing and juicy with a wonderful mousse present and fine bubble. Fresh and crisp apple, mandarin, feijoa and strawberry rhubarb pie – crust and all, all play their part. Great length and tension.
Check out Angolo della Rosina Restaurant & Rooms
Thank you to guest blogger Anna Savino @italiannawinetours and @barolowineclub on Instagram, and online at ItaliAnna Food & Wine Tours.
Anna Savino contributor to our #TasteItalia Food &Wine Pairing Articles is now happy to announce a fantastic online project with some of the best guides around the world called Guide Collective www.guide-collective.com be sure to check it out!
Bottle shots and tasting notes courtesy of the wineries. I received a complimentary bottle of Backyard Vineyards Blanc de Noir Brut to facilitate a #FavouriteThings feature in 2018.
If you would like to be featured on MyVanCity.ca please email myvancityval@nullgmail.com Wine samples accepted for review.