"In this series I'll share which B.C. wine pairs best with select recipes from the best chefs in B.C." 
Today's #TasteofThursday recipe is from Provence Marinaside's Mohit Chauhan, Sous Chef. You can also experience this dish for yourself during the month of November as the first course at the Wine Dinner featuring CheckMate wines by winemaker Philip McGahan.
 

Dungeness Crab Salad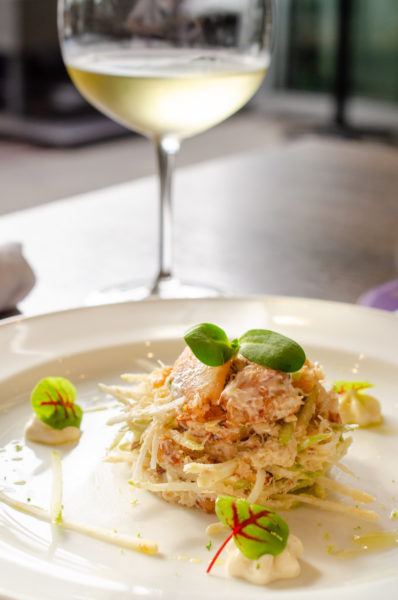 Created by: Mohit Chauhan, Sous Chef 
Serves 4 
Ingredients: 
5 Tbsp. Sherry Vinegar 
1 cup (½ lb.) Salted Butter at room temperature 
½ Celeriac Root 
1 Granny Smith Apple 
Bowl of cold salted water 
8 oz. cooked Dungeness Crab Meat 
Pinch of salt 
20 leaves of Red-veined Sorrel 
Method: 
 Whip together the butter and sherry vinegar and set aside 
 Using mandolin or by knife, cut celeriac and apple into a fine julienne 
 To keep the celeriac and apple from oxidizing rinse them in cold salted water 
 Drain the celeriac and apple 
 For each serving, place a handful of apple, celeriac and crab meat in a mixing bowl, add about 5 Tbsp. of sherry butter and pinch of salt 
 Mix well 
 Transfer the remaining sherry butter to a piping bag 
 Mound the mixture in the middle of each plate 
 Using the piping bag, make sherry butter dots around the salad 
 Garnish with sorrel leaves 
Read all the details about the November wine pairing dinner and menu at Provence Marinaside here.
Suggested BC wine pairing:
 For November's Wine Menu, this salad is paired with:
Checkmate 'Little Pawn' Chardonnay 2015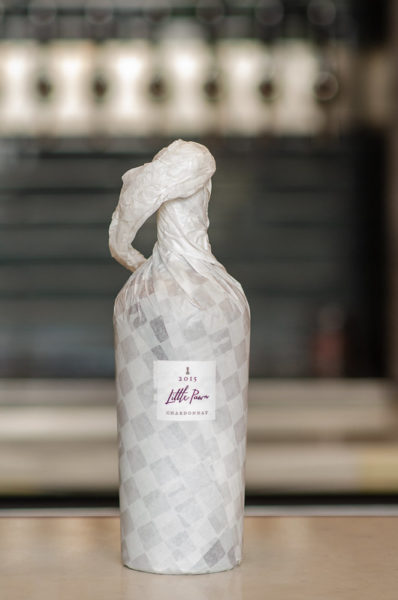 The wine is aged for 16 months in 47 percent French oak.
There are aromas of citrus, sage and licorice. The palate is a medley of fruit flavours including Mandarin orange mingled with subtle oak notes. Tropical and citrus fruits are revealed on the very long finish, with bright acidity keeping the wine fresh and lively.
Captivating floral nose with hints of rose petal, cinnamon spice and lemon zest. On the palate, subtle richness, hints of cream and beautiful oak integration create a wine of restrained elegance, with substantial length.
100 points
"The wine begins with floral notes recalling citrus, orange and vanilla. The bright acidity gives the wine a lifted freshness, a lovely purity of fruit on the palate and a lingering finish." John Schreiner
See previously published articles featuring CheckMate here.
The Monthly Wine Menu is series of special menus designed to highlight rare BC wines. The Monthly Wine Menu features wines from BC that are typically difficult to find by the glass (e.g. small production, back vintages, out of stock items, or priced out of range). These are paired with dishes especially created by Owner/Chef Jean Francis Quaglia and Chef de Cuisine Sheldon Maloff that are inspired by the wine, not the other way round as is usually the case. The dishes are unique to the Monthly Wine Menu and do not appear on Provence Marinaside's regular menu.
Provence Marinaside (Yaletown): 1177 Marinaside Crescent at the foot of Davie St., 604.681.4144 
TWB-The Wine Bar (Yaletown): 1167 Marinaside Crescent next door to Marinaside., 604.681.4144 
www.provencemarinaside.ca 
Recipe and images provided by Nancy Wong, Culinary Communications. Photo credit: Emrys Horton, EPH Photography