"In this series I'll share which B.C. wine pairs best with select recipes from the best chefs in B.C." 
This recipe is so over the top and hats off to the incredible skills of Natasha Schooten! Terry Meyer Stone co-owner of Mayhem Wine, who submitted this recipe, tells me this was absolutely "to die for" and it certainly looks incredible.
Not sure how many of you are up for the challenge of this recipe but think what an exceptional dessert it would make for your guests. I think it would be worth it.
Foie Ice Cream Pofiteroles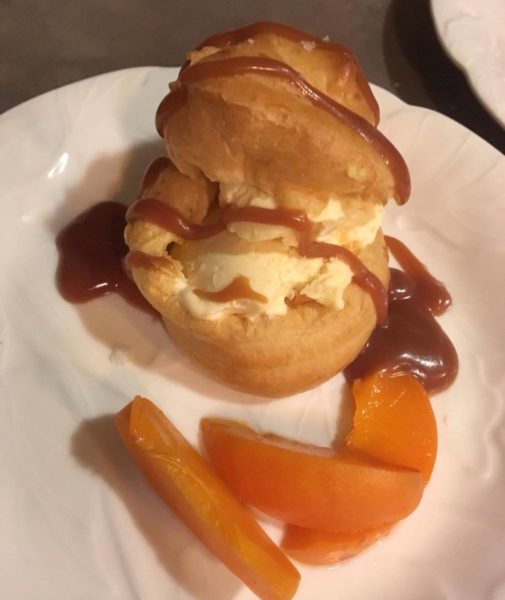 Ingredients for Foie Butter:
1 lb. unsalted butter cold cut into small dice
8oz. (224g) Foie gras grade A
Make Foie Butter :
Turn the oven onto 300. Put butter and pieces of Foie in a pan and cover with foil. Put in the oven for 3-6 mins. Mix together until combined and smooth then cool down.
Foie Ice Cream
Ingredients: 
8oz. ( 224g) Foie Grade A small dice
2oz. Dry white port
4oz. Sugar
2 large Egg Yolks
4oz. Foie Butter small dice
4oz. 33% or 36% cream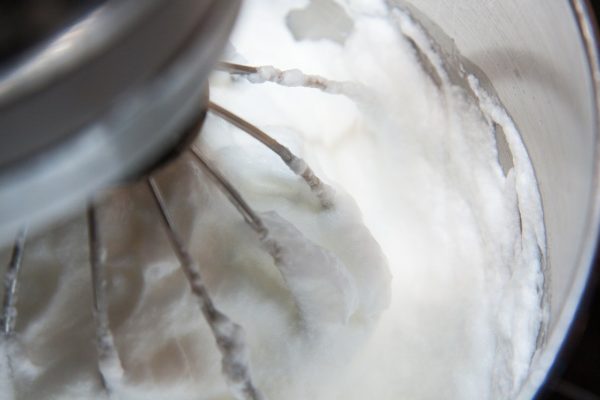 Make Foie Ice Cream:
Turn oven on at 250. Put the diced foie in a pan and cover with foil. Bake until the foie is rendered down to soft liquid state.
In a sauce pan put water in and start a baine marie. In a bowl add the sugar and port and then put the bowl over the baine marie. Whisk the sugar misture until it dissolves. Add in the egg yolks adn whisk (this is similar to a sabayon) whisk the sabayon until it thickens to the ribbon stage and transfer to a food processor and start to add in the cut foie butter and then the cooled rendered Foie and then the cream. Mix until it is all emulsified. Cool the mixture down in the fridge for 2 hrs. Next put into a ice cream machine and turn on. Churn till soft stage then transfer to a litre container to put in the freezer.
Foie Caramel sc and Cream Puff
Ingredients: 
Foie Pofiteroles:
3oz. Foie Butter 
15oz. water
1.5 tsp. sugar
1.5 tsp. salt
9 oz. flour 
9 oz. eggs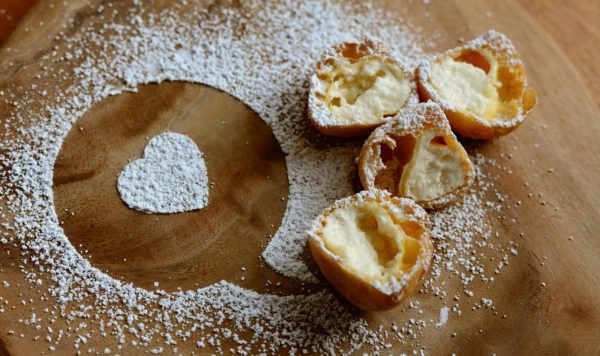 Method: 
For the Profiteroles:
Turn oven on to 425
In a medium sauce pot heat the water, sugar, and salt up with the foie butter. Bring to a rolling boil then with a wooden spoon stir in the flour until it is incoporated and the mixture is pulling away from the sides of the pot . Transfer to a mixing bowl and beat on low speed to cool. While it is spinning slowly add in one egg at a time making sure to incoporate the egg into the mixture before adding the next one, The last egg may not be used. Transfer the Choux paste to a piping bag with a straight tip. Pipe into a circle ( tip here take your parchemtn paper and draw your cicrcles on the back side of the papaer then turn over so you can pipe the exact shape). Next use your finger dipped in water to press the top down . Bake for 15 mins then turn the oven down to 375 and turn the pan and bake for 15 mins more. Take out and cool down.
For the Caramel Sc: 
Foie Caramel Sc.:
120 g Foie Butter from the Ice cream Recipe 
240g sugar 
240g Cream 36% is the best
In a medium sauce pot  put the sugar in and a small amout of water 1-2 tbsp. to cover the sugar. Heat the sugar on high heat ( you can take a pastry brush and water to whipe the sides down this will prevent your sugar from burning)to a n Amber color and then whisk in the cream a small amount to start or the caramel will steam up at you. keep on heat until it thickens and then remove from the heat and whisk in the foie  butter med size cubes at a time. Cool and transfer to a jar or squeeze bottle for storage or use. 
You can then grill or roast stone fruit peaches but you can also use apricots or apples or plums or quince for sure.
The suggested BC wine pairing:
2018 Fortified Gewurztraminer

Picked at 24 brix on October 13, 2018 from Cellarsbend Vineyard in Naramata.  The grapes were whole bunch pressed and fermented down to 19 brix before being fortified with 93% alcohol.  This was then put to barrel and spent twenty months aging in barrel, including one summer spent outside in the heat oxidizing and concentrating all complexities and flavours.  It was removed from barrel, sterile filtered and bottled in June 2020.
On the nose there are nutty caramel note with an underlying candied fruit. On the palate again you'll find candied fruit, ginger and cinnamon along with tropical undertones.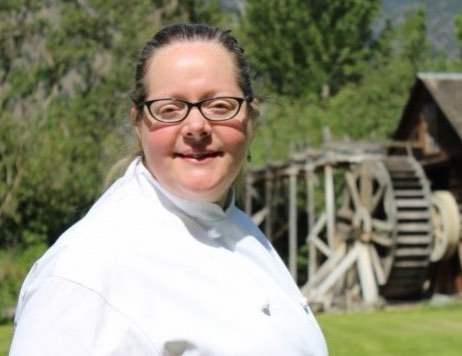 NATASHA SCHOOTEN
My creativity and passion for my chosen profession starts when I wake in the morning. The South Okanagan affords my every passion to come alive with the abundance of fresh local ingredients, and connections with the growers whose passion for growing the finest ingredients is their way of life. I began my career by enrolling in the Culinary Arts program at SAIT in Calgary, Alberta, learning the fundamentals of culinary excellence to prepare me for the venture I was to embark on. 
My career led me to Delta Hotels and Resorts giving me the opportunity to be on the opening teams of 2 of their newest resorts across Canada – The Delta Guelph in Ontario and The Delta Sun Peaks in Kamloops. At Sun Peaks working under Executive Chef Ian Riddick that I developed my passion and understanding for fresh ingredients & versatility, this developed my ability to adapt to diverse situations and think on my feet.
Working at Mission Hill Family Estate under Winery Chef Michael Allemeier I was exposed to his passion and dedication towards cuisine de terroir which Chef Allemeier instilled in us as chefs.  This was the introduction to the philosophy of Farm to Table that is of such importance in our industry today.
Working in the Okanagan Valley let me continue to strengthen the Farm to table philosophy and to grow relationships with local farmers and suppliers. First at Watermark Beach Resort as the Executive Chef and then at Terrafina Restaurant as the Restaurant Chef. Both positions afforded me the opportunity to cultivate relationships with local farmers and wineries to create wine country cuisine focusing on local seasonal menus. I continue to strive for a solid relationship with local growers and to be a champion for food security through my food. This is also what drives my passion for Slow Food and community. This plus  a growing interest in wine lead me to a position at Rust Wine Co. to further strengthen the farm to table philosophy and also the terrior to glass philosophy through wine knowledge.
Image of the dessert and the recipe courtesy of Natasha Schooten. Bottle shot and tasting notes courtesy of the winery.
If you would like to be featured on MyVanCity.ca please connect with your pr agency or email myvancityval@nullgmail.com for full details.