Pure Chablis: One grape One region One of a Kind
Canada is number three on the list of countries that import the most wine from the region of Chablis. With our changing times, not dissimilar to the experience of wines from Italy, the sales of the wines of Chablis as of October, 2020 was equal to the overall number of Chablis wines sold in all of 2019. Chablis exports 65% of the wine produced.
The Chablis Masterclass which took place this morning was an opportunity to learn more about the region, the wines and also the effects of climate change on this most important and popular wine region.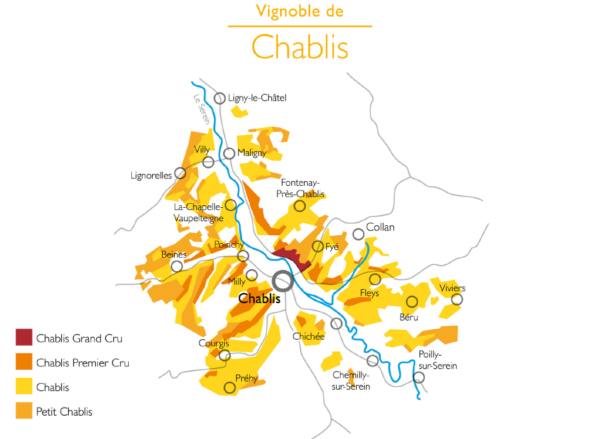 2020 saw the earliest harvest that, fortunately, even with Covid challenges, took place as normal. The vintages of 2021 are looking good with volumes in the average range.
With climate change some of the challenges faced are the erratic weather changes. Over the past five years the area is warmer with variances from very warm to very cool. Midsummer saw more storms and hail than normal. Cloud seeding was used to thaw the ice that was forming. At the same time with a greener approach the use of candles for frost prevention was reduced with the use of electricity and blanketing working quite well. There are also challenges of drought with less water causing more stess on the vines. 

Root stock from the warmer, south of France are starting to be planted with discussions of the prinicpal of canopy management, leaving the leaves on the  vine as an umbrella. Throughout all the changes and actions the wine is retaining its personality and quality. 2003 was mentioned as a notable year for weather, with 2010 as an extremely hot and dry year. 2020 was also dry and extremely warm in mid August bringing on an earlier harvest with cooler mornings.
Questions of whether there is a danger of the Chablis style being compromised were also addressed. This year's harvest exhibits good acidity, balance, and minerality. There was no waiting or late harvest but keeping the personality of freshness and crispness. What lies ahead in the future was harder to answer. We know there is pressure for vineyards to become greener, use less pesticides and herbicides. Some are now employing better soil management by plowing in winter and working the soil as well as the management of wild and greener vegetation to enhance root health.
Of course there was also an opportunity to taste two wines from Chablis. Each participant receiving two bottles of Chablis wine to facilitate a virtual tasting. Earlier this morning I poured first the youngest of the two wines about an hour before the webinar was to start, then the next wine was poured about half an hour before start time. Here is what I received and tasted along with my own tasting notes. (in italics)
J. Moreau & Fils Chablis 2018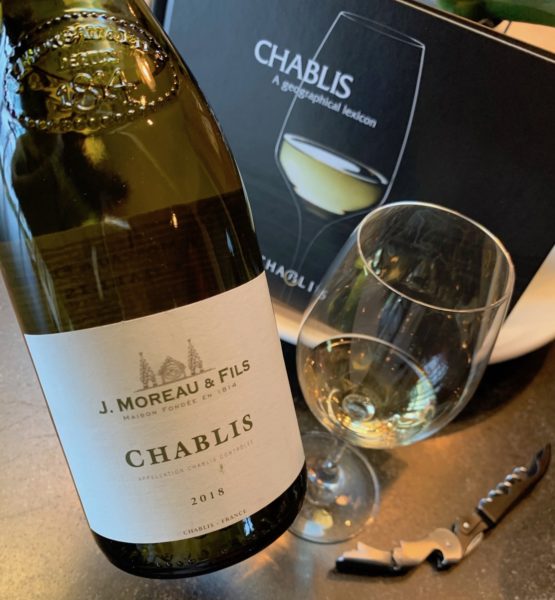 Varietal
100% Chardonnay.
History
Though traces of a village dating back to the Neolithic period have been found, the true origins of Chablis go back to Roman times. Its name is said to have come from the Latin term "caplum", meaning "ford". Vines flourished here in the 3rd century, after having been rehabilitated by the emperor Probus. The Serein river, which played an important role in regulating the climate, also allowed wines from Chablis to be transported to Auxerre and Paris. From the capital, they were shipped abroad, to Flanders and England in particular. However, the vineyards owe their real blossoming to the Cistercian movement as the Abbey of Pontigny was just nearby. Phylloxera ravaged the vineyards in the late 19th century, which explains the recent planting of the Chardonnay grape variety. Since 1970, the vineyards have been undergoing spectacular expansion as mixed farming is being abandoned in favour of viticulture. The vines are also resisting spring frosts more effectively.
Origin
Located in the north of Burgundy, in Yonne department, the appellation stretches over around 20 communes that cover the hillsides running alongside the pretty Serein Valley. The vineyard enjoys an exceptional geological situation. The main bedrock comes from the Jurassic epoch, or more precisely the Kimmeridgean age (150 million years ago). Deposits of tiny oysters can still be found today in the rock, remains of a time where the sea was totally covering this territory.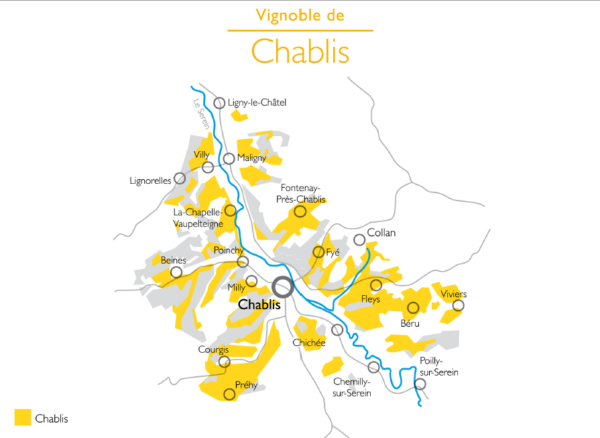 Vinification and maturing
The grapes and must were brought in and went through a long pneumatic pressing to get a qualitative juice with no risk of oxydation.
Then, it was left to settle in order to clean it up from the biggest lees. That step is quite essential to ensure pure aromas and a bright color. The alcoholic fermentation used selected yeasts in stainless steel tanks under controlled temperatures (18 to 20°C) to preserve a maximum of fruit.
To get a wine in the purest J.Moreau & Fils style, it will go through the complete malolactic fermentation and age on its lees for 8 months. This will give that wine we love with an intense nose of fresh fruits and a creamy texture in the mouth.
Tasting notes
Color: elegant pale gold.
Nose: intense and fruity, with notes of mandarin and pineapple on a soft background of fresh almonds.
Mouth: fresh and generous, very typical of Chablis, offering a very pleasant mineralit and a long-lasting, saline finish.
Food and wine pairing
This wine will perfectly emphasize any type of sea food such as a fatty fish (salmon or bluefin tuna), sushi and sashimi. Will also be a great companion to poultry, asian or exotic food. Try it also with goat cheeses, as well as fresh and light refined cheese.
Serving suggestions
Ideally serve between 10° and 11°C / 50° – 52°F.
Ageing potential
Between 4 and 5 years.
Vintage : 2018
Winter was particularly mild and the vine cycle began, once again, very early with consequently inflorescence. And this earliness did not stop all season long.
Spring was very wet and rainy but no frost this year! However some localized hailstorms caused damages in some villages of the Chablis area.
Then the climatic conditions significantly changed with a very dry late spring and summer that have led to fears of a new small harvest while keeping the cryptogamic diseases risks away.
The very high temperatures in August have resulted in falling down the acidity in the grapes and have hastened the harvest beginning. Furthermore the long dry and hot summer allowed us to minimize the necessary treatments against vine sicknesses.
September finally dispelled any doubts offering one of the best vintages in Chablis for almost 20 years. Mother Nature offered us a real gift after two difficult years in the region's vineyards.
The extremely early harvest finally offered quantity thanks to some rainfalls by the end of August. The first grapes were cut (for the Crémants) by the 25th of August and the last Chablis were harvested on September, the 21st.
70% of the volumes were in the wineries around the 10th of September, offering clean, flawless juices with body, fruit and nice acidity.
My initial impressions upon pouring: rising bread dough, green apples, lichee, meyer lemon, pastry, spice, pear, ripe fruit. Beautiful clear, gold colour, reflective in the glass.
Later: riper, candy, delicate perfume, floral, hard candy and still very pleasant aromas. Remains delicate in scent with very ripe fruit notes, tropical, pineapple, subtle banana scents, still expressing scents of candies with sweet lemon.
The wine is light with good acidity, lingering in the south, a bit of oak, very young, lacks some density. Would pair nicely, very pleasant, very drinkable, very nice.
Enjoyable with a pairing, easy drinking. Compared to the other Chablis I tasted the scents are much more subdued all the the scents are maintained and give way to aromas of red roses.
Domaine des Malandes Chablis premiere cru 2016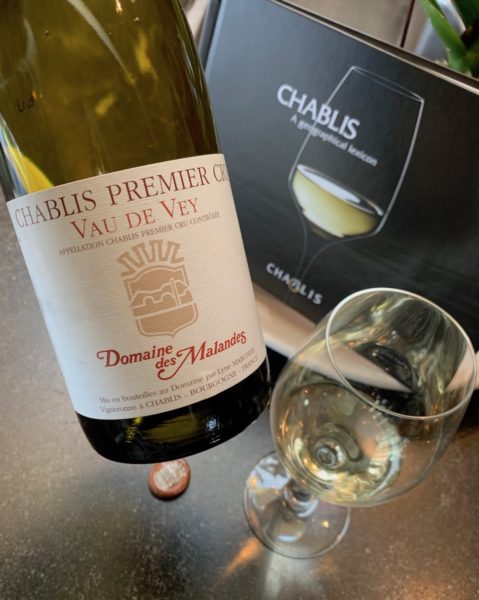 The Domaine des Malandes was run by Lyne Marchive, who comes from a long line of Chablis winemakers, until 2017 when her children, Richard Rottiers and Amandine Marchive, took over. The approach of this 30-hectare estate is to respect the environment whilst ensuring the wines reflect their terroir. The estate exports 92% of its production. 
VINES 
Soil: Clay limestone, Kimmeridgian. 
Viticulture: south-east exposure. Sustainable viticulture, 
plant cover in the inter row. 
Age of vines: 40 years old.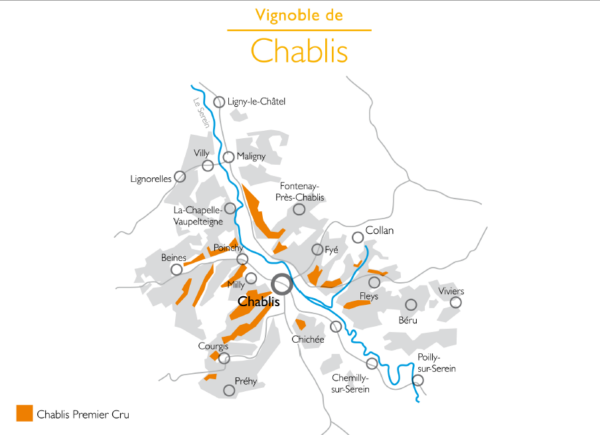 WINE 
Vinification: alcoholic fermentation at low temperature 
(18°C), malolactic fermentation completed. 70% in 
stainless steel tanks and 30% in oak barrels. 
Ageing: 7 to 12 months including 6 months in oak 
barrels for 30% of the cuvée. 
Domaine des MALANDES
Tasting Notes
Floral and mineral notes on the nose followed by peach, apple and citrus aromas. Round on the palate with a good acidity, fresh stone fruits and steely notes.
This wine was much lighter in colour than the J. Moreau Chablis. The wine exhibited strong, bold scents, meyer lemon, ripe pear, yeasty bread, citrus, pineapple, kiwi and tropical fruits.
Rich, dense aromas and slightly oaky. Very classic Chablis taste, a tiny bit more oak than I prefer but not overwhelming.
After about an hour the scent is now laundry detergent, quite pungent, very floral. Sweet scents that are not reflected in the taste. Oak is subdued now, good minerality. Rich, ripe fruit flavours of red apple.
Winery information courtesy of Wines of Chablis technical sheets and courtesy of the winery. I received complimentary bottles of each of the wines. All opinions are my own.  With thanks to vins de Bourgogne.