"In this series I will be sharing my take on which Wine pairs well with some inspirational recipes"
There are many versions of the Coquille St Jacques and I took inspiration from several with a mix and match list of ingredients. I was pleased with the result. It is sure to impress.
Coquille St Jacques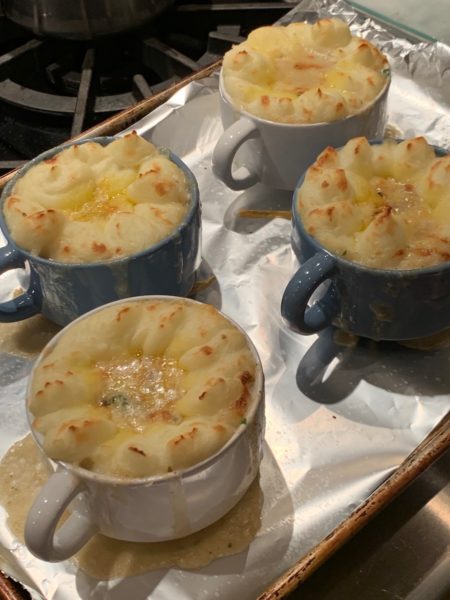 Ingredients:

sliced mushrooms
salt and pepper to taste
1/2 cup white wine
4 sea scallops per person, halved
1/2 cup whipping cream
fresh tarragon (optional)
gruyere cheese 1/2 cup, grated
Fry the shallots and sliced mushrooms in the butter, adding salt and pepper to taste. Once the mushrooms are cooked and the moisture has been reduced add the scallops and white wine. Poach lightly and add the cream and fresh tarragon, if using.
Garlic mashed potatoes:
1 large potato for every four dishes
1 garlic clove (minced)
butter
cream
Cook (steam or boil with salt). While the potatoes are cooking fry the minced garlic in butter, set aside. Mash the potatoes, add butter and cream, and the sauteed garlic.
Fill an oven-proof individual casserole or soup bowl with the scallop and cream mixture. Pipe or spread the potatoes around the edge of the dish. Bake for 20 minutes at 350. Add the cheese and place under the broiler for 3-4 minutes.
May be served with grilled asparagus or a side dish of your choice.
I note here that this dish, as pictured, was crafted by my house guest (I'm lucky to have a gourmet cook in the family) and their recipe may vary from my own. Nevertheless, the basics remain the same and the dish was delicious. Taking inspiration from Ricardo, All Recipes and even NYTCooking with generous allowances for variances.
Suggested wine pairing:
J. Moreau & Fils Chablis 2018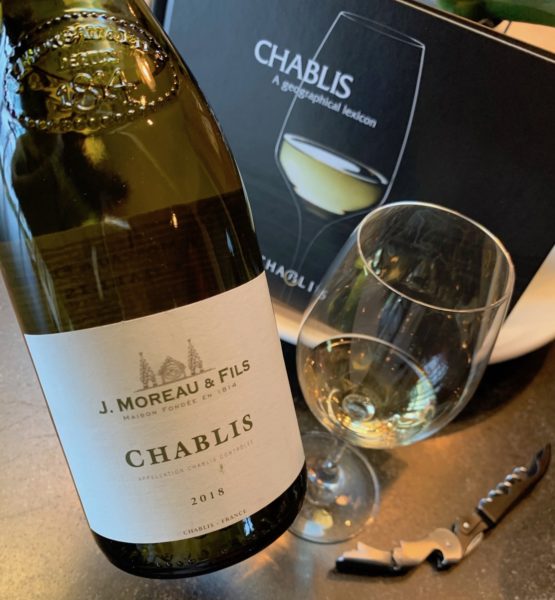 Varietal
100% Chardonnay.
History
Though traces of a village dating back to the Neolithic period have been found, the true origins of Chablis go back to Roman times. Its name is said to have come from the Latin term "caplum", meaning "ford". Vines flourished here in the 3rd century, after having been rehabilitated by the emperor Probus. The Serein river, which played an important role in regulating the climate, also allowed wines from Chablis to be transported to Auxerre and Paris. From the capital, they were shipped abroad, to Flanders and England in particular. However, the vineyards owe their real blossoming to the Cistercian movement as the Abbey of Pontigny was just nearby. Phylloxera ravaged the vineyards in the late 19th century, which explains the recent planting of the Chardonnay grape variety. Since 1970, the vineyards have been undergoing spectacular expansion as mixed farming is being abandoned in favour of viticulture. The vines are also resisting spring frosts more effectively.
Origin
Located in the north of Burgundy, in Yonne department, the appellation stretches over around 20 communes that cover the hillsides running alongside the pretty Serein Valley. The vineyard enjoys an exceptional geological situation. The main bedrock comes from the Jurassic epoch, or more precisely the Kimmeridgean age (150 million years ago). Deposits of tiny oysters can still be found today in the rock, remains of a time where the sea was totally covering this territory.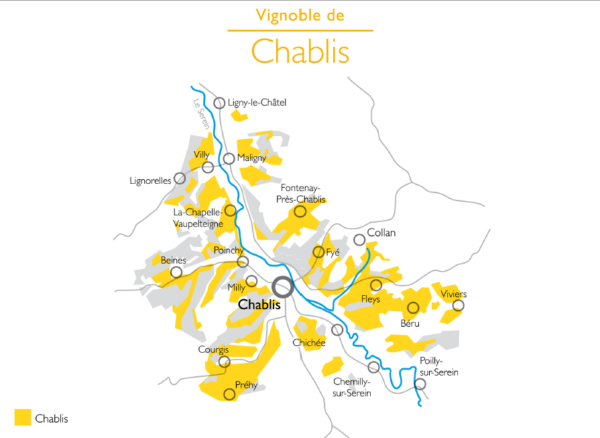 Vinification and maturing
The grapes and must were brought in and went through a long pneumatic pressing to get a qualitative juice with no risk of oxydation.
Then, it was left to settle in order to clean it up from the biggest lees. That step is quite essential to ensure pure aromas and a bright color. The alcoholic fermentation used selected yeasts in stainless steel tanks under controlled temperatures (18 to 20°C) to preserve a maximum of fruit.
To get a wine in the purest J.Moreau & Fils style, it will go through the complete malolactic fermentation and age on its lees for 8 months. This will give that wine we love with an intense nose of fresh fruits and a creamy texture in the mouth.
My initial impressions upon pouring: rising bread dough, green apples, lichee, meyer lemon, pastry, spice, pear, ripe fruit. Beautiful clear, gold colour, reflective in the glass.
Later: riper, candy, delicate perfume, floral, hard candy and still very pleasant aromas. Remains delicate in scent with very ripe fruit notes, tropical, pineapple, subtle banana scents, still expressing scents of candies with sweet lemon.
The wine is light with good acidity, lingering in the south, a bit of oak, very young, lacks some density. Would pair nicely, very pleasant, very drinkable, very nice.
Enjoyable with a pairing, easy drinking. Compared to the other Chablis I tasted the scents are much more subdued all the the scents are maintained and give way to aromas of red roses.
Wine information and tasting notes courtesy of the winery. Tasting notes (in italics) are my own. I received a complimentary bottle of wine for review. Read my previous feature article here.
If you would like to be featured on MyVanCity.ca please connect with your pr agency or email myvancityval@nullgmail.com for full details. Wine samples accepted for review.