"In this series we bring you our #FavouriteThings Holiday Gift Suggestions which we personally recommend"
If a Favourite had a Favourite then I think this would be it! #FavouriteThings Holiday Gift Suggestions the "Bubbly" editon where all the #Favourite bubbly, frizz, fizz and sparkling come together in one place. This year we may not be as together as previous years but by being careful and kind and staying in our bubble we can #PartyLikeIts2020 with these fine wines.
Liquidity N/V Bubbly

This fresh sparkling wine has aromas of citrus, pear, orange blossom, lime leaf and some nutty notes. On the palate it offers creaminess and a fine mousse with flavours of Granny Smith apple, pink grapefruit, melon and a hint of white pepper.
A refreshing bubbly with green apple, honey suckle and acacia on the nose. The palate is creamy with a lively mousse, ripe fruit and white blossom.
VINEYARD NOTES
Chardonnay & Pinot Noir both have been cane pruned and then shoot and fruit thinned to produce 2.9 short tons per acre of Chardonnay and 1.75 short tons per acre of Pinot Noir.
2018 Pinot Noir was whole cluster pressed and fermented in stainless steel barrels to age on lees for 16 months. Chardonnay Musque and Pinot Noir from the 2019 vintage were harvested, whole-cluster pressed and fermented separately. The 2018 vintage was blended with the 2019, bringing weight, texture and depth to the finished wine.
FOOD PAIRING NOTES
Sushi, quiche, mild cheeses, sunny patios
$23.00 available online
Liquidity N/V Brut
TASTING NOTES
Traditional method sparkling wine, aged 20 months on lees. Blend of 51% Chardonnay and 49% Pinot Noir. The first release of our sparkling Brut has lovely aromas of citrus, almond, biscuit and white peach. The palate is crisp, yet creamy with tiny, persistent mousse. Truly a stunning sparkling.
VINEYARD NOTES
Chardonnay clone 76 and Pinot Noir clone 114 from our young or low vigour blocks were selected to harvest early for traditional method sparkling.
WINEMAKER NOTES
Chardonnay and Pinot Noir were harvested in early September of 2017 and 2018 between 18.5 and 19 Brix. The wine was fermented in a combination of stainless steel tanks, and neutral French oak barrels. Following tirage bottling, the wine aged on lees for 20 months until disgorging.
FOOD PAIRING NOTES
The texture and acidity of this wine make it a perfect pairing with antipasti, calamari, oysters and other shellfish.
Mission Hill Reserve Brut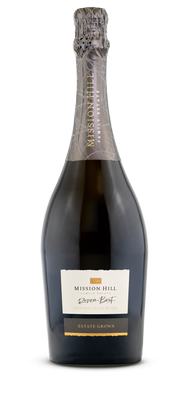 Tasting Notes
Tremendously fresh with notes of crisp apple, white peach and Anjou pear all highlighted by vibrant acidity and bright citrus on the finish.
Varietals
89% Chardonnay, 11% Pinot Noir
Road 13 2016 Sparkling Chenin Blanc

TASTING NOTES 
This beautiful bottle of bubbles and a lively mousse and a  biscuity nose. Aromas of red delicious apple, pear, and citrus and followed by ripe apple, white peach, and key lime pie on the palate.  This is a wine worthy of celebration. Serve it chilled and in good company.
FIELD REPORT 
This wine is made from the oldest Chenin Blanc vines in North America! The 2016 growing season was long, dry and warm, much like the previous 3 vintages. During harvest the grapes were sampled bi-weekly to measure flavour development while maintaining the lively acidity and then picked at the optimum point of flavour.
Road 13 2016 Sparkling Syrah

TASTING NOTES
Hello, flavour! Notes of blackberry jam, wild blueberry pie, cola and sweet oak on the nose are followed by flavours of ripe blackberry and baking spices like cinnamon and clove. The persistent mousse and the subtle dark fruit cake flavours on the finish make this the kind of wine you can't resist. Pair it with fresh oysters, seared sea bass or a summer salad and a shot of sunshine.
FIELD REPORT
The 2016 growing season was long, dry, and warm, with most vineyards maturing their fruit very early and with perfect ripeness.  The Syrah grapes used to make this sparkling wine came from the Blind Creek Vineyard in the Similkameen Valley, with a smaller portion of Syrah coming from our vineyards on the Golden Mile sub-appellation of the Okanagan Valley. We believe the combination of these terroirs adds to the final wine's complexity.
Road 13 2011 Jackpot Sparkling Chenin Blanc

TASTING NOTES
This sparkling wine is full of flavour, balance and complexity. Biscuity notes and ripe red delicious apple and pear on the nose are followed by a lively, persistent bubble and flavours of ripe apple, white peach, and KeyLime pie. Pairs well with popcorn, parties and promotions.
FIELD REPORT
2011 was a challenging growing year because of the late start to the season. The cool nature of the vintage overall ensured ripening was slower than usual. The good news?! This is the perfect combination of conditions when it comes to making sparkling wine.
Kitsch 2017 BLANC DE BLANCS
Aged on lees for two years, this traditional method sparkling is DTF and ready for a good time. Unleash the untamed beast with a saber. Zippy bubbles lead to a full bodied, creamy and rich mousse. Celebrate all of life's moments with this pure, ripe, complex bubbly.
Singletree 2018 Victory

This delicate Frizzante wine, made of Siegerrebe meaning "victory grape" in German, is rich and flavourful. The varietal's bouguet of natural rose petal aromas is balance is balanced with tropical fruit  notes on the palate. A lush textural wine balanced by fine acidity.
Enjoy on any occasion.
100% Siegerrebe
Noble Ridge 2017 'The Pink One' Sparkling

Tasting Notes
The deep and complex aroma of biscuit and toasted almond is followed by a hint of fresh wild strawberry in the background. The palate is well balanced and provides a long, soft, and dry finish.
PENTÂGE FIZZ BLANC 2019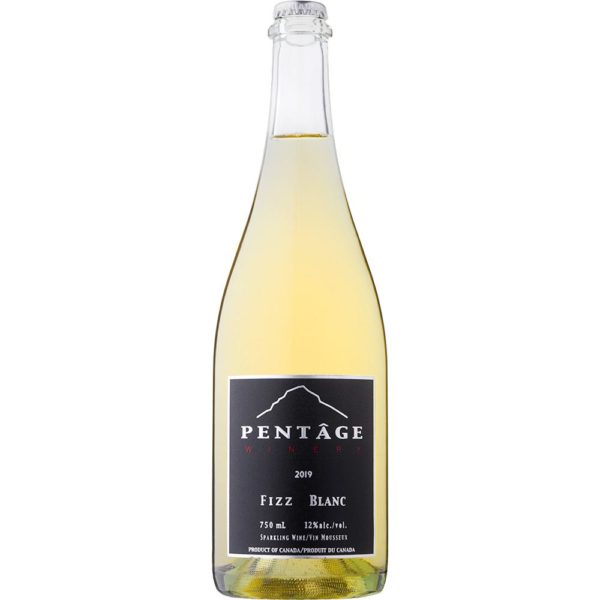 Blend: 75% Gewurztraminer, 25% Ehrenfelser
Aroma: crisp stone fruit and pear
Palate:  juicy mouthful of ripe pear with a bright lemon and grapefruit finish
About:  a delightful sparkler
The varietal wines for this easy drinking wine were cold fermented in stainless steel with an end goal of creating a lightly off-dry base wine.
The wine was gently fined and filtered to maintain dissolved CO2 and received a final CO2 polish immediately before bottling.
PENTÂGE FIZZ ROSÉ 2019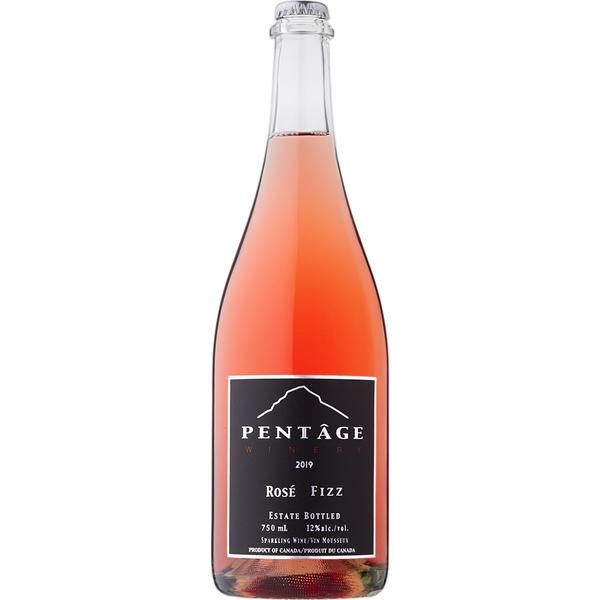 Blend:  Field Blend
Palate:  fresh ripe red berries, with bright acidity and rhubarb notes on the finish
About:  this fun, summer sparkler pairs beautifully with a patio
Lightly bubbled with bright strawberry flavors mingling on the palate with hints of rhubarb on the finish.  Fruit forward with bright acidity – simply delicious.  Serve ice cold.
The wine was gently fined and filtered and received a final CO2 polish immediately before bottling.
Red Rooster NV Brut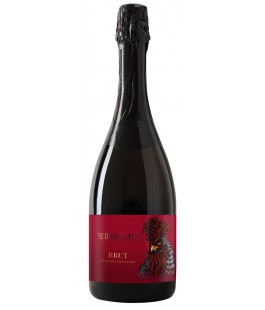 Celebrate Everyday with this amazing new sparkling wine.  It if full of character with armoras of citrus and apples.  It has a creamy texture and lingering nutty finish.
Limited production of 100 cases
Red Rooster Sparkling Rosé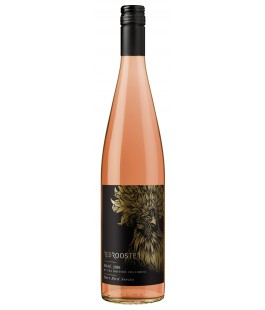 Tasting Notes
As the wine is poured look for tiny bubbles rising through a copper straw coloured backdrop with an ever so delicate rosé hue. The bouquet of crab apple, cranberry, rhubarb and a touch of yeast and bread gently escapes from the glass. This lively, exciting sparkling wine is light to medium-bodied with a lovely expanding mousse. Flavours of cranberry, pink grapefruit and a touch of yeast dance on the palate. Notes of rhubarb, tangy berries and yeast linger on the refreshingly dry finish. Enjoy a little sparkle while the wine is young and fresh.
Food Pairings
Serve chilled at 10° to 12°C. A traditional method sparkling wine for the best of times. Enjoy on its own or serve with fresh breads dipped into an Emmenthal and Gruyere cheese fondue; baked salmon wrapped in puff pastry; pan-fried trout; smoked salmon appetizers; freshly baked quiche; crab cakes; creamy Brie and Camembert with water crackers.
Tasting notes and Food pairings for the Rosé Sparkling courtesy of MyWineCanada.com
Order exclusively from the winery at 250-492-2424. Or email info@nullredroosterwinery.com
Harper's Trail 2016 SPARKLING CHARDONNAY
Fresh aromas of peach, apple, and almond also show on the palate. A creamy texture with a soft, delicate mousse is followed by a long, refreshing, dry, lime finish.Food match: Great on its own or try with egg rolls, popcorn, sushi, or a blini with crème fraiche.
Evolve Cellars Pink Effervescence
Bright and fresh, this Charmat-method sparkling wine is best enjoyed with friends and sunshine.
Awards:
Glass of Bubbly Magazine – Six of the best B.C. sparkling wines​
Haywire The Bub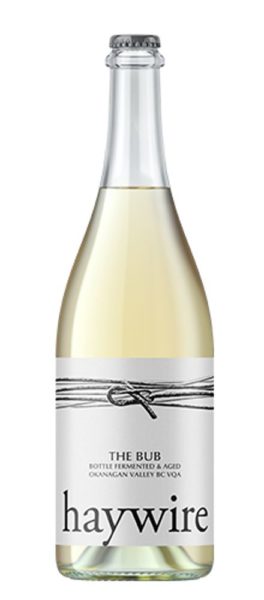 Theo Siemens, Ron Watkins, Brad & Dave Wise
VINEYARDS
Secrest Mountain Vineyard, Oliver, Okanagan, British Columbia
Watkin Family Vineyards, Summerland, Okanagan, British Columbia
WINEMAKERS
Matt Dumayne, Jordan Kubek
WINEMAKING
This BC made sparkling wine uses Pinot Noir and Chardonnay grapes which were harvested in late September from two uniquely different sites. Fermented in stainless steel tanks, before bottling in December 2014. Disgorged January 2015 with zero dosage.
WINE PROFILE
This is a bold, austere bubble; crisp and fresh, with citrus and toasty notes and a texture of light effervescence.
Bizou + Yukon BEE-zoo Bubbles 2018
BEE-zoo Bubbles is a refreshing, lively, sparkling wine made from classic sparkling wine grape varieties grown in our Summerland and Oliver vineyards. Secondary fermentation took place in our state-of-the-art charmat tanks; designed to lie on their sides, exactly like traditionally made sparkling wine is aged. Time spent on Pinot Noir skins provide a delicate pale pink hue to the wine. Toasty, creamy notes round out the medium bodied mouthfeel. Pawsitively a must with lazy evenings on the patio or happily paired with shellfish or simply enjoyed on its own.
The View PEARLS TRADITIONAL BRUT
This elegant, dry, sparkling Riesling has notes of crisp green apple, citrus and subtle minerality which dance on your palate with lively effervescence. For centuries the delicate procession of bubbles in sparkling wines has been referred to as "perlage". We call it Pearls.
Pairing: Pairs well with celebration! Also pasta with a buttered cream sauce, buttered popcorn, Brie chesses, shrimp or shellfish, stuffed mushrooms and fruit based desserts. Shortbread cookies are a fun and surprising pairing; the acidity in Champagne cuts through the rich butter of the cookie.
The View DISTRACTION FRIZZANTE

A crowd pleasing, fruit forward, mildly effervescent, dry, sparkling made from Pinotage, Pinot Noir, Riesling and Ehrenfelser.
The View's estate grown Pinot Noir, Pinotage and a blend of aromatic whites coalesce in the vivacious sparkling rosé. Featuring succulent notes of strawberry and pink grapefruit.
Backyard Vineyards Blanc de Noir Brut

This Blanc de Noir Brut is Fraser Valley from beginning-to-end and handmade the hard way ("Méthode Traditionelle") from 100% estate-grown Pinot Noir grapes.
Borrowing from the Methode Champenoise, the Blanc de Noir Brut offers delicate hints of apples on the nose, while the fine streams of bubbles in the glass are the hallmark of a naturally well-made sparkler. Ideal for all occasions.
VAPORETTO PROSECCO D.O.C.

Colour straw yellow with lightly green hints
Perlage fine and persistent
Aroma fruity (apple, light hints of apricot and citron) and floral (white and meadow flowers), fresh and pleasant
Flavour elegant on the palate, slightly soft with a fruity aftertaste and subtle floral persistence
Grape variety 100% Glera
Altitude of the vineyards 50-250 meters (164-820 ft.)
Training System double arched cane and sylvoz
Period of harvest September
Serve: at a temperature of 8°C in a crystal globet
Suggestions: thanks to the minimal residual sugar level this wine is not only indicated as an aperitif but also pairs perfectly throughout the meal even with delicate dishes.
90 Points, Wine Align – "This prosecco has a fruity, floral aroma that is fresh and pleasant. The palate is elegant, slightly soft with a fruity aftertaste and subtle floral persistence. Great as an aperitif, but also pairs perfectly with delicate dishes."
$19.99 on sale at $17.99 until January 2 at B.C. Liquor Stores
Taking their name from the "Little Steamer" boats that used to run along the canals of Venice, Vaporetto have their roots firmly planted in the north of Italy. Their wines are made from fruit grown on some of the finest cool-climate plots, which gives their wines wonderful fruit clarity and poise.
Winemakers Notes: Fraser Valley estate grown Pinot Noir, methode traditionelle
Nose: Brioche, biscuit, apple
Palate: Orchard fruit, mineral, light spice
Pairing Suggestions: Celebrations
Tasting notes and bottle shots courtesy of the winery. I received a complimentary bottle of each wine to facilitate this feature. Any opinions are my own. If you would like to be featured on MyVanCity.ca please connect with your pr agency or email myvancityval@nullgmail.com for full details. Wine samples accepted for review.