Every year we leave a special edition for our #FavouriteThings Holiday Gift Suggestions that will really up your game. What could be more exciting than a bottle of bubbly? We think this is the perfect holiday gift whether it's for right now, later on or you are saving it for New Year's Eve.
Here are some fabulous wines we think you should definitely consider. We love them!
For the idly curious here is the feature from 2018 Sparkling!
Meyer Family Vineyards are always tops on my list. Their portfolio of wines are excellent and I highly recommend all of their wines. But you have to act fast because many of their wines do sell out.
Meyer Blanc de Blanc
Méthode Traditionnelle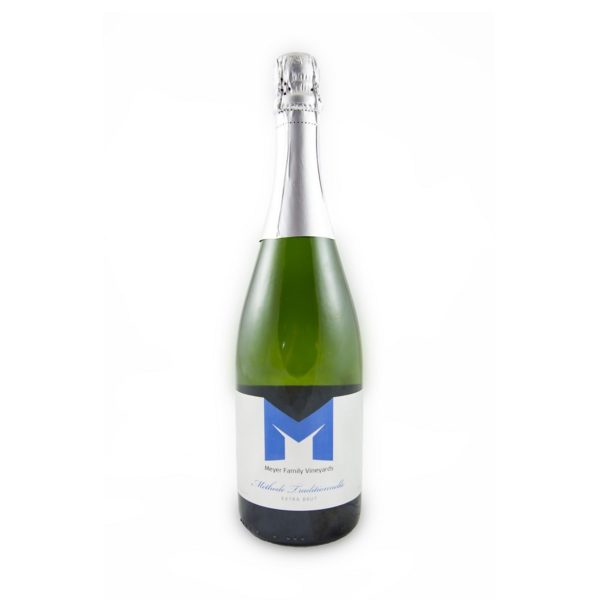 Our inaugural NV Méthode Traditionnelle, Extra Brut sparkling has a fine and persistent mousse thanks to the traditional method secondary fermentation in the bottle. Clean, crisp, and fresh palate with mineral notes wrapped in flavours of orchard apples and pears, finishing with a rich and creamy texture from the extended bottle age. The wine is dry from start to finish making it the perfect aperitif wine.
This is an exceptionally delicious sparkling wine. This one will be gracing our table for Christmas Day brunch.
Any, or all, of these fine wines would make an ideal gift for someone on your list. Great for family, friends, neighbours, the boss and how about for yourself?
Meyer is noted for excellent wines and in particular their Chardonnays and Pinot Noirs are outstanding. Just why Meyer Family Vineyard is a #FavouriteThings highly recommended winery. See wine our reviews for Meyer wines here.
Holidays call for parties! And parties call for Bubbly! Want to be the hit of the party?
EVOLVE PINK EFFERVESCENCE

Bright and fresh, this charmat-method sparkling wine is best enjoyed with friends and sunshine.
Like us, for every step you take forward,
every thought you have; everything you've ever tried to accomplish, you're always striving to achieve your best. To constantly change and grow.
And we raise a glass to you.
Wait no longer – just pop open and raise a glass. You might gets notes of ripe peach and rich berry fruit in your glass from this 97% Pinot Blanc and 3% Merlot blend, but all you really need to know is that it is sparkly, just like you.
#raiseaglassto  SKU 672410  $19.99
EVOLVE EFFERVESCENCE

Fun and fresh, this charmat method sparkling wine is best enjoyed any day of the week. Really.
Like us, for every step you take forward, every thought you have; everything you've ever tried to accomplish, you're always striving to achieve your best. To constantly change and grow.
And we raise a glass to you.
Pop open a bottle of this 70% Pinot Blanc and 30% Chardonnay blend and celebrate today. This wine is soft in the mouth with bready notes and a hint of sweetness, but all you really need to know is it is delicious, like you.
Cheers!  SKU 538652 $19.99
Time is really marching on and so should you if you want to share in some great BC wines this holiday season.
Serendipity 2016 Plot Twist
This innovative wine combines the old and the new. We took viognier grapes and used them to create a traditional method sparkling wine. In a twist of technique, we topped up this wine with raw viognier juice. We wanted to bring you the best of both worlds – the soft, citrusy flavours of the viognier grapes with the light bubbly texture of a champenoise style sparkling. With a 9 month elevage and 31 day hand riddling program, this wine is truly a blend of the old and the new. $35.00
Serendipity 2014 Sparkling Truth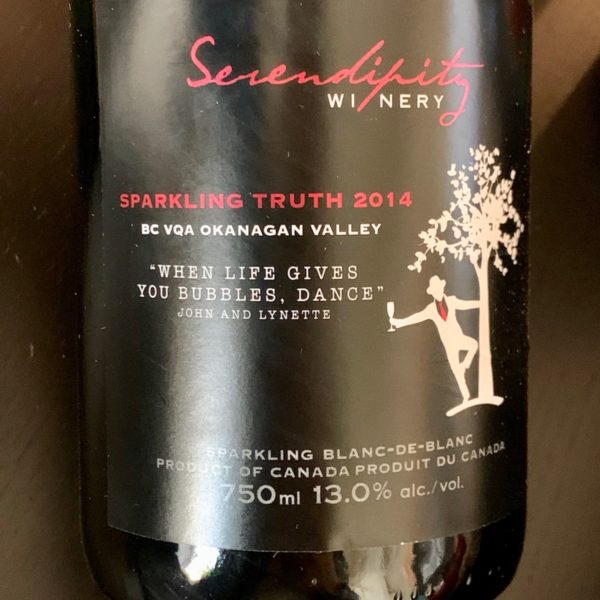 With a clean, floral nose, and crisp minerality with balanced acidity, this elegant BC bubble offers flavours of granny smith apple, almond/marzipan, creamy lemon tart, sweet pastry, mandarin and pear. It offers a luscious mousse with an elegant mouthfeel and generous length.
A 16 month elevage and 31 day hand riddling program give this wine a delicate yeasty flavour, inspired by old world champagnes.
SKU: 21354654 $50.00
In addition to their new Tasting Room there was also the opening this year of Home Block at CedarCreek Estate Winery. I experienced an exquisite wine dinner in late September that was one of the highlights of my culinary journeys this year. Read my review of Home Block and the wines served at the Visa Infinite® Wine Country Series dinner on September 27, 2019. Hot New Home Block dishes Big Flavours, Elegant Wines.
CedarCreek
Home Block Sparkling Brut Non Vintage

Blend
100% Muscat Ottonel
It all began in 1986 with our small Home Block vineyard. After three decades of making award-winning, estate grown wines from our signature vineyard sites, we figured we had something to celebrate. So we looked high and low for a perfectly balanced, single vineyard sparkling that met our hard-to-please standards. And since we couldn't find one, we made one. Delicious problem solved. $24.99
The Vintage
An unusually wet spring led to a later start to the season; however, 2017 in its entirety was a hotter, more compressed season than normal. Bud break was 2 – 3 weeks earlier than in 2016, with an earlier harvest by 3 weeks. On average, the season brought smaller berry size, clusters and yields. Though yields were slightly smaller, fruit quality was excellent, characterized by high flavour concentration, moderate alcohol, balanced tannins, complexity and natural acidity.
Tasting Notes
Lovely  flavours of orange, tangerine, and flowers. The mousse is smooth with a soft entry and long lingering finish. A bright, fresh wine perfect for celebrating!
If you're looking for a Sparkling wine that will wow the wine lovers on your list then you will be wanting to include the Liquidity traditional Brut.
Liquidity N/V Brut

Wine Profile
TASTING NOTES
Traditional method sparkling wine, aged 20 months on lees. Blend of 51% Chardonnay and 49% Pinot Noir. The first release of our sparkling Brut has lovely aromas of citrus, almond, biscuit and white peach. The palate is crisp, yet creamy with tiny, persistent mousse. Truly a stunning sparkling.
VINEYARD NOTES
Chardonnay clone 76 and Pinot Noir clone 114 from our young or low vigour blocks were selected to harvest early for traditional method sparkling
WINEMAKER NOTES
Chardonnay and Pinot Noir were harvested in early September of 2016 and 2017 at 19 Brix. The wine was fermented in a combination of stainless steel and neutral French oak barrels. Following tirage bottling, the wine aged on lees for 20 months until disgorging
FOOD PAIRING NOTES
The texture and acidity of this wine make it a perfect pairing with antipasti, calamari, oysters and other shellfish.
The View wines are full of life and excitement so if you are looking for the perfect bubbly…
The View Distraction Frizzante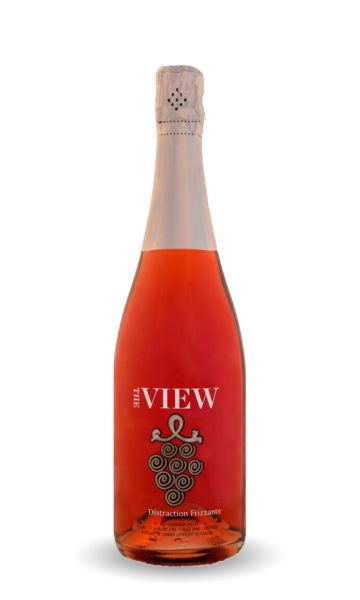 The View's estate grown Pinot Noir, Pinotage and a blend of aromatic whites coalesce in the vivacious sparkling rosé. Featuring succulent notes of strawberry and pink grapefruit.
A crowd pleasing, fruit forward, mildly effervescent, dry, sparkling made from Pinotage, Pinot Noir, Riesling and Ehrenfelser.
$19.95
The View Pearls Traditional Brut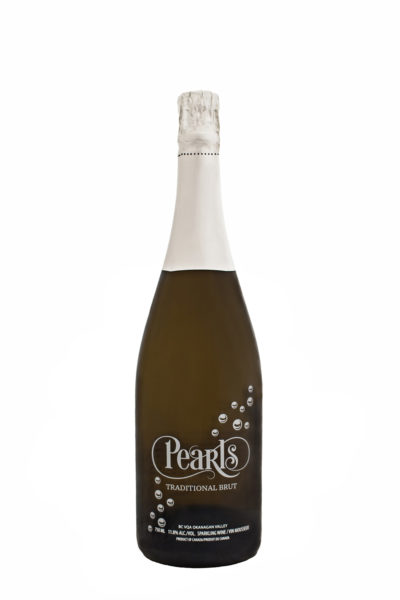 This elegant, dry, sparkling Riesling has notes of crisp green apple, citrus and subtle minerality which dance on your palate with lively effervescence. For centuries the delicate procession of bubbles in sparkling wines has been referred to as "perlage". We call it Pearls.
Pairing: Pairs well with celebration! Also pasta with a buttered cream sauce, buttered popcorn, Brie chesses, shrimp or shellfish, stuffed mushrooms and fruit based desserts. Shortbread cookies are a fun and surprising pairing; the acidity in Champagne cuts through the rich butter of the cookie.
$29.95
40 Knots 2017 Spindrift Brut
Lemon gold in colour, honey dew melon aromas backed with delicate toasty bread aromas. The palate shows bright lime and tart apples, bracing acidity with very long length. Pair with island crab and buckets of melted butter.
Almost in our own backyard.
Singletree 2018 Merryfield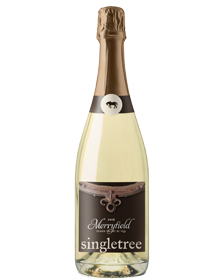 Winemaking: Grown from 100% estate fruit from our Mt. Lehman vineyards, this sparkling wine is made in the traditional method from 50% Chardonnay and 50% Pinot Noir. Bottle aging on lees for 24
months gives texture and depth, and the finished wine is crisp and lively, with strong citrus notes, and an aromatic nose.
50% Chardonnay, 50% Pinot Noir
$34.70
I have been a fan of Unsworth's wines for some time but it was a recent visit in October that reminded me these wines are definitely some of my #FavouriteThings
Unsworth Rosé Charme De L'Ile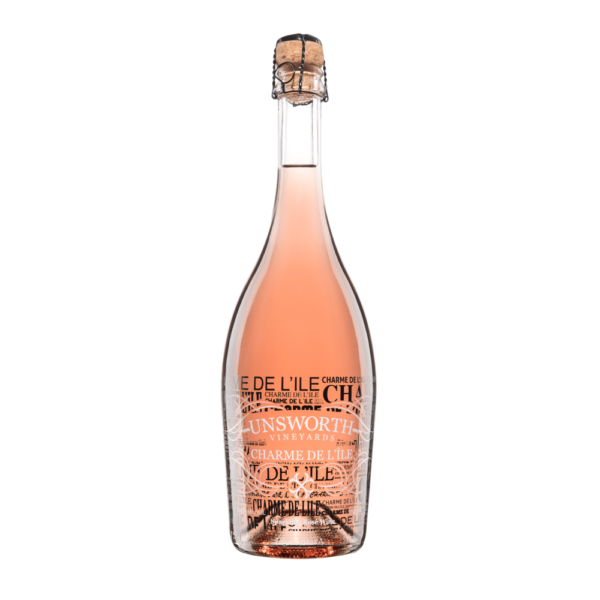 *Online wine orders must be in multiples of 12, mixed cases are accepted.
Charme De L'île (charm of the island) is the regional name shared with Vancouver and Gulf Island wineries for the sparkling wines made using the charmat method and representative of the local terroir.
Salmon in colour with bright, raspberry, strawberry and rhubarb notes. Dry with beautiful balance and a fine, persistent mousse.
This limited release Charmat-method sparkling wine is made from 100% Cowichan Valley Pinot Noir offering seasonally festive notes of cranberry, pink grapefruit and ginger with a creamier, bigger body than our regular Charme De L'Ile.  
Our signature non-vintage blend is crafted each year with a paradoxical goal of consistency and ever greater quality. And all while remaining grounded in a sense of place. It is 100% Pinot Noir. Up to 25% reserve wine.
Mission Hill Family Estate Winery winner of the 2019 "Winery of the Year" and definitely one of our #FavouriteThings Holiday Gift Suggestions.
MISSION HILL RESERVE BRUT