For my first experience dining at Home Block I couldn't have chosen a better venue, more spectacular dishes or more exceptional wines.  The new restaurant at CedarCreek Estate Winery is divine. The space is rusticly gorgeous, large yet still has an intimate quality. Soaring ceilings, cozy banquettes, spectacular views and superb service. We experienced all this and more at the Visa Infinite® Wine Country Series on Friday, September 27.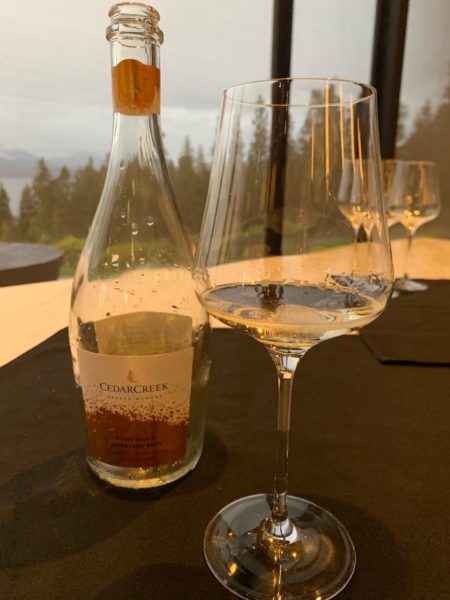 We started with a lovely selection of Canapés paired with Home Block Sparkling Brut NV
Canapés
Neil Taylor: Croquetas de Jamon Iberico
Wood-Grilled Shishito Peppers, Smoked Olive Oil, Sea Salt
Adam Donnelly: Boquerones, Avocado Mojo, Pear, Urfa Chili on Toast
Iberico Presa Carpaccio Picos with Bottarga
Home Block Sparkling Brut, NV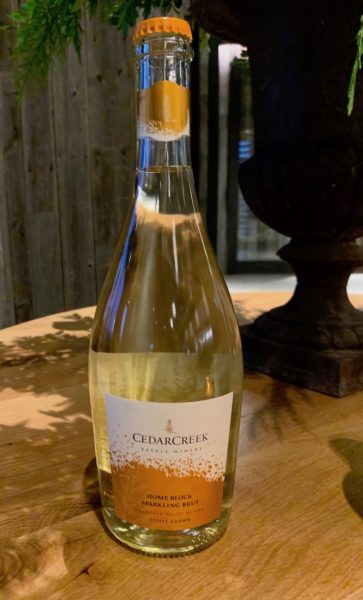 I really enjoyed this sparkling wine. I picked up scents of tropical fruits, floral, rose petals and found it had good but light acidity. It had a smooth, and a slight sweetish finish. I was especially taken by the fact it had light effervescence which was very nice. I don't always want an overly bubbly wine. This one was delicious and perfect pairing with the canapés.
Lovely flavours of orange, tangerine, and flowers. Off-dry on the palate with smooth mousse and a long lingering finish. $24.99
—
Adam Donnelly: Tuna Crudo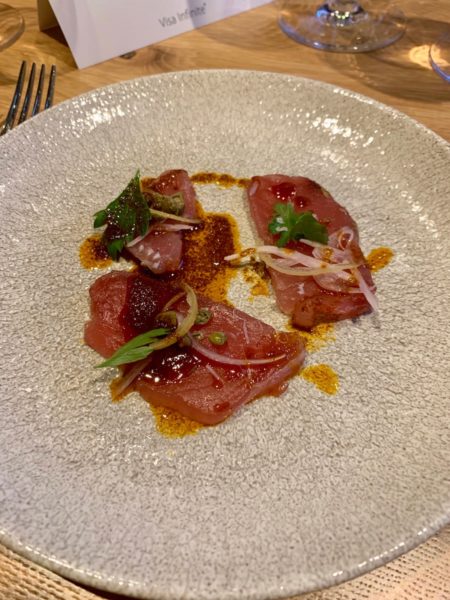 Mojo Rojo Brown Butter, Capers, Lemon Preserve, Shallot, Parsley
Fresh slices of tuna enhanced with the capers and lemon preserve. Sweet and tender. The capers added a tang and combined with the tuna it was a burst of flavours. A winner!
Platinum Border Vista Sauvignon Blanc 2018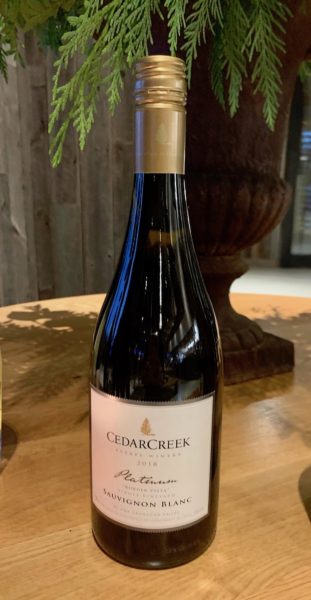 Scents of citrus with big, flavourful aromas of hard candy and melon. Tart in a good way with tastes of crisp citrus. Later a hint of spring grass scents.
Gooseberry, green peppers, rich texture, bright acid and balanced weight on the palate.
—
Adam Donnelly: Halloumi, Tomato and Peach Salad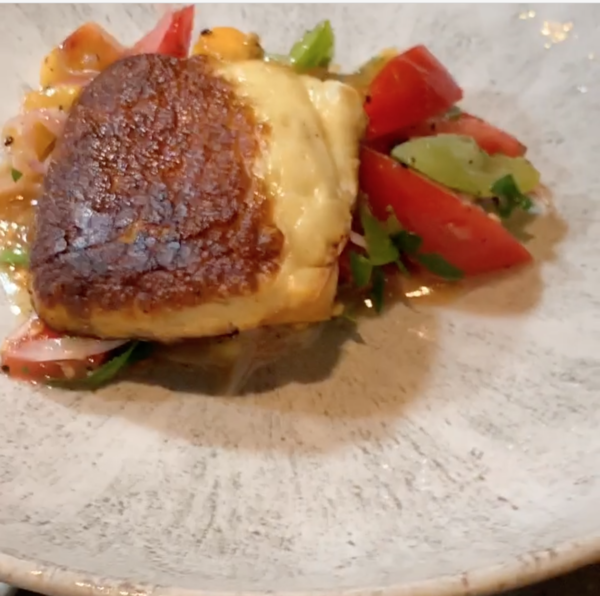 The tomato and peach was a standout in this dish, enhanced by the cilantro and a bite of chili. The fried cheese was rich and delicious and made for an outstanding dish.
Platinum Block 5 Chardonnay 2017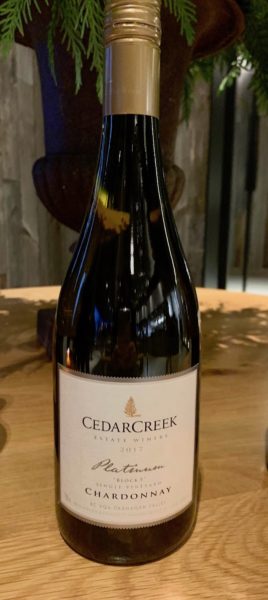 Where's the oak? So smooth, medium bodied, slightly fruity and light, delicious with flavours of almond and citrus. The perfect Chardonnay to introduce to ABC wine drinkers.
Riper, richer flavours of pineapple and mango with a backbone of vibrant acidity. Energetic with depth and presence.
—
Neil Taylor: Fideuà Negra with Crispy Squid
Prawns, Salt Cod, Gremolata, Saffron and Chili Aioli
The toasty fideuà negra was crunchy and nutty almost like a wild rice and with the crispy squid it was very rich. The Gremolata and layer of Chili Aioli was a burst of taste. Every bite was a different piece of prawn or cod. Something different but equally tasty.
Platinum Block 2 Pinot Noir 2016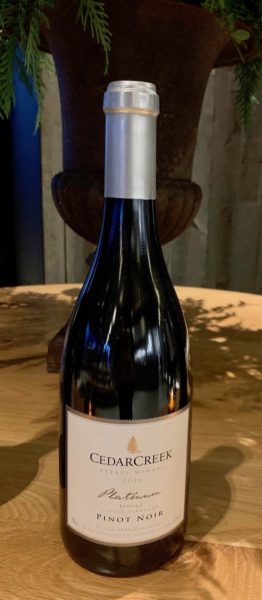 A lighter colour with typical Pinot Noir scents of dark fruits and cherries. Smooth, rich with a sweet taste. Juicy, full, fruity with light to medium tannins. Continues to give sweet flavours of delicious cherries.
Expressive. Soft tannins, savoury herbs, dark fruits, earthy notes. Long finish.
—
Adam Donnelly: Bisteca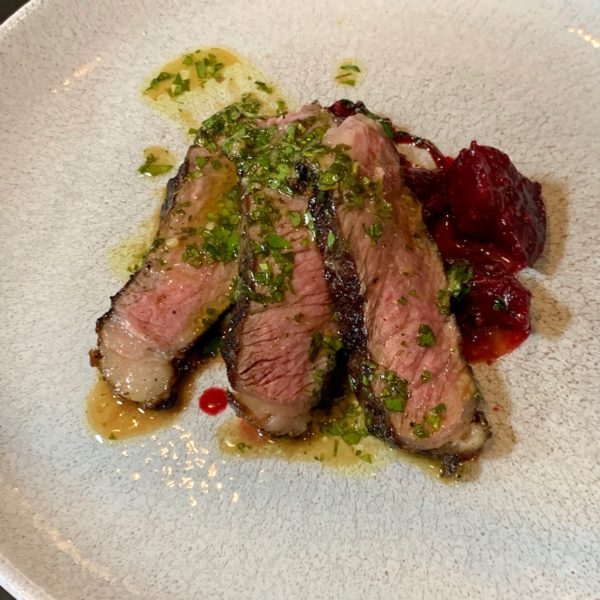 Horseradish Salsa Verde, Valdeon Beets
After seeing the beef as it waited for it's finale my mouth was watering and impatient to tuck into this perfectly cooked, tender and flavourful beef enhanced with the mild horseradish salsa verde. The beets were a great choice cooked to a light crunch that worked well with the mint. Again a bit of a bite that made an interesting dish.
The Last Word 2014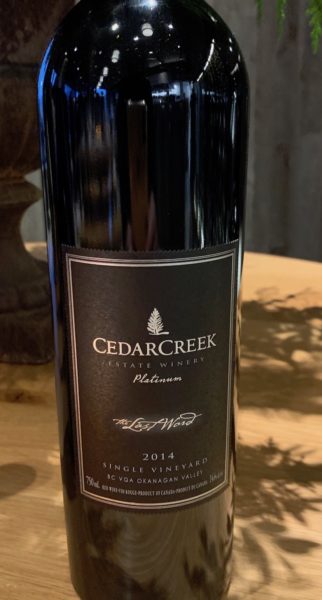 A Bordeaux blend with superbly rich aromas of deep, dark fruit and plums, cinnamon. Although not as smooth as I anticipated it needs more time. Heavy tannins. Please keep in mind for the most part I am not a regular red wine drinker except for a Pinot Noir so my opinions should be considered just that, an opinion not a reflection on the quality of the wine.
An all around intense experience. Spicy, dark fruit from co-fermented Cabernet Franc, Cabernet Sauvignon, and Malbec.
—
Neil Taylor: Basque Cake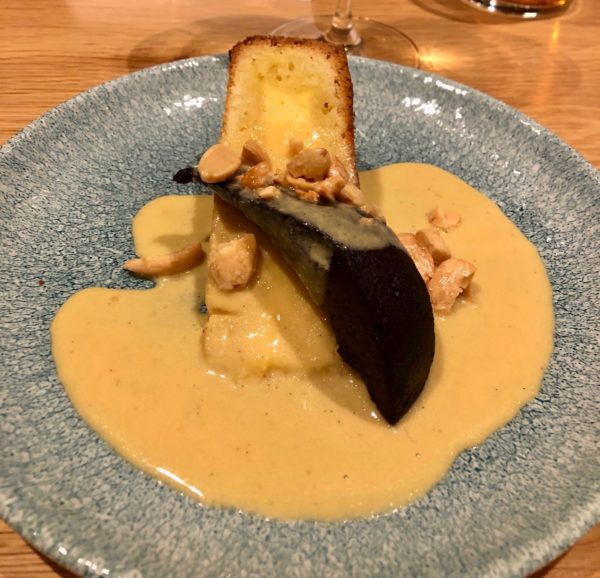 Red Wine Poached Pear, Marcona Almonds, Pedro Ximenez Custard
A dense pound cake with a sprinkling of toasty almonds and a creamy custard centre. Very rich but very good. The poached pear helped balance the rich sweetness of the cake and added texture to the dish. Very good and a nice finish to a lovely dinner.
'M' Madeira-Style Chardonnay 2013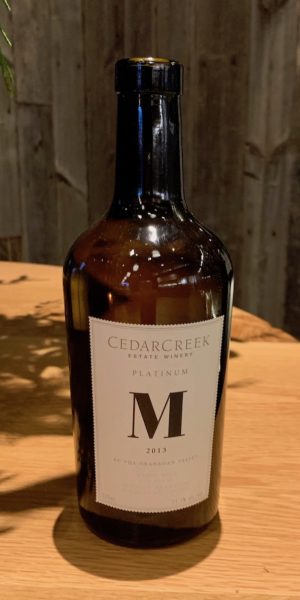 Sweet flavours and tastes of coffee and butterscotch. Went well with the rich dessert or would be good on it's own or following a hot, strong cup of coffee. Always nice to have on hand.
Caramel and macadamia nuts.
—
A collaborative dinner with Chef Neil Taylor of Home Block at CedarCreek Estate Winery and Chef Adam Donnelly of Segovia Tapas Bar in Winnipeg. With an introduction by Winemaker Taylor Whelan. The evening was emceed by Rhys Pender, Master of Wine.
A Visa Infinite® Wine Country Series Dinner hosted by the Home Block Restaurant at CedarCreek Estate Winery.
Dinner was everything I had hoped it would be. The dishes were exquisitely delectable and attractively presented. Every course was well thought and unique. My guest and I had a wonderful time. Seating was, for the most part, long table style which lead to inspired conversation centering on wine of course.
I think one of the best ways to appreciate good wine is when it is paired with delicious, fresh dishes and good company. I highly recommend the Visa Infinite® experience to anyone wanting to further explore the wines of British Columbia and the cuisine of the best restaurants.
For information regarding upcoming offers visit visainfinite.ca
About Neil Taylor
Originally from England, Chef Neil Taylor's carer has taken him through top restaurants in London, Sydney and Vancouver, where he was recruited to open Cibo Trattoria and Uva Wine Bar. Cibo went on to become enRoute magazine's best new restaurant in Canada 2009. He followed that with Espańa, a Spanish tapas and wine bar that was immediately nominated as one of Canada's Top 20 best new restaurants, as well as the West End's much-lamented English-Style gastropub, The Fat Badger in spring 2019, he opened the new Home Block at CedarCreek Estate Winery in Kelowna. He is known for a bold culinary style with a focus on Italian and Spanish flavours.
About Adam Donnelly
Adam Donnelly is one of the talented Winnipeg chefs who is rapidly changing the city into a gourmet destination. In 2009, he and co-owner Carolina Konrad, opened the contemporary Spanish restaurant Segovia, which currently enjoys the number 46 spot on Canada's 100 Best Restaurants. Prior to that, the hometown Winnipegger had earned his chops cooking with renowned Michelin-starred chef Tom Aikens in London and staged with Fergus Henderson at St. John Bread and Wine, one of the world's foremost nose-to-tail eateries. But Segovia owes its influence mainly to Chef Donnelly's travels through Spain, where he devoted a passion for tapas both classic and contemporary.
About Taylor Whelan
Taylor Whelan is a B.C. native. Born and raised in Campbell River on Vancouver Island, he later migrated to Victoria for an undergraduate degree in Biology. Fisheries science turned out to be less swimming with whales and mores statistics. So Taylor pursued his other passion, winemaking. After completing a post-graduate diploma in Oenology and Viticulture from Brock University in Ontario, Taylor worked in Niagara, Ontario, as well as for world class premium wineries in Hawkes Bay, New Zealand, in McLaren Vale, Australia, and in Piper's River, Tasmania. Taylor's passion for cool climate grape growing and winemaking brought him to CedarCreek for harvest in 2011, and he was hired permanently as Assistant Winemaker in 2012.
Taylor's goal is working with CedarCreek's viticulturists and vineyard managers to continue to improve the quality of fruit grown in the vineyard, and to build a strong and passionate winemaking team who can translate those premium grapes into premium, terroir driven wines, while pushing the boundaries of the British Columbia wine industry.
About CedarCreek Estate Winery
The story of CedarCreek begins with the vision of Senator Ross Fitzpatrick.  Born and raised in the Okanagan, the future senator worked alongside his father during the '40s and '50s at MacLean & Fitzpatrick, a fruit packing and shipping company.
Though his education and career took him away from the valley for three decades, he returned in 1986, and purchased his first Okanagan Valley winery and vineyard on a site overlooking Okanagan Lake.  At the time, there wasn't much belief in the idea of wine being produced in the valley, let alone wine that could stand among the best in the world. He became a pioneer in the planting of vinifera grape varieties to produce premium quality wine.
Few others shared the same vision of what the Okanagan might become, among them – the von Mandls.  CedarCreek grew into one of the leading wineries in the Okanagan Valley – twice winning Canada's "Winery of the Year" award.  In February 2014, the Fitzpatrick family announced the transfer of ownership of CedarCreek to the von Mandl family.  With this, two of the region's pioneering winemaking families came together over a shared vision for the future of the Okanagan Valley.
Today, we honour the Senator's vision for the 50-acre Home Block Vineyard. Winemaker Taylor Whelan is building upon three decades of winemaking history and defining a new chapter with estate-grown, organic wines.  Because of planting decisions made in the early 1990's, we now have 30-year-old vines at the heart of everything we do, and seek to showcase them in increasingly nuanced ways.  We commit to this land daily with integrity, authenticity, and a commitment to quality.  On that, you have our word.
Come soak up the spectacular views of the lake, vines, and valley with us.  Book on Open Table or call 250-980-4663 for reservations.
Hours: 
Mon–Thu 11:30 am–9:00 pm
Fri and Saturday 11:30 am–9:30 pm
Sun 11:30 am–8:00 pm
I thought you might enjoy some random shots taking during the evening.
Tasting notes in italics are courtesy of CedarCreek Estate Winery. All images, except as noted, MyVanCity. Feature image: courtesy of CedarCreek photo credit: Darren Hull. I received a complimentary dinner for myself and a guest in order to facilitate this review. All opinions are my own.
If you would like to be featured on MyVanCity.ca please email myvancityval@nullgmail.com.