On a beautiful September evening 50th Parallel Estate Winery was the venue for the most recent Visa Infinite® Wine Country Series dinner in Lake Country, B.C.
An opportunity for guests to be among the first to experience the spectacular views from the stunning new glass-walled event hall at 50th Parallel Estate.
This young Lake Country winery has become as renowned for its dramatic contemporary design as for its elegant, internationally award-winning wines, and the evening celebrated both. It offered some of the first tastes from its new BLOCK ONE restaurant and Gravity Lounge, courtesy of a sumptuous collaborative feast from two of the valley's most talented chefs, Kai Koroll and Brock Bowes, formerly Executive Chef at RauDZ.
Canapés
Kai Koroll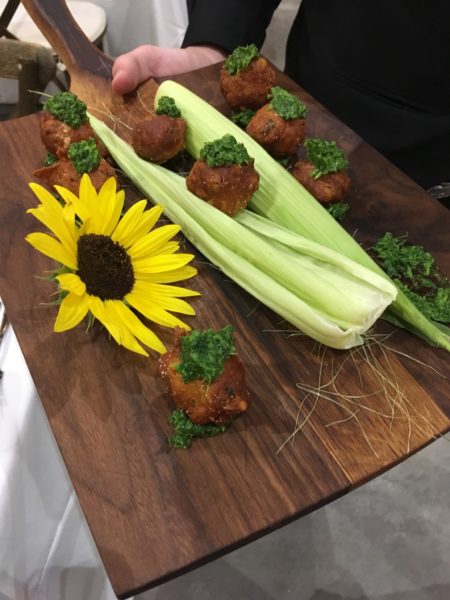 Yarrow Meadows Duck Confit, Okanagan Cherry and Thyme Gastrique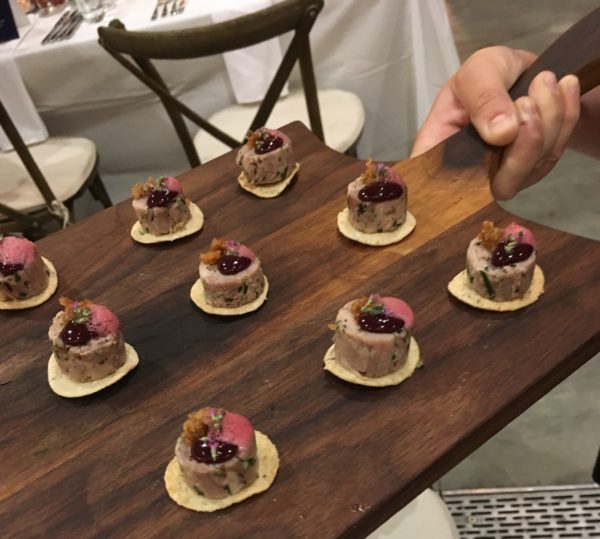 Beet Tartare, Creme Fraîche, Northern Divine Caviar, Rye Crisp
Brock Bowes
Roasted Corn and Miso Fritter, Lovage Pistou
Smoked Salmon "Sausage", Bone Marrow Aioli
50th Parallel Estate 2017 Gewürztraminer, BC VQA Okanagan Valley
Kai Koroll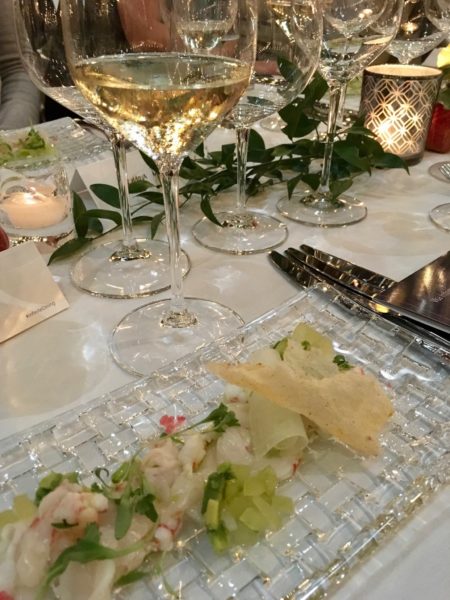 Scallop and Sidestripe Shrimp Aquachile
Compressed Apple, Kohlrabi, Finger Lime, Chili-Dusted Crisp
50th Parallel Estate 2017 Riesling, BC VQA Okanagan Valley
Brock Bowes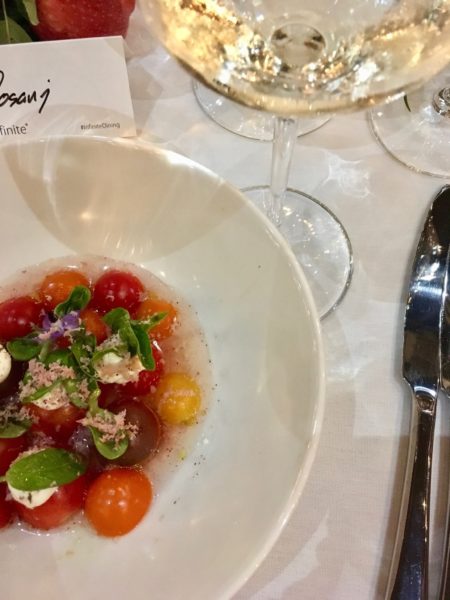 Heirloom Tomatoes, Shaved Rousong Pork
Quark Cheese, Toasted Hazelnut, Basil, Olive Oil
50th Parallel Estate 2017 Pinot Gris, BC VQA Okanagan Valley
Kai Koroll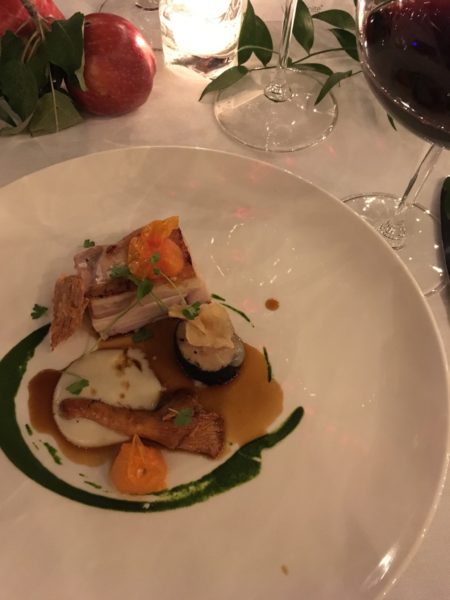 Sterling Springs Chicken Pressé, Truffled Boudin Blanc
Sunchoke Purée, Chanterelles, Confit Sungold Tomato, Sage, Natural Jus
50th Parallel Estate 2015 Pinot Noir, BC VQA Okanagan Valley
Brock Bowes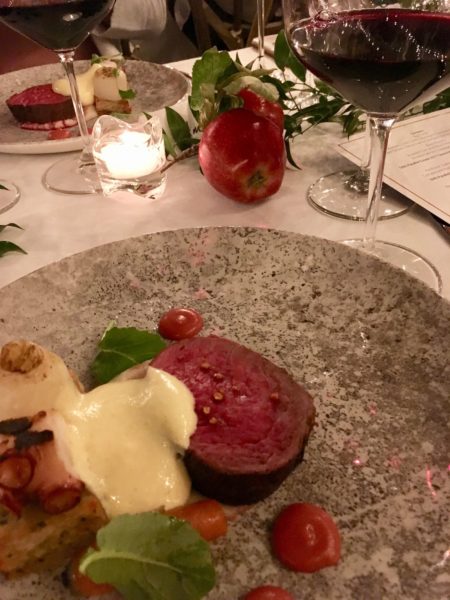 Beef Tenderloin, Octopus, Potato Rosti
Okanagan Vegetables, Stone Fruit Purée, Hollandaise
50th Parallel Estate 2016 Syrah, BC VQA Okanagan Valley
Kai Koroll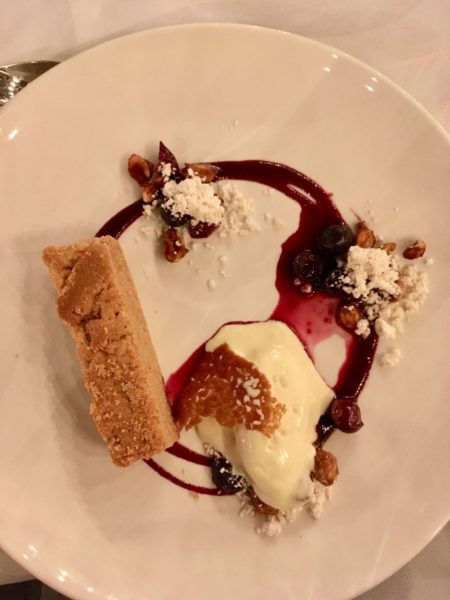 PB+J, Peanut Butter Blondie, Pinot Noir Gelée, Poached Grapes
Candied Peanuts, Peanut Butter Powder, Brioche Ice Cream
Coffee Service
The cucumber and kohlrabi comes from the garden at 50th Parallel, other vegetables came from Wise Earth Farm and the cheese came from Bella Stella in Lumby, Presse is chicken breast and thigh with some duck fat. Every bird is processed by hand. Even down to delivering themselves. The Sungold tomatoes from their garde.n are dipped in duck fat to crisp them.
"I think about my life in vintages" – Matt Fortuna, winemaker. 2015 was a hot year. "Pinot Noir is very expressive of the year" Lots of light reflects of the lake in lake country and that's the thing about Pinot Noirs in Lake Country.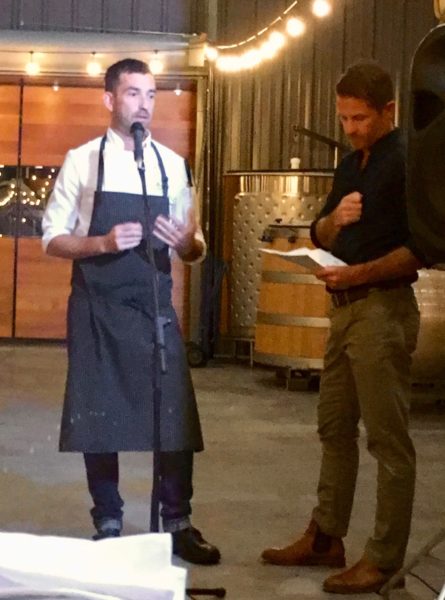 "Inviting someone into your kitchen is like inviting someone to your home". Chef Kai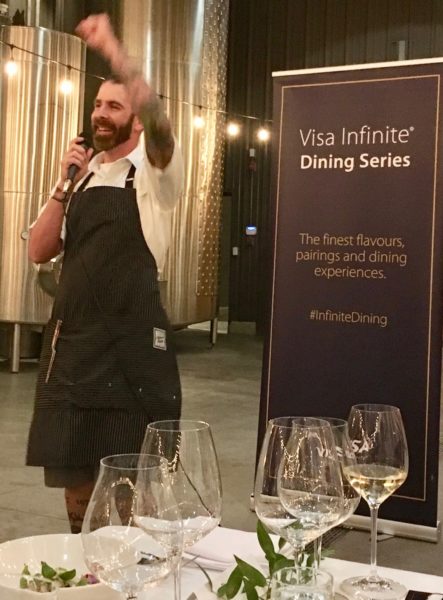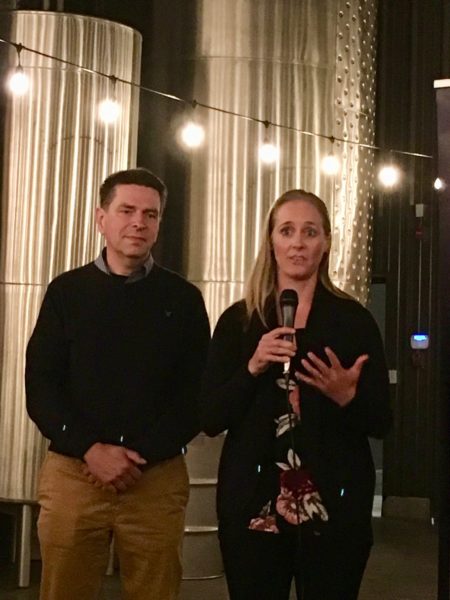 Lisa and Hans from Sterling Springs Chicken were in attendance and spoke about their family farm and the chicken that was used for Kai's dish. They spoke highly of how Kai did his homework and came up to the farm to check out the operation of one of his local suppliers.
Feature image photo credit: Roslyne Buchanan
Images: Aman Dosanj
With thanks to Aman Dosanj for her collaboration on this review.®