The evening started with an excited buzz as guests arrived for the Icons of Wine & Food dinner at Miradoro Restaurant at Tinhorn Creek on Friday, June 22, 2018. Hosted this year by Chef Mark McEwan with emcee Rhys Pender, Master of Wine.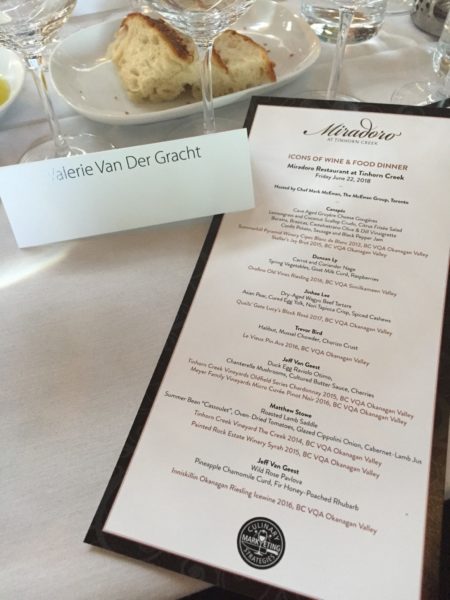 Sipping on BC bubbles, two in fact,  Stellar's Jay Brut 2015 and Summerhill Pyramid Winery Cipes Blanc de Blanc 2012 served with tasty bites it was the perfect start to what promised to be a lovely evening.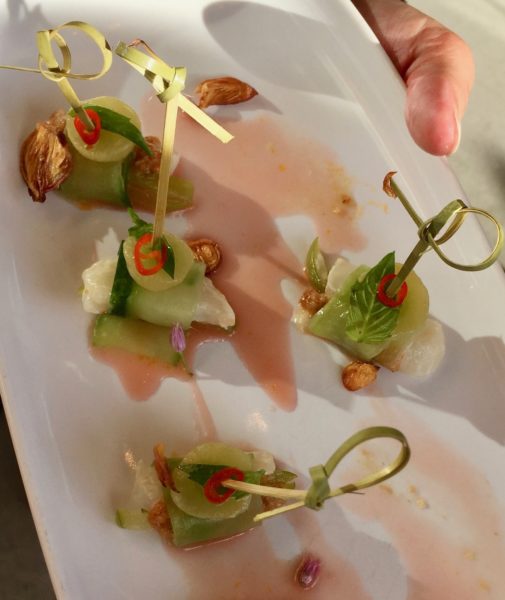 After a period of mixing and mingling the guests were seated at tables of 8 or 10 people. This was a nice arrangement and allowed us to continue conversations with the other guests at our table. Plenty of discussion along with oohs and ahhs took place over the evening.
We started with a selection of canapés including Cave Aged Gruyere Cheese Gougères, Lemongrass and Coconut Scallop Crudo, Citrus Frisée Salad and Buratta, Brasicas, Castelvetrano Olive & Dill Vinaigrette. All pairing nicely with the bubbles.
First Course was from Chef Duncan Ly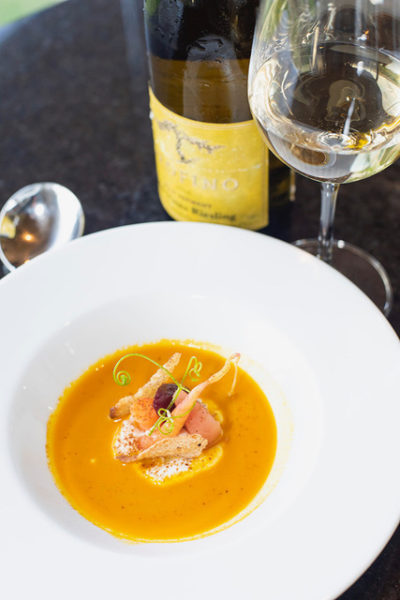 A Carrot and Coriander Nage with Spring Vegetables, Goat Milk Curd, and Raspberries
Flavourful fresh spring carrots in a tangy coriander creme. This course was an excellent choice for the starter as it awakened your taste buds with the slightest bite of spice, pairing perfectly with the Orofino Vines Riesling 2016 BC VQA Similkameen Valley.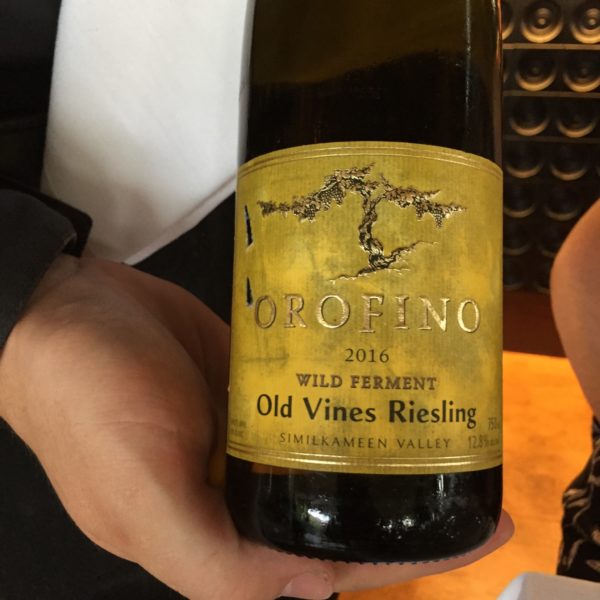 Second Course from Chef Jinhee Lee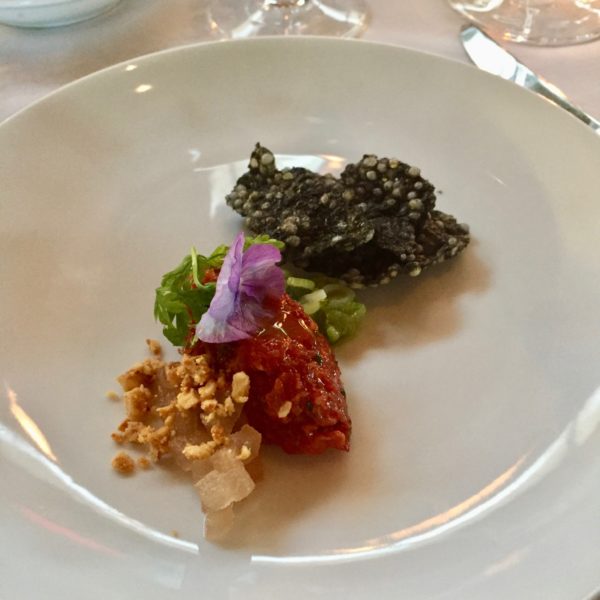 Dry-aged Wagyu Beef Tartare with Asian Pear, Cured Egg Yolk, Nori Tapioca Crisp and Spiced Cashews.
The opportunity to enjoy Wagyu beef is a treat at any time but under the hand of Chef Lee it became an exceptional dish that brought raves. Pairing with Quails' Gate Lucy's Block Rosé 2017 BC VQA Okanagan Valley was a satisfying choice that enhanced the combination of flavours present in the dish.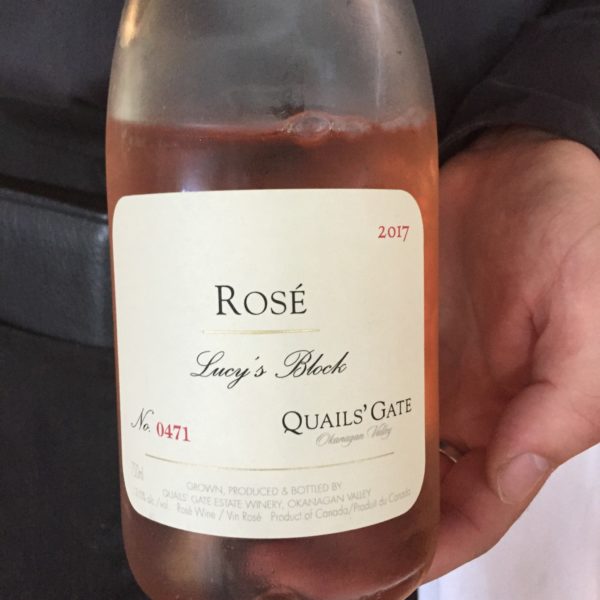 Third Course from Chef Trevor Bird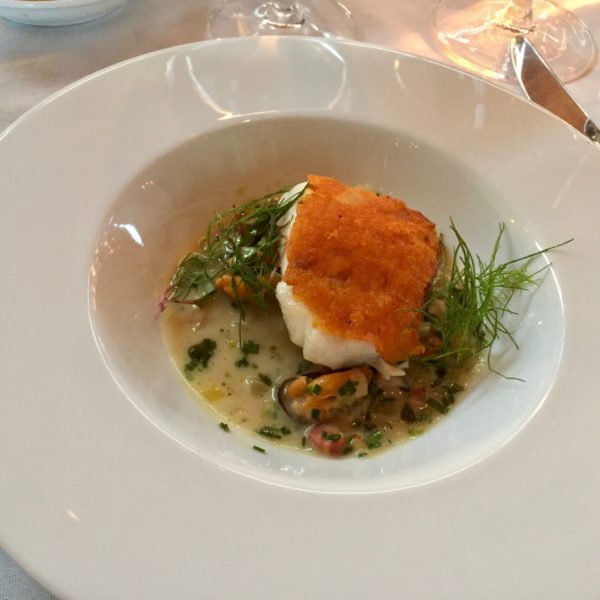 Halibut, Mussel Chowder, Chorizo Crust
The crisp crust was piquant but balanced went very well with the moist delicate flavour of the Halibut enhanced by the delicious, creamy Mussel Chowder. Paired with Le Vieux Pin Ava 2016 BC VQA Okanagan Valley.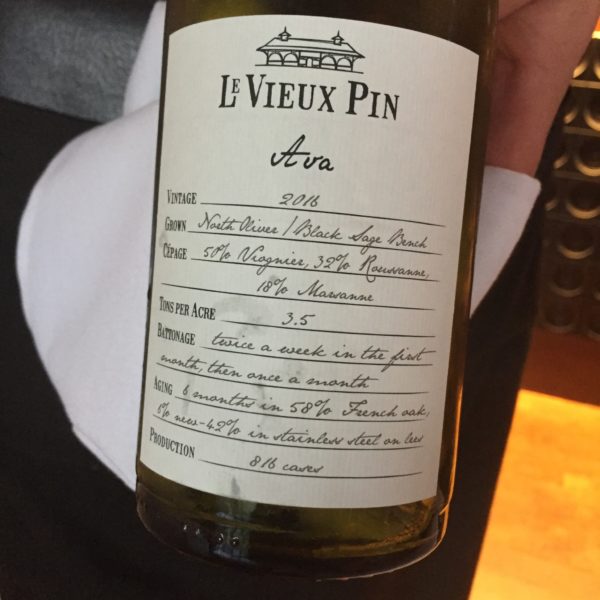 Fourth Course from Chef Jeff Van Geest
Duck Egg Raviolo Otimo, Chanterelle Mushrooms, Cultured Butter Sauce and Cherries
Always a level of anticipation for the course between two proteins. The ravioli purse was absolutely delicious, rich and creamy just the way I love my pasta. Paired with Tinhorn Creek Vineyards Oldfield Series Chardonnay 2015 BC VQA Okanagan Valley and Meyer Family Vineyards Micro Cuvée Pinot Noir 2016 BC VQA Okanagan Valley. Both wines were a delicious pairing to this delicate entrée.
Fifth Course from Chef Matthew Stowe
Roasted Lamb Saddle with Summer Bean "Cassoulet", Oven-dried Tomatoes, Glazed Cippolini and Cabernet Lamb Jus.
The lamb saddle is definitely a favourite for those who love the distinctive taste of roasted lamb. This course with the smoothly lush jus challenged the paired wines in the best way. Paired with Tinhorn Creek Vineyard The Creek 2014 BC VQA Okanagan Valley and Painted Rock Estate Syrah BC VQA Okanagan Valley both powerful, full bodied wines that were a superb choice. (both the Syrah and The Creek were decanted)
Dessert Course from Jeff Van Geest
Wild Rose Pavlova with Pineapple Chamomile Curd, Fir Honey-poached Rhubarb and Paired with Inniskillin Okanagan Riesling Icewine 2016 BC VQA Okanagan Valley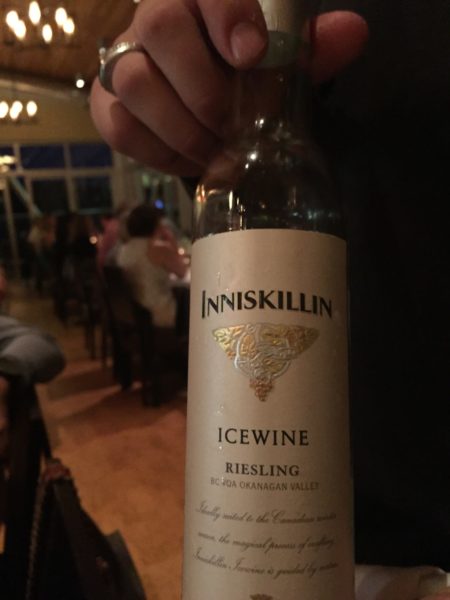 Another winner for Icons of Wine & Food Dinner for Chef Meets BC Grape – Taste of the Okanagan. Held this year at Miradoro Restaurant at Tinhorn Creek.
An absolutely flawless evening with exquisitely prepared dishes paired with BC VQA wines. This was a fabulous event that just keeps getting better.
I received complimentary tickets for myself and a guest, as well as two tickets for a giveaway, in exchange for pre-event promotion and this review. All opinions are my own.
[wdi_feed id="2″]