We all love BC Wine and summer is an ideal time to really enjoy sipping on the patio, pairing with our BBQ or picnic in the park with our #FavouriteThings. We like to call this Summer Sipping.
So many opportunities to get outside and enjoy the British Columbia lifestyle. Whether you're an on the go surfer, swimmer, hiker, walker, runner, or paddle boarder there is always time for downtime and summer sipping.
Here is today's recommendation, one of our own personal favourites that makes the list of our #FavouriteThings Summer Sipping.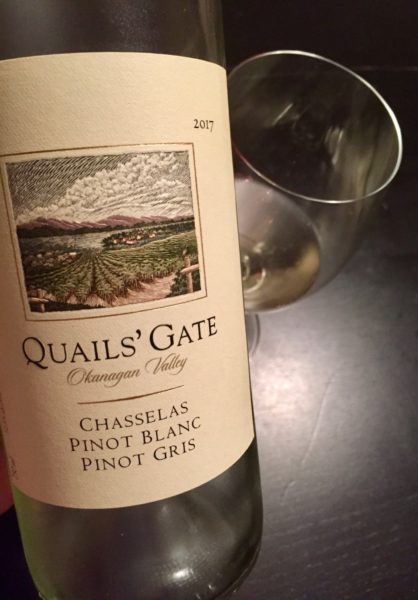 Chasselas – Pinot Blanc – Pinot Gris
Chasselas was the first vinifera grape planted on the estate and has a long history at the property. As one of the most iconic wines at Quails' Gate, this white blend is made in a fresh, fruit-forward style to complement those long summer days. Proud to share that the varietal is the number one selling BC VQA white wine in British Columbia.
The 2017 vintage is beautifully aromatic with notes of fresh orchard fruit, gooseberry, lime cordial, spring blossoms and white flowers. Slightly off-dry, the palate is fresh and fruity with balanced acidity and a lovely citrus finish. Known for its versatility, enjoy this wine chilled on its own or alongside a variety of dishes at any outdoor occasion. We like to pair this with fish tacos, summer salads with fresh fruit or chilled seafood platters.
Why we chose this wine:
This is a light, very easy drinking wine that is refreshing. It pairs well with milder flavoured food and is also very drinkable on it's own. Enjoy this delightful blend on the patio, by the pool, at the beach or lakeside.
Winery Retail Price: $17.99 at the winery online store and BC Liquor Store
When visiting the Okanagan, before you go: Do your homework and a bit of research about the wineries you wish to visit. Check the winery website to find out their months, days and hours that their Tasting Room is open. Know if you need to book your tasting in advance of your visit. Many wineries are now so busy there may be times that they are unable to accommodate you. It will be a much better visit if you have a confirmed appointment. Be on time. Expect to pay for your tasting, some, but not all wineries refund all or a portion of the fee if you purchase wine. Plan ahead for a designated driver or use the services of a wine tour company. Limit the number of wineries you visit in a day. A more leisurely timeline will increase your enjoyment. For the best overall experience, I like to limit my daily visits to no more than three maximum, and if a winery lunch is on the agenda, no more than two winery tastings.
Tasting notes courtesy of Quails' Gate.