It was with much anticipation that we continued our Okanagan Culinary Adventure with the premier event of the weekend – a long table five course dinner at Ambrosia by Chef Bongo in the Naramata Heritage Inn.
We had already been treated to a delicious lunch earlier in the day as we were introduced to the Enchanté wines by Bongo wines. A delightful afternoon that started with oysters on the half shell from local seafood purveyor Codfathers paired with Serendipity Sparkling Truth. Chapter Two of our Okanagan Culinary Adventure.

This was our first peek at the newly renovated Naramata Heritage Inn & Spa, home to Ambrosia Restaurant & Lounge by Victor Bongo. The Inn is beautiful, reminiscent of an earlier, gentle era. Cozy with just eleven rooms and one luxurious suite it would be a wonderful retreat, romantic getaway, honeymoon and gourmet experience.
As we waited to enter the Ambrosia dining room for the first time we had a chance to stroll about the property. For guests, tourists and locals there is a lovely outdoor patio space that is quiet, private and surrounded by colourful gardens. With a menu of a more casual fare than the dining room this is a spot for anyone looking for good food, with an emphasis on BBQ.
Steps away is a totally different setting – The Lounge – prohibition meets West Coast this rustic adult space has a style of it's own. Anchored by the bar and featuring plush wraparound banquettes and ample seating for a small crowd that doesn't lose it's feeling of intimacy. Later in the evening we were entertained with live music and the sounds of moderate jazz which lent itself well to dancing to the mellow sounds.
The highlight of the evening and the reason so many media, friends and special guests had made the trek to Naramata was to indulge in the culinary delights of Chef Victor Bongo. We started with a reception so we could mix and mingle with the other guests, sipping on cocktails and enjoying a choice of chef's selection of amuse buche.
The dining room continues the classic decor found throughout the Inn. Dark, intricately carved wooden chairs with leather seats surround tables formally set with white linen table cloths. The room was set in a modified long table style with an open ended U that afforded a view of the entire dining room for all guests.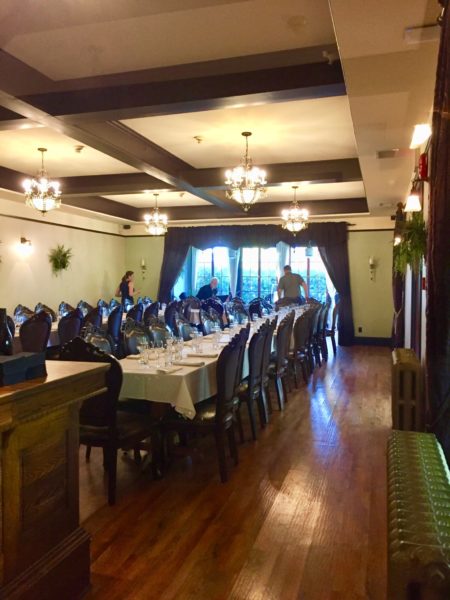 "Chef Bongo has a reputation of challenging culinary standards by incorporating a variety of ethnic flavours into his exquisite dishes."
The anticipation and expectations are about to be challenged by the excited group of diners. The First Course: Caribbean Spiced Tomato Buffalo Caprese Salad paired with Serendipity Sauvignon Blanc. Flavourful tomatoes complimenting rich, soft cheese married with a bite of spice.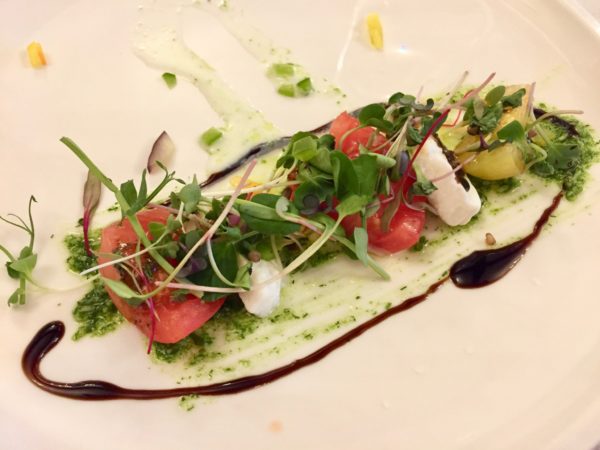 The Second Course was a sampling of a feature dish that would be served as a main when ordering from the menu. For this evening all dishes were tasting size so we could best enjoy all five courses. Honey Truffle Chicken stuffed with Foie Gras paired with Serendipity Pinot Noir.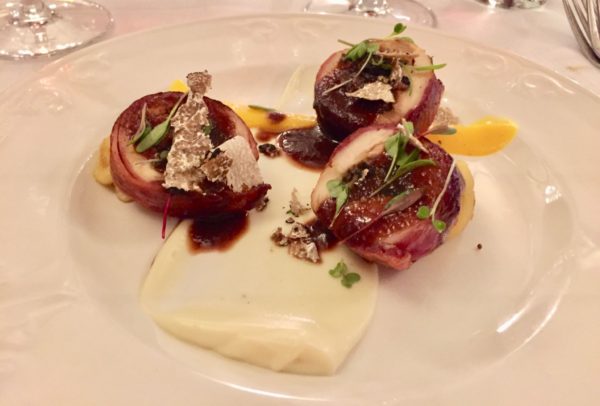 Each course was an opportunity to try the features of the dining room menu and the Third Course Miso Black Cod paired with Enchanté Viognier 2016 was a real treat. The Asian influence worked well with the rich, sweet taste of the fish. Black Cod is moist and delicately flavoured and this dish was so delicious. I think this was my favourite of the evening.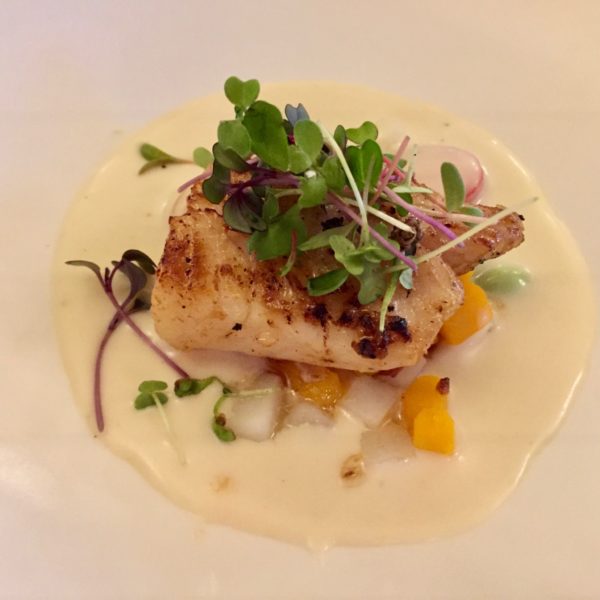 Carnivores are not forgotten on the Ambrosia dining room menu and the Fourth Course was a perfect, medium rare Cache Creek Angus Beef Striploin paired with Enchanté Victoire 2012. The Caribbean influence was most pronounced in the spicy dish with a wow factor presentation.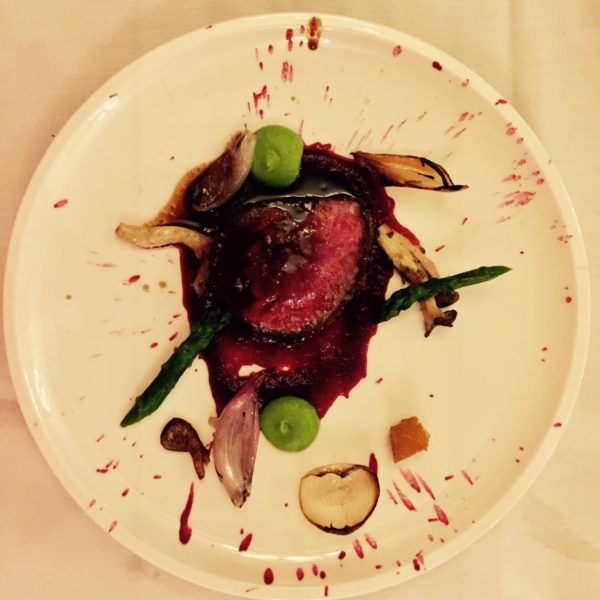 Even if we hadn't left just the tiniest amount of room for dessert it would have been impossible to resist the duet that was the Fifth Course. Duet of Dessert of Dolce de Leche Crème Brûlée and Wildflower Honey unbaked Cheese Cake. Heaven on a plate. Did you notice the duet was actually a quartet? Four times delicious.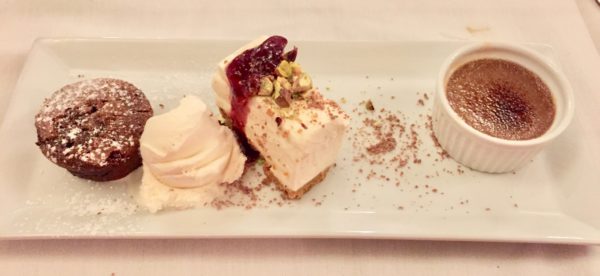 Who would enjoy a visit to the Naramata Heritage Inn & Spa and the culinary adventures presented by Chef Victor Bongo? I think the question is "who wouldn't?"
Ambrosia & Lounge by Chef Bongo in the Naramata Inn & Spa will delight and please the most discriminating palate of both the gourmet and the gourmand.
Reservations highly recommended.
My guest and I received complimentary dining during the weekend. All opinions are my own.
[wdi_feed id="2″]