House Made Lemon Ricotta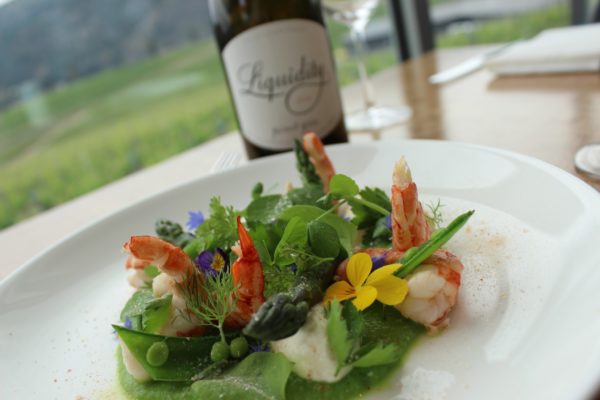 Ingredients:
– 2L Homogenized Milk
– 1L Whipping Cream
– 30g Salt
– The Zest of 2 Lemons
– 70ml White Wine Vinegar
—
1) In a large stove-top pot – mix the milk, cream, salt and lemon zest together and bring to a boil over low heat, stirring frequently.
2) As soon as it starts to boil, turn heat off and add white wine vinegar.
3) Let sit for 10 minutes. This will give you cheese curds and whey.
4) Delicately strain in a cheese cloth or a large coffee filter and let drain for 4 to 24 hours, depending on texture preference
At Liquidity Bistro, I use the lemon ricotta on my Spring Shrimp dish.  It includes pea puree, fresh peas, asparagus, lightly poached side stripe shrimp, thin crostini for texture, herb salad (tarragon, parsley, mint, pea shoots, chervil) and shrimp salt.  The variety of textures and fresh flavors make this a nice light appetizer, perfect for spring time when the sun finally comes out!   
About Simon Bouchard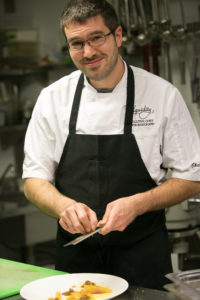 Born in a suburb of Montreal, Quebec, Simon has been cooking since he was 5 years old when he learned how to make cookies to satisfy his large appetite. Starting working in restaurants as a dishwasher Simon gained valuable experience as he worked hard to become a chef. He studied at the prestigious Institut de Tourisme et D'Hotellerie du Quebec where he earned a degree in cooking and food service management, while working his way up the culinary ladder in many top restaurants in Montreal and Quebec. Simon spent a season in France to expand his culinary knowledge before moving to the Okanagan Valley to work at Mission Hill Winery as the Banquet Chef. He then spent two years as Sous Chef working with Melissa Craig at the Barefoot Bistro in Whistler. Deciding to return to the Okanagan in 2016 Simon took on the role of Chef at The Vineyard Kitchen at Black Hills Estate Winery. Simon is a lover of local seasonal ingredients and is looking forward to cooking with the bounty that can be found in the in Okanagan Falls and the South Okanagan.
About Liquidity Bistro
Nestled atop a vineyard with a priceless view that could hang in one of the great galleries of the world, Liquidity Bistro reflects the winery's artistic approach to life with an eclectic selection of artwork adorning the walls and colourful vibrant dishes produced by Chef Simon Bouchard and his kitchen team. Honouring the seasons that dictate the life of the vineyard, food is freshly sourced from local farms and paired with fine wines from Liquidity and neighbouring Okanagan Falls' wineries. Come and taste true wine country cuisine at Liquidity Bistro. Liquiditywines.com/bistro

About Liquidity Wines
Based in Okanagan Falls, the Heart of Wine Country™, Liquidity offers an artisan approach to winemaking – taking you on a journey of the senses that captures the art of winemaking from grape to glass in a stunning space where guests are wowed by the incredible views, eclectic artwork and locally inspired food. Time is spent enjoying these finer things in life, while in the vineyard care is taken to carefully hand-harvest the best fruit and artfully blend them into fine wines. Liquiditywines.com