The fourth in our series of recipes featured at the Icons of Food and Wine Dinner. Another terrific recipe from Chef Mark McEwan served at the  Chef Meets BC Grape Okanagan Wine and Food Experience Icons of Food and Wine Dinner held at The Sonora Room at Burrowing Owl Estate Winery for our #TasteofThursday feature. This was the sixth course.
Roasted beef tenderloin with Short rib Croquettes, carrot horseradish puree, sautéed chanterelles, pearl onion, bone marrow butter and black truffle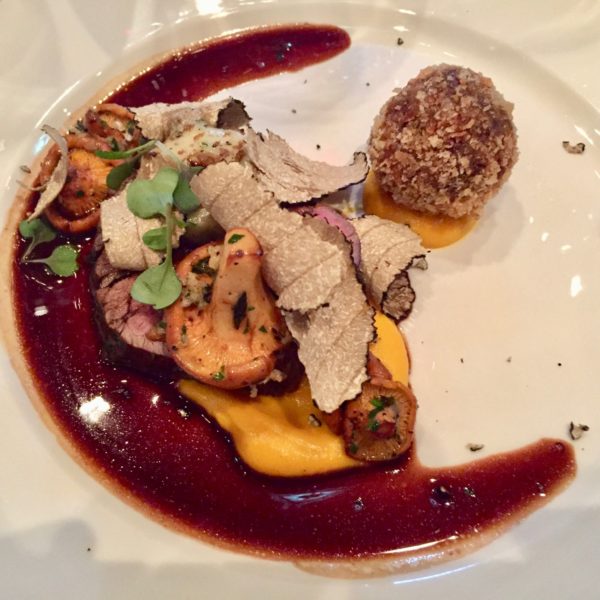 Bone Marrow butter
2 shallots minced
½ tsp minced thyme
½ tsp minced parsley
¼ cup brandy
1 tsp olive oil
1 tsp butter
4-5 beef marrow bones (2kg total) split length wise
½ cup butter cubed
Kosher salt
Fresh black pepper
Place marrow bones in a large pot, fill it with cold water and refrigerate over night changing the water several times if possible. Pre heat oven to 450 F (230 C). Drain the bones, pat them dry and arrange the marrow side up on a roasting pan. Roast until bronzed and the marrow yields easily when pierced with a fork, about 20 minutes. Set aside to rest. While marrow is roasting sweat the shallot in 1 tsp of butter and 1 tsp of olive oil. Add the thyme and brandy to deglaze. Allow alcohol to evaporate, remove from heat and set aside. Remove half cup of butter from the refrigerator and leave to warm on counter approximately 20 minutes. Scrape the warm marrow from the bones unto a bowl and add the cool butter. Mix well with a rubber spatula to form a paste.  Pass through a fine sieve into a clean bowl add the shallot mixture and season to taste.
Braised Short Ribs
Marinate: Braise:
-4 pcs beef short ribs (2 ½ "cut) -2tbsp olive oil
-2tbsp olive oil -1 onion, peeled and chopped
-Kosher salt -1 carrot, peeled and chopped
-Freshly ground black pepper -1 celery stalk, chopped
-1 onion, peeled and chopped -3 garlic cloves peeled and smashed
-1 carrot, peeled and chopped -kosher salt
-1 celery stalk, chopped -fresh ground black pepper
-3 garlic cloves peeled and smashed -2 sprigs thyme
-1 bottle dry red wine -2 sprigs parsley
-2 sprigs thyme -2 bay leaves
-2 sprigs parsley -2 cups veal or chicken stock
-2 bay leaves
-1 small piece horseradish peeled
To marinate beef-  Rub ribs with olive oil and season on all sides with salt and black pepper. Sear beef in a large skillet over med- high heat, browning on all sides. Remove from heat and transfer ribs to a large container bones down in a single layer. Add the onion, celery, carrots to the skillet and return to heat. Then add the garlic and cook until the vegetables are golden brown. Deglaze with red wine and add herbs, scraping all the golden bits from the bottom of the pan. Bring marinade to a boil and then pour marinade over seared ribs. Let cool to room temperature, then cover and refrigerate for 24 hours.
To Braise:
Remove ribs from the container, reserving wine but discarding vegetables. Preheat oven to 350°f. Over med heat sweat onions, celery, and carrots with olive oil in a deep heavy bottom ovenproof pot big enough to hold all four short ribs inline. Then add the garlic and herbs and continue cooking until soft. Then in a separate pot bring wine to a boil and skim off any foam the rises to the surface. Now place ribs into the deep pot and add the cooked marinate. Add stock to cover ribs. Cover the pan and transfer to the oven. Braise ribs for 2 -3 hours or until very tender. Set aside. Strain braising liquid. Reduce and skip to sauce consistency. Correct seasonings and use for sauce on finish dish.
Carrot and Horseradish puree
2kg of cleaned and peeled carrots (chopped)
500g butter (cubed)
150g grated horseradish
2tbsp honey
Salt to taste
Method:  Boil carrots in water until soft, then strain.  Work quickly to ensure carrots are hot when pureeing.  Take half the carrots, butter, horseradish, and puree until smooth.  Pass through a chinoise, and repeat with the other half.  Mix in honey (add more if needed) and salt to taste.
Caramelized onions
1 yellow or Spanish onion, skins removed and julienne
2 tbsp of butter
1 tsp of kosher salt
In a sauté pan Melt butter on medium high heat add the onion then salt and cook, while frequently stirring until deep brown and sweet approximately 20 minutes. Remove and cool.
Sautéed Chanterelles
1 tbsp (15ml) olive oil
1 tbsp (15 ml) butter
2 tbsp (30 ml) minced onion
8oz (225g) wild mushrooms, trimmed, quartered or sliced depending on size
1 tsp (5 ml) minced garlic
Pinch each of salt and white pepper
2 tbsp (30 ml) white wine
1 tsp (5 ml) combined minced parsley, rosemary, and sage
Heat oil and butter in a skillet over medium-high heat. Add the onions and mushrooms, and cook, stirring frequently. When the mushrooms begin to soften, add the garlic. Season with salt and pepper. One minute later, deglaze with the wine and stir in the herbs, Correct seasonings.
Roasted pearl onions
1 package (10oz/284g) pearl onions
3 sprigs thyme
3 clove garlic, smashed
1 bay leaf
1 tbsp (15 ml) olive oil
Pinch each of salt, pepper and granulated sugar
Preheat oven to 300F (150 C)
Blanch, trim and peel the onions as described above. Spread a sheet of parchment paper on top of a sheet of foil and cluster the onions at its centre. Scatter thyme, garlic, and bay leaf over top and then drizzle with olive oil. Sprinkle lightly with salt, pepper, and sugar. Fold the package into an envelope, seal tightly, place in a baking dish, and bake for 90 minutes. Allow the packages to cool slightly before opening.
Herb rub (apply to Beef tenderloin before roasting)
1 cup (250ml) olive oil
1 tbsp (15ml) each chopped rosemary, sage, thyme, and parsley
3 cloves garlic, chopped
Combine all ingredients and let steep for at least an hour. The marinade will keep, refrigerated, for up to a week.
Short Rib Croquettes
2 cups short ribs
1 cup mirepoix from braise
1 cup caramelized onio0ns chopped fine
3 tbsp reducing braising liquid
2 tbsp chopped parsley
Mix all ingredients together using your hands. Season to taste. Form 0.75 – 1 oz. balls then refrigerate. Set up a breading station – flour, egg wash, panko and deep fry for service at 350 F
The following wines were served at the Icons of Food and Wine Dinner:
Le Vieux Pin Winery Equinoxe Syrah 2013, BC VQA Okanagan Valley
Laughing Stock Vineyards Portfolio 2008, BC VQA Okanagan Valley
Black Hills Estate Winery Nota Bene 2015, BC VQA Okanagan Valley
Read more about the Icons of Food and Wine Dinner here.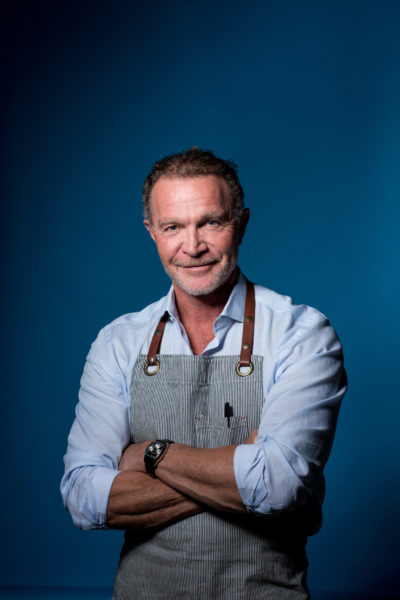 Mark McEwan
From his early years as Canada's youngest ever, executive chef at Toronto's upscale Sutton Place Hotel to his latest endeavour, trendy resto bar Fabbrica, Mark McEwan is never content to rest on his laurels.
McEwan has led the restaurant scene in Toronto for many years. He joins the ranks of the truly innovative with groundbreaking Toronto standards from "North 44" to "Bymark" to the always interesting "ONE", a staple for the "see and be seen" crowd in Yorkville. With "Fabbrica", he has taken another turn and captivated customers with rustic Italian fare in a warm, yet contemporary setting at The Shops at Don Mills.
But, it doesn't stop with dining — in early 2009 he turned his attention to upscale gourmet food and opened McEwans at The Shops at Don Mills. Always attentive to the changing needs of the consumer.
His best selling cookbook "Great Food at Home" added author to his resume and he hasn't stopped there. In late 2011 Mark, with the help of Jacob Richler once again wowed us with "Fabbrica" the cookbook based on the recipes featured in his latest restaurant.
Mark has also added television personality to his long list of talents and was the head judge on "Top Chef Canada". His first show for The Food Network, "The Heat" was a riveting behind the scenes look at North 44 Caters as well as the building of McEwan's grocery store – a ratings winner.
In 2013 Mark paired with OTG Management to consult on menus for two restaurant concepts that were built at Toronto's Pearson International Airport, Fetta and Nobel have received many accolades since their openings that year. Mark's grocery store McEwan also took on the task of feeding commuters…there are now 10 grab and go stations in the airport that feature a selection of sandwiches, salads, snackboxes and mini meals all made and shipped daily from the store to the terminals.
Mark has now taken his famous McEwan food store to the downtown core. The new McEwan is situated in the PATH under the TD Tower and focuses on prepared foods, making breakfast, lunch and dinner on the go a breeze.
Feature image courtesy of Burrowing Owl