This is the second in the series of recipes from the spectacular  – Chef Meets BC Grape Okanagan Wine and Food Experience event held August 25, 2017. This week we are excited to share the recipe for Heirloom Tomato Essence from Chef Trevor Bird of Fable Kitchen, the First Course at the Icons of Food & Wine dinner held at the Sonora Room at the Burrowing Owl Estate Winery for our #TasteofThursday feature.
Heirloom Tomato Essence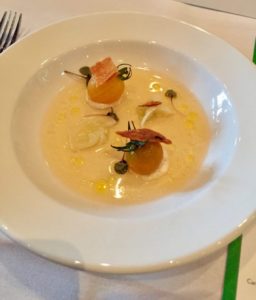 Cucumbers, Horseradish, Mascarpone, Cold Pressed Canola Oil
Tomato Essence
2.5 kg Cherry tomatoes or innards from concasse*
75 g Celery
25 g Shallots
125 g Fennel
15 g Garlic
5 g Thyme
2 g Tarragon
25 g Basil
5 g Salt
Sugar to taste
2 g Cayenne
50 g Worcestershire
50 g Tobassco
Procedure
Chop everything roughly and marinate together for three hours. At least blitz in robo coup briefly and hang in a cloth for 24 hours.
Only use extremely ripe tomatoes, innards from confit can be used and be sure your cloth is completely clean and free of detergent residue.
Mascarpone/horseradish
Mascarpone 500g
Horseradish freshly grated 200g
Lemon juice 50g
Salt pinch
Mix everything together!
Garlic crackers
Eggs 2 ea
Flour 250g
Sugar 25g
Garlic smashed and chopped 25g
Grated parm 50g
Salt 10g
Water 250g
Butter 90 g
Procedure:
Mix everything and spread thinly on a baking tray.
Bake at 325 for 10 minutes until golden brown. Keep cooking for 1-2 minutes segments if they are not golden brown.
* tomato concasse is a tomato that has been peeled, seeded (seeds and skins removed), and chopped to specified dimensions.
Recommended wine pairing
Wild Goose Vineyards & Winery Stoney Slope Riesling 2015, BC VQA Okanagan Valley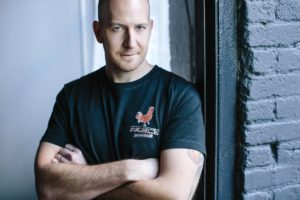 Trevor Bird began his foray into the culinary world as a teenager. Cooking is all he knows and thank goodness for all the eaters amongst us, he knows it extremely well. His career led him into acclaimed kitchens such as Ottawa's National Arts Centre, Jean George's MARKET, and Daniel Boulud's Lumiere.
In 2011, Trevor secured his rising star status by placing runner up against some of Canada's greatest chefs in "Top Chef Canada Season 2." This was certainly a defining moment in his culinary career.
In 2012, Trevor created Fable, his own restaurant in which he practices his passion for locally focused ingredients and showcases British Columbia's regional bounty in all of the menu's dishes. Within a short time, Fable Kitchen became the recipient of numerous accolades and quickly rose to become one of Vancouver's favourite dining destinations.
In 2015, a most intriguing opportunity presented itself; the owners of a restaurant space were looking for strong operating partners to open something new in an iconic location which has held a diner since 1949. The desire to continue the heritage of the space, paired with Trevor's philosophy of farm to table cuisine naturally led to the emergence of a modern day diner: Fable Diner.
With two successful restaurants under his belt, along with an impressive list of international guest chef appearances, Trevor was offered a return to television in 2017 as a contestant on Top Chef Canada All Stars.
Trevor has indeed started to hit his stride and will continue to take his cuisine to new heights.
on Twitter @fablekitchen on Instagram @FableKitchen on Facebook Fable Kitchen
on Twitter @fablediner Instagram @fablediner Facebook Fable Diner