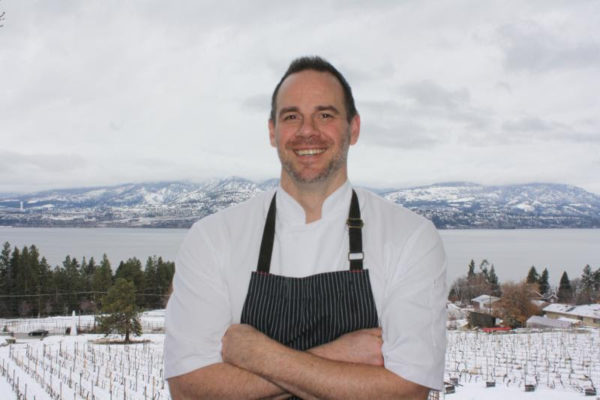 Luypen is excited to be building plant-based menus focused on the abundance of local vegetables, especially those featuring ingredients from the winery's biodynamic gardens.
"While we will definitely continue to serve Oceanwise products from
Codfathers Seafood Market
and grass-fed meats from Two Rivers Specialty Meats, we fundamentally believe a plant-based diet with better, not more meat, is the way to go," says Luypen.
"Always focusing on protein as the centre of the plate leaves vegetarians with the short end of the stick, so at Summerhill, we are doing the opposite."
A seasoned chef with both extensive hotel and restaurant experience, many in the Okanagan recognize Luypen as the Okanagan Chefs Association president; and he comes to Summerhill from Predator Ridge, where he spent four years working closely with local farmers and growers. With extensive food and beverage experience across the Okanagan, he was executive chef at
Hotel Eldorado
in Kelowna, and
Spirit Ridge Resort
in Osoyoos.
As the original owner and executive chef of
Terrafina
at Hester Creek in Oliver, Luypen pushed Terrafina to be named
 Top 20 Winery Restaurants
in the World by Wine Access Magazine.
Outside of his paid work, Luypen frequently gives back to his community. He is passionate about training and education and also works as a culinary instructor in the
Okanagan College's Culinary Arts Program
, where he has developed classes of talented cooks and apprentices.
Chef of the Year 2016
(from Okanagan Chefs Association) and BDO's
Top 40 Under 40
in 2015 are only some snippets of Luypen's culinary accolades.
About Summerhill Pyramid Winery
Summerhill Pyramid Winery, located since 1991 in the Lakeshore district of Kelowna in the Okanagan Valley, BC, is Canada's largest certified organic winery, BC's first Demeter certified biodynamic vineyard, and Canada's foremost producer of sparkling wine.
Winemaker Eric von Krosigk oversees the portfolio of BC VQA wines that have earned the winery the title of 'Canadian Wine Producer of the Year' from the International Wine & Spirits Competition in London, England. The winery, owned by the Cipes family, is also home to the Sunset Organic Bistro, a 200-seat, organic restaurant with a panoramic view of Okanagan Lake, serving food grown and raised by local organic producers, including Summerhill's own on-site permaculture-style biodynamic vegetable garden.
More background reading on Summerhill Pyramid Winery's organic and biodynamic farming practices can be found
here
.