This is the sixth in the series of recipes from the spectacular  – Chef Meets BC Grape Okanagan Wine and Food Experience event held August 25, 2017. This week we are excited to share the recipe for Roasted Loin of Lamb from Chef Lee Humphries from the Sonora Room, the Fifth Course at the Icons of Food & Wine dinner held at the Sonora Room at the Burrowing Owl Estate Winery for our #TasteofThursday feature.
Roasted Loin of lamb, Mint, Anchovy, Fennel and Rosemary Jus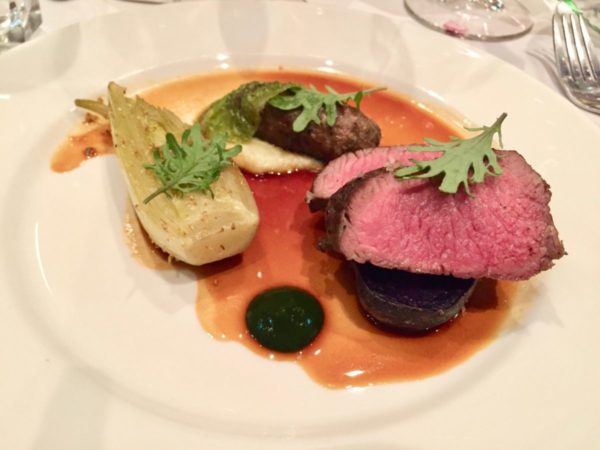 Lamb and Marinade
 1 (about 2 kilo) bone in lamb short saddle
 5 cloves garlic sliced thin
 4 pcs anchovy
 2 0z mint picked
 250 ml olive oil
Method
 De bone lamb saddle removing short loin and tenderloins, clean silver skin and reserve loin to be
marinated and tenderloin and saddle bones for jus
 Heat olive gently in a sauté pan, add garlic and cook gently until crisp, golden and caramelized,
add anchovy fillets and cook until blistered and disintegrate into the oil releasing flavour
 Cool this mixture slightly to room temperature and puree with mint leaves
 Rub marinade onto lamb and pack in zip lock bag and marinate for 24 hours
 To cook season with salt and pepper
 Pan sear in a medium heat heavy bottom pan
 Remove to a roasting tray and rack and oven roast at 350 degrees for 6 minutes until MR
Rosemary Lamb stock
 Lamb saddle bones
 1 x carrot peeled and cut into 1 inch pcs
 1 x onion peeled and cut into 1 inch pcs
 4 heirloom red tomatoes
 3 x cloves garlic crushed
 500 ml white wine
 4 litres cold water
 3 x large sprigs rosemary
Method
 Roast bone in a roasting tray at 350 degrees until caramelized, add onions, carrots and crushed garlic, gently roast until vegetable caramelize
 Add chopped heirloom tomatoes, rosemary and cook until broken down
 Add rosemary and heat until oil extract
 Place all ingredients into a pot,
 Add wine to the roasting pan to deglaze and remove all caramelized goodness from the bottom of the pan, add to pot with other ingredients
 Cover with the cold water and bring to the simmer
 Simmer for 6 hours and pass through a fine mesh strainer, keeping stock and discarding bones and vegetables
Lamb rosemary jus
 Lamb tenderloins 1 inch dice
 3 shallots chopped
 3 heirloom red tomatoes diced
 2 cloves garlic crushed
 1 ltr white wine
 2 sprigs rosemary
Method
 Roast tenderloin meat until golden, add shallots rosemary and garlic and caramelize
 Add tomato and cook until broken down
 Add white wine and reduce to glaze
 Add lamb stock and reduce via a simmer skimming until reduced by 50%
 Pass through finer mesh and reduce until required thickness
 Finish with chopped rosemary
Braised fennel
 1 head medium size fennel cut into ¼ 's
 250 ml chicken stock
 2 oz butter
 1 sprig thyme salt and pepper
Method
 Clean fennels outside leaves and peel bulb (reserve trim for puree)
 Cut fennel into quarters
 Bring stock butter and thyme to a simmer and pour over fennel in a shallow braising dish
 Braise covered in foil in 350 degree oven for 45 minutes until tender
 Once cooked remove from braising liquid and when serving season with salt and pepper and sprinkle fennel pollen to taste.
Fennel puree
 Fennel trim
 200ml double cream
 Salt and pepper to taste
Method
 Simmer fennel trim in cream seasoned with salt and pepper
 Once tender puree in blender until sinfully smooth
Lamb merguez sausage
 400 gr lamb leg
 2 gr coriander
 2 gr cumin
 2 gr smoked paprika
 2 gr mint chopped
 2 gr chopped parsley
 Salt and pepper to taste
Method
 Grind lamb meat using a medium dial plate
 Toast spices and grind in spice grinder until fine
 Add all ingredients together and season to taste
 Allow to infuse overnight
 Roll into desired size (2inch tubes) in saran wrap and poach in simmering water for 6 minutes until just cooked through
 To serve remove from saran wrap and fry sausages in lamb fat or butter
Salt baked purple potatoes
 8 medium sized purple fingerling potatoes
 200 ml egg white
 100 ml course salt
 2 gr chopped rosemary
Method
 Whip egg whites and salt and rosemary to meringue
 Cover potatoes with meringue and bake at 350 for 60 minutes until tender
Suggested wine pairing: Burrowing Owl Estate Winery Heritage 2010 & 2014, BC VQA Okanagan Valley
CHEF LEE HUMPHRIES, Oliver, BC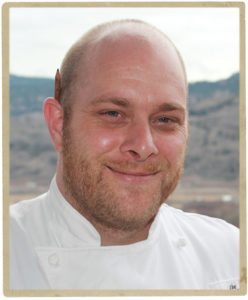 Originally from Cornwall, England, Lee's roots run deep in a passion for fresh, local food. As a farm boy delivering vegetables to nearby restaurants, Lee was attracted to the hustle and bustle of the trade, making it a natural transition from his family's cabbage farm to the kitchen. Lee commenced his gastronomic journey at a young age; starting at 13 in a neighbourhood restaurant and cooking his way into London including at the luxury Westbury Mayfair Hotel. Lee's sense of adventure and passion for the sea brought him to Canada's west coast. Landing at Vancouver's prestigious West Restaurant as a Sous Chef, Lee mentored under Chef David Hawksworth and his discerning palate and honed his culinary skills as Chef de Cuisine at the Opus Hotel's Elixir and as executive chef at Figmint. He fell in love with the Okanagan and moved his family where he's become well-versed in the local food scene and suppliers. He oversees the culinary operations for all of Vintage Hospitality's businesses, including Liquidity Bistro and The Sonora Room at Burrowing Owl Estate Winery.