This is the third in the series of recipes from the spectacular  – Chef Meets BC Grape Okanagan Wine and Food Experience event held August 25, 2017. This week we are excited to share the recipe for Table-Side Tuna Ceviche from Chefs John Jackson and Connie DeSouza of Charcut, charbar and Alley Burger, the Second Course at the Icons of Food & Wine dinner held at the Sonora Room at the Burrowing Owl Estate Winery for our #TasteofThursday feature. Enjoy this anytime dish with Tantalus Vineyards Old Vine Riesling 2014, BC VQA Okanagan Valley.
Table-Side Tuna Ceviche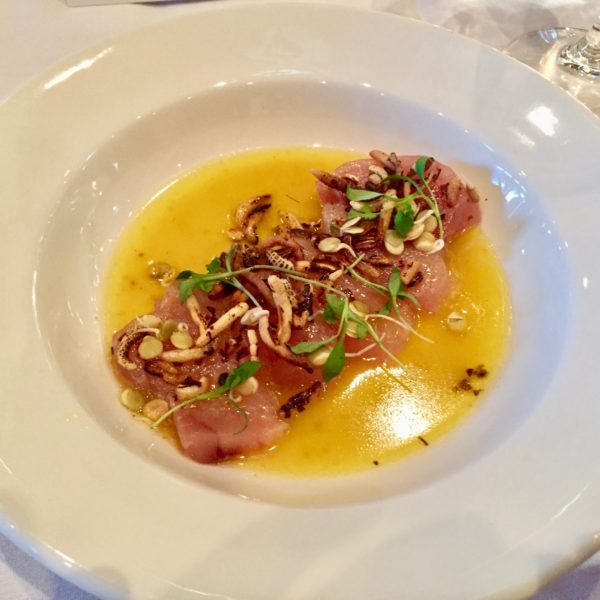 Albacore Tuna Ceviche, Puffed Wild Rice, Sprouted Lentils, Cilantro, Yuzu Tigers Milk
(serving 8 ppl)
2 lbs  Cleaned albacore tuna loin
1 cup Puffed wild rice
1 cup Sprouted green lentils
1/2 cup  Micro cilantro
1 Tbsp Maldon Salt
1/2 cup Yuzu juice
1/2 cup lemon juice (from charred lemons)
2 Tbsp Aji Pepper Paste
1/2 cup  Good olive oil
Slice Tuna into 1/2 cm thick pieces and lay out flat on chilled plates. Approximately 5 pce per plate.
Spoon on about 1.5oz of Yuzu dressing onto each tuna portion
Top each piece of tuna with a small amount of Maldon Salt.
Spoon on lentils beside each slice of tuna
Top each pile of lentils with puffed wild rice
Sprinkle micro cilantro around each plated tuna and serve immediately
Recommended wine pairing: Tantalus Vineyards Old Vine Riesling 2014, BC VQA Okanagan Valley
Charcut @charcut
Charbar @charbar_yyc
Alley Burger @alleyburger
Calgary, AB
CHEF JOHN JACKSON
Jackson began his career at Calgary's award-winning Owl's Nest Dining Room. After five years there he accepted a position as chef de cuisine in Manhattan. During that time Jackson had the opportunity to train with a number of notable chefs, taking advantage of New York's world-class cuisine and consulted on many projects, including the opening of Jean Georges Vongerichten's Restaurant Lagoon in Bora Bora. He ventured to San Francisco as the opening Executive Chef of the St. Regis Hotel, obtaining the Mobil 5-Star Award each year since his arrival – monumental occasions in Jackson's career. There he worked closely with Chef Connie DeSousa, whom he had previously met in Calgary in 1999, and after the successful opening of the St. Regis they returned to Calgary to open their first venture side-by-side in 2010, CHARCUT Roast House. In 2015 they celebrated the opening of charbar in the historic Simmons building, and where their famed Alley Burger truck is now anchored along as one of Calgary's favourite walk-thru windows.
@conniedesousa
Charcut @charcut
Charbar @charbar_yyc
Alley Burger @alleyburger
Calgary, AB
CHEF CONNIE DESOUSA
Dubbed the Primal Ballerina— for her years of formal dance training juxtaposed with her meat-centric culinary mastery—Connie DeSousa is one of Canada's most renowned female top chefs. Known for her butchery skills and simple approach to food, she expertly prepares authentic, regional food to high critical acclaim. She obtained Le Cordon Bleu Paris Certification and graduated from SAIT Culinary School, and through her culinary travels she's made her way through award-winning restaurants including Chef Jean Georges Vongerichten's Michelin 3-Star restaurant in New York City, Chef Michael Tusk's Quince Restaurant in San Francisco and Alice Waters' Chez Panisse in Berkeley. In 2009 Connie opened CHARCUT Roast House in Calgary along with her mentor and business partner John Jackson. They are now co-owners of four restaurants and a rapidly growing Catering and Events division—including newly opened charbar in the historic Simmons building—receiving numerous accolades including spots on Canada's 100 Best Restaurants list and enRoute's Best New Restaurant round-up.