The Dance Centre presents the Discover Dance! series
Flamenco Rosario
Thursday November 30, 2017 at 12 noon
Scotiabank Dance Centre, 677 Davie St (at Granville), Vancouver
Tickets $14/$12 students, seniors and children from Tickets Tonight 604.684.2787 www.ticketstonight.ca
Info: 604.606.6400 www.thedancecentre.ca
The November edition of The Dance Centre's popular Discover Dance! noon hour series features the art of flamenco with a performance by Flamenco Rosario. A mainstay of Vancouver's flamenco scene for over 25 years, the company honours the authentic traditions of flamenco while nurturing the evolution of the art form through artistic experimentation, crossing boundaries of history and cultures. In Nuevo, Artistic Director Rosario Ancer teams up with choreographer Karen Lugo to create new and exciting dances which deconstruct the art form and challenge the way we perceive flamenco. Joining Musical Director and guitarist Victor Kolstee on stage will be singer Stephanie Pedraza, and Flamenco Rosario dancers Melanie Meyers, Afifa Eidher, Meghan Asher and Nevena Boskic.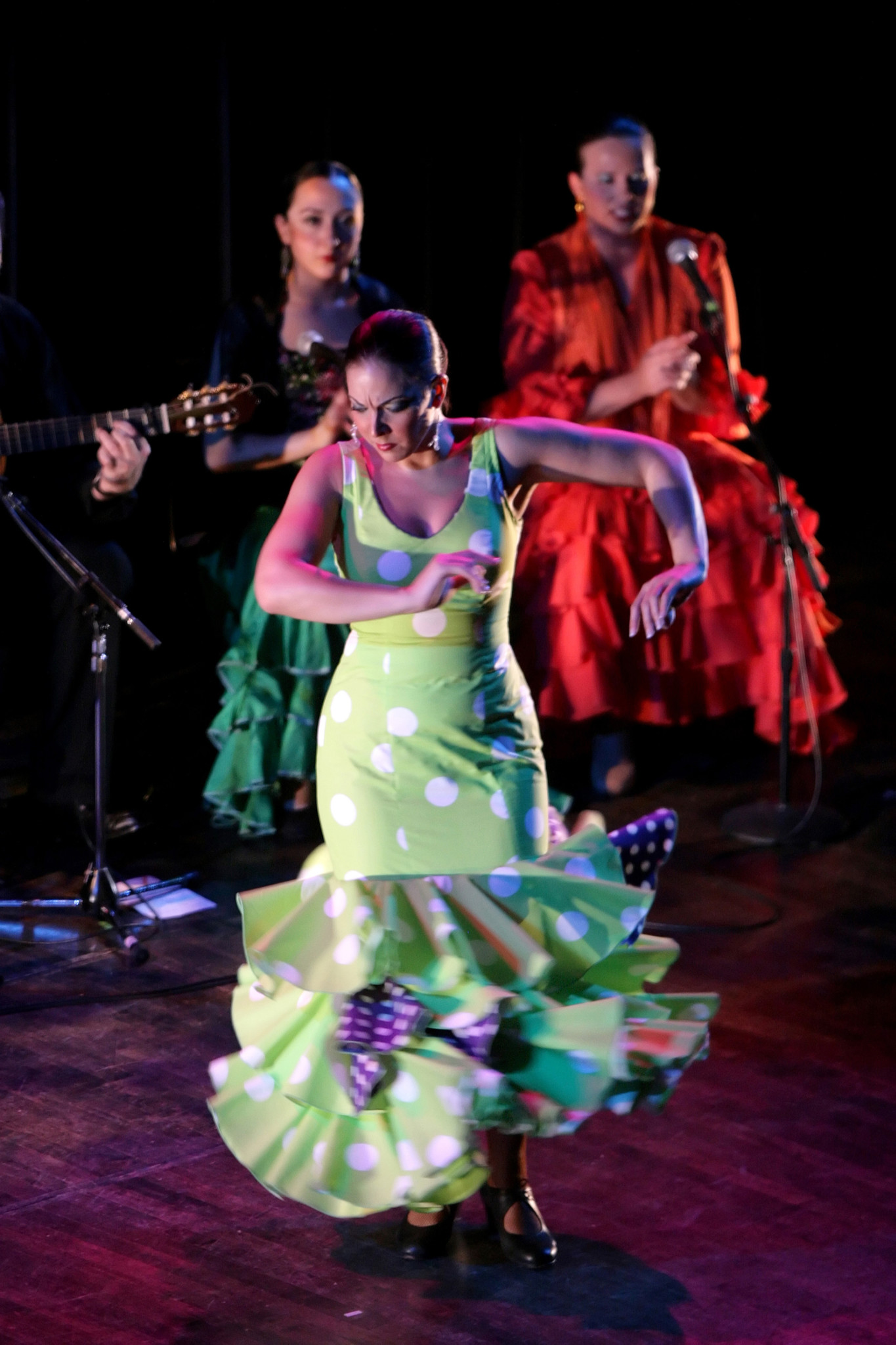 Flamenco Rosario holds a mandate to develop dance, music works and dance artists in both the authentically traditional and contemporary innovative styles of flamenco, through performances, workshops and professional training across Vancouver. Under the direction of Artistic Director Rosario Ancer and Musical Director Victor Kolstee, the company was founded in 1989. As an interpreter of flamenco dance, Ancer is interested in the continuing growth and evolution of the art form. The company explores the possibilities of flamenco by crossing boundaries of history and culture, incorporating dancers from other dance traditions, international dance artists, musicians and vocalists into the development of new work. Ongoing activities include the popular Cuadro Flamenco series featuring traditional dance styles, the Vancouver International Flamenco Festival showcasing local and national and international guest artists, and Mainstage performances allowing for artistic experimentation. www.flamencorosario.org
2017-2018 Discover Dance! season:
September 21 Historical Performance Ensemble
October 12 Vancouver Tap Dance Society
November 30 Flamenco Rosario
February 22 OURO Collective
March 15 Mandala Arts and Culture
April 26 Arts Umbrella Dance Company
The Dance Centre was established in 1986 as a resource centre for dance professionals and the public in British Columbia, and has evolved into a multifaceted organization offering a range of activities unparalleled in Canadian dance. Its goal is to support the development of dance and to develop an environment where it can thrive. The Dance Centre offer programs and resources supporting the professional development of artists, presents public performances and events, manages Scotiabank Dance Centre, Canada's flagship dance facility, and works to promote BC dance.
Facebook.com/thedancecentre | Instagram.com/thedancecentrebc | Twitter.com/dancecentre
Discover Dance! Media sponsors: OMNI Diversity Television, City TV, the Vancouver Courier and the Westender
Official hotel sponsor: Holiday Inn Vancouver Downtown Hotel & Suites
The operations of The Dance Centre are supported by the Canada Council for the Arts, the Government of Canada, the Province of British Columbia, the BC Arts Council, and the City of Vancouver through the Office of Cultural Affairs. 
The Dance Centre
Scotiabank Dance Centre, Level 6, 677 Davie Street, Vancouver BC V6B 2G6 Tel 604 606 6400 www.thedancecentre.ca