Friday June 15, 2018 at 8pm
Scotiabank Dance Centre, 677 Davie St, Vancouver
Tickets $28/$22 students & seniors from Tickets Tonight: 604.684.2787 www.ticketstonight.ca
Info www.thedancecentre.ca
12 Minutes Max showcases five eclectic dance works by some of Vancouver's most exciting and innovative up-and-coming choreographers: Katie Cassady, Alejandra Miranda & Juan Villegas, Sophie Maguire, Jhoely Triana, and Sujit Vaidya. First launched in Vancouver in 1994, 12 Minutes Max supports the development of new works throughout the season: this performance features a selection of pieces, chosen by program facilitators Jo Leslie and Serge Bennathan.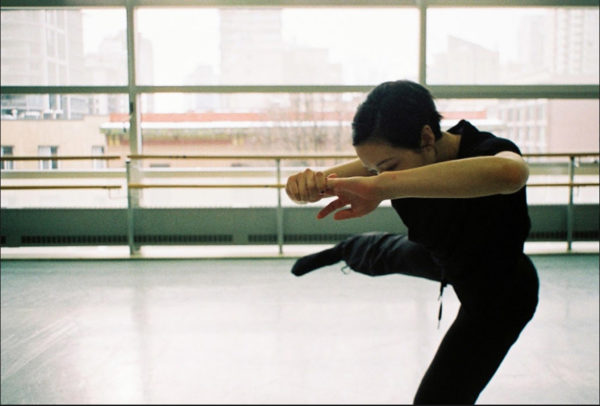 Katie Cassady's Two Chapters on Interconnectedness, performed with Marissa Wong, is a meditation on interconnectedness, nature, and climate change. The work focuses on an anecdote told by Professor Robert Hass at the 2008 conference Creativity in the Face of Climate Change, and on cultural conceptions about nature. Katie trained at Simon Fraser University and the San Francisco Conservatory of Dance, and currently performs with TWObigsteps Collective and Donald Sales/Project 20. Her work has been presented at the Shooting Gallery Performance Series and BC Buds at the Firehall Arts Centre.
Sophie Maguire's stages of self burial in today's pleasure garden -OR- confessions of a strange pigeon is rooted in the concept of the pleasure garden, historically a public space established as an entertainment hub, a place to see and be seen; and the pleasure garden of today, as an aesthetic and a platform. A New York native, Sophie studied dance at Connecticut College and has shown her work at festivals and venues throughout the northeast US under the name lonely goat. She made her Vancouver debut in 2017 at the Shooting Gallery Performance Series. Sophie holds a Masters of Landscape Architecture from Harvard's Graduate School of Design and currently works as a project designer at PFS Studio in Vancouver.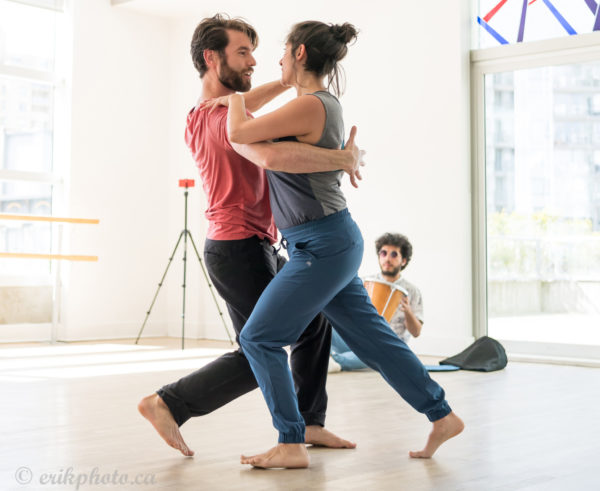 Alejandra Miranda and Juan Villegas bring traditional Latin American folk dances into a contemporary improvisational structure in within, a duet created in collaboration with and accompanied by accordionist John Gonzalez. Colombian-Canadian dance artist Juan Villegas has a post-baccalaureate diploma in contemporary dance from Simon Fraser University and a degree in industrial design from Emily Carr University. He has danced with Kinesis Dance somatheatro, Vanessa Goodman, Desiree Dunbar, and Chartier Danse amongst others. Alejandra Miranda was born in Bolivia and studied dance in Cuba and Argentina. She performed for two seasons with Lamondance, was selected for a Bloom Choreographic Residency, and has danced with Michael Demski, Carolina Bergonzoni, Damarise Ste. Marie, Shauna Elton for AMAE and Olivia C. Davies.
Jhoely Triana's flamenco-inspired solo Mi Piel is a personal and expressive exploration of the deep emotions inspired by the wedding dress that she made seven years ago. Born in Colombia, Jhoely trained at the Goh Ballet Academy, completed a BFA in Contemporary Dance at Simon Fraser University, and now continues her artistic development with Kasandra "La China" and Oscar Nieto at Al Mozaico Flamenco. She has performed locally at the Kino Cafe, East is East, Victoria Flamenco Festival, and various community events and showcases. In 2017 she danced at the 30th anniversary community showcase of the Festival Flamenco Internacional de Alburquerque where she represented Vancouver.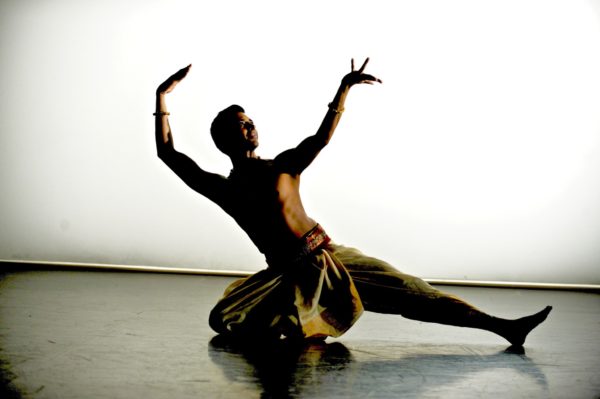 Sujit Vaidya's OFF CENTRE is a bharatanatyam duet with US-based dancer Arun Mathai, accompanied by percussionist Curtis Andrews, which explores a sense of duality that dwells within us resulting in parallel realities that can be in conflict or coexist. Sujit is an independent bharatanatyam performer who has performed extensively in Canada, US, Europe and India. His work aims to reimagine the context of traditional compositions and highlight bharatanatyam in its current contemporary context.
12 Minutes Max started in 1994 and for over a decade provided an opportunity for artists to show eclectic and innovative new works that ran under twelve minutes. The Dance Centre remodelled and relaunched the series in 2014, with a strong focus on choreographic development, critical feedback and dialogue. Each season has three modules of up to four artists each, with a rotating panel of guest curators providing support, and moderated studio showings. At the end of the season a selection of the works are shown in full performance.
The Dance Centre was established in 1986 as a resource centre for dance professionals and the public in British Columbia, and has evolved into a multifaceted organization offering a range of activities unparalleled in Canadian dance. Its goal is to support the development of dance and to develop an environment where it can thrive. The Dance Centre offers programs and resources supporting the professional development of artists, presents public performances and events, manages Scotiabank Dance Centre, Canada's flagship dance facility, and works to promote BC dance.
Facebook.com/thedancecentre | Twitter.com/dancecentre | Instagram.com/thedancecentrebc
The operations of The Dance Centre are supported by the Canada Council for the Arts, the Government of Canada, the Province of British Columbia, the BC Arts Council, and the City of Vancouver through the Office of Cultural Affairs.
Official hotel sponsor: Holiday Inn Vancouver Downtown Hotel & Suites
The Dance Centre | Scotiabank Dance Centre, Level 6, 677 Davie Street, Vancouver BC V6B 2G6 Tel 604 606 6400 www.thedancecentre.ca