Festival of Contemporary Dance takes centre stage July 5 to 14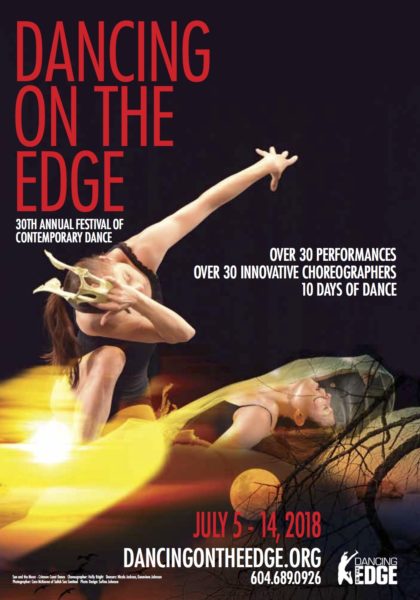 The Dancing on the Edge Festival is Canada's longest running festival of contemporary dance, taking place July 5 -14, 2018 at various venues in Vancouver. 
Festival Founder and Producer Donna Spencer is excited to announce that this year's DOTE showcases over thirty performances involving more than thirty innovative choreographers. Artists from across Canada, from Belgium and South Korea will dance on stages and in the streets during the ten-day festival, in full length and mixed bill programs, as well as site-specific works.  The 30th annual Dancing on the Edge Festival will bring dance in all shapes and forms to Vancouver audiences.
This year's lineup includes – Montreal's Paul-André Fortier/Fortier Danse-Création performs his final solo creation; Liz Kinoshita's Belgium-based company shares her work Volcano; South Korea's Dab Dance Project makes their first appearance at DOTE with support from Suddenly Dance Theatre in Victoria and the Korean Government; Montreal's Lara Kramer Danse returns; and Toronto's Valerie Calam (Company Vice Versa) Dora Award-Winning Gotta Go Church set on Vancouver's Kate Franklin.  BC choreographers performing a mix of new works and audience favourites include; Wen Wei Dance, Company 605, Lesley Telford/Inverso Productions, Co.ERASGA/Kasandra Lea in a collaboration where contemporary and Flamenco dance collide, MascallDance, Noam Gagnon/Vision Impure, Amber Funk Barton's the response., Kinesis Dance somatheatro, O.Dela Arts/Olivia C. Davies, Yves Candau/Rob Kitsos/Martin Gotfrit, Hilary Maxwell,  Mahaila Patterson-O'Brien, Alexandra Eliiott Dance, Crimson Coast Dance, All Bodies Dance Project, Jennifer Aoki, Holly Bright, and more – with over 30 performances.  Outdoor site-specific work includes; Gail Lotenberg of LINK Dance Foundation's choreography Crosswalk Hustle, a new installation in "The Intersections Series" where pedestrians and vehicle traffic meet in a choreographed routine (performances at Davie & Bute and Commercial Drive & 1st Ave); From tap to hip hop, from contemporary to flamenco, Dancing on the Edge brings four short works to Granville Island as part of the Small Stage Summer Series; and Kokoro Dance's Wreck Beach Butoh, a unique site-specific dance performance that has been performed annually since 1996 with lighting, sound, and setting by Mother Nature.
30 Years of Dance in Canada
The Festival has a lot to celebrate. Not only does this anniversary serve as a platform to generate greater awareness of our festival's values, but it will serve as a powerful reminder of the contributions of dance, as an art-form and demonstrates how 30 years of artistic pursuit can continue to pave the way for the future.   The festival has accumulated 30 stories of the past 30 years of artists who have been presented by Dancing on the Edge Festival.  
About Dancing on the Edge Festival Society
The Dancing on the Edge Festival Society strives to stimulate the development of high quality contemporary Canadian dance artists and choreography through the presentation of work from emerging and established local, regional, national and international dance artists and companies. Each year the Festival provides a catalyst for discussion about dance, either through forums, roundtable discussions, or talkbacks. The Festival also acts as a facilitator for new dance creations, through commissions, residencies, and co-productions. 
Significance of the Festival
Many of BC's eminent choreographers have been presented by the Dancing on the Edge Festival including: Crystal Pite, Emily Molnar, Serge Bennathan, Wen Wei Wang, Aeriosa Dance. In addition to national companies such as Compagnie Marie Chouinard, Brian Webb Dance Company, Paul-André Fortier, plus thousands of performing dance artists from across Canada.  It's important to note, with many festivals, such as the Canada Dance Festival and Northern Lights Festival, closing up shop, it is significant that Dancing on the Edge Festival continues its work for the Canadian arts + culture community, not only artists, but even more importantly for our audiences.
http://www.dancingontheedge.org/2018/04/kaija-pepper-dance-international-1991-memory/
Ticketing Information 
Dancing on the Edge Passes
Passes are the best way to truly experience the festival & save.
The EDGE 4 Pack – $85.00
(Four tickets, works out to just over $21/ticket)
The EDGE 6 Pack – $120.00
(Six tickets, works out to just $20/ticket)
SINGLE TICKETS available through the Firehall Arts Centre Box Office at 604.689.0926 or online at tickets.firehallartscentre.ca. 
VENUES:  Firehall Arts Centre, Scotiabank Dance Centre, Brooks Corning Showroom, St. Paul's on Jervis and site-specific work on Granville Island, Commercial Drive and Davie Street, Wreck Beach.
General Tickets: $28 
DOTE Member Tickets: $24 
Student/Senior Tickets: $24 
Student/Senior DOTE Member Tickets: $22 
DOTE Membership: $10 
More Information 
For more information on the Dancing on the Edge Festival, visit dancingontheedge.org or call 604.689.0926.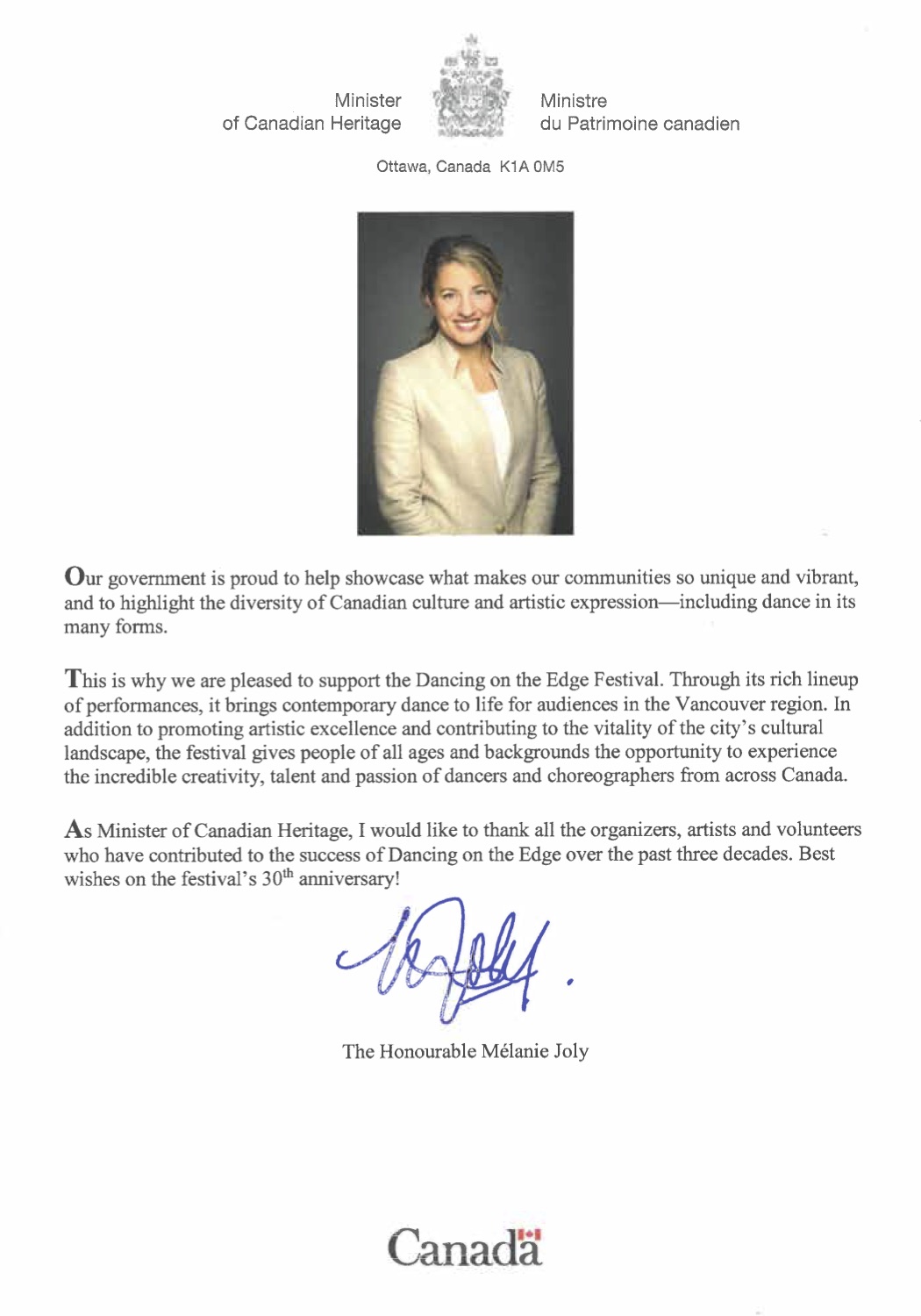 Canada's Dancing on the Edge Festival 1988-2018