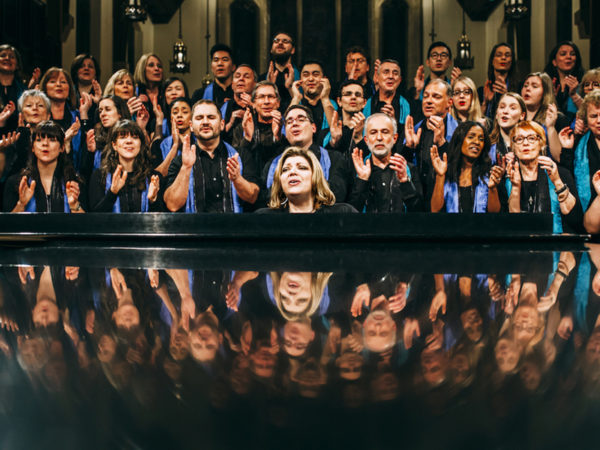 Good Noise Vancouver Gospel Choir (Good Noise) explored the intersection of two historic genres in the final concert of their 2017–2018 season: Jazz Meets Gospel.  The high-octane ensemble was joined by free-wheeling instrumentalist Daniel Lapp and the 'dulcet-yet-mighty' voices of Holy Cross High School's ViBE Senior Choir.
What is it about people making music together?  It creates community, stirs emotionally and has a transformational quality. Gail Suderman, artistic director of the Good Noise Vancouver Gospel Choir seems to understand this well.  As the 90 voice choir came down the aisles and took the stage in Christ Church Cathedral, Vancouver, voices rose together in song and brought the old church to life.  It is immediately evident that this group is vocally versatile, impeccably practiced and highly polished.  It's no surprise that the choir is in its 15th year, with an impressive resume under its belt, including appearances on Global TV and two Covenant award-nominated gospel CD's. As they wrapped up their 2017/18 season, the choir performed old time gospel hits with a jazz flair: "From swing-influenced gospel arrangements to soaring spirituals, from Latin jazz to Duke Ellington's Sacred Music, this will be an in-depth adventure into two influential genres inextricably connected to socio-cultural histories." stated Gail Suderman.  Good Noise opened with 7 songs, introduced and directed by Gail Suderman, who chatted with the audience about the history behind each selection. I was moved by "Grandma's Hands" (written by Bill Withers and featuring soloist Timothy Fuller) and "I Wish I knew How It Would Feel to Be Free (by Billy Taylor and Dick Dallas featuring soloist Syllona Kanu) But, I loved the enthusiasm the choir brought to the stage for: "I Go To the Rock" (by Dottie Rambo featuring soloist Adrienne Sweat) because you could tell this was a song the choir was passionate about singing. Overall, these are highly talented people coming together to sing inspirational music and loving every minute of it! 
Accompanying them, was a superb band: Michael Kalanj (Hammond B3), Laurence Mollerup (bass), Elliot Polsky (drums), Ingrid Stitt (alto and soprano saxophones), and Artistic Director Gail Suderman (piano and vocals). These musicians individually have incredibly accomplished resumes, and as they performed on their venerable instruments they brought clarity and joyfulness to the performance.   
Also performing were: Holy Cross High School's ViBE Senior Choir.  These singers, led by Han-Ah Park, received top recognition for two consecutive years at the Kiwanis Fraser Valley International Music Festival Awards in 2016 and 2017. Comprised of 55 students between the ages of 15 to 18, the choir is a dedicated group of talented singers. They sang mostly in acapella and it was complex and vocally intriguing. Their first song, "Nyon Nyon" was not performed in the traditional SATB format but with the students mixed together in a way that gave the song a blended, holistic quality that was captivating.  
After a short intermission, the guest artist, Daniel Lapp brought incredible energy and talent to the second half of the show. He is a "world-renowned singer, multi-instrumentalist, composer, teacher, archivist, band leader, producer, promoter…"  Mr. Lapp is a clearly a multi-talented artist and it was in this section that the whole jazz, improvisational theme of the show seemed to come to life, with the members of the band producing music that was rhythmic, fluid, and collaborative. Personally, I really liked his first song: "It Could Happen to You", which was smooth and soulful. 
At the end, all the singers and musicians came on the stage in a mass choir to close out the show. The audience was encouraged to sing along and several members were on their feet dancing.  
No matter how you entered the church for this concert, chances are you left humming  "When the Saints Go Marching In" and feeling that all was slightly more right with the world again. 
Which is, after all, what being inspired is all about.