Renowned Canadian fiddler Daniel Lapp joins for powerful season closer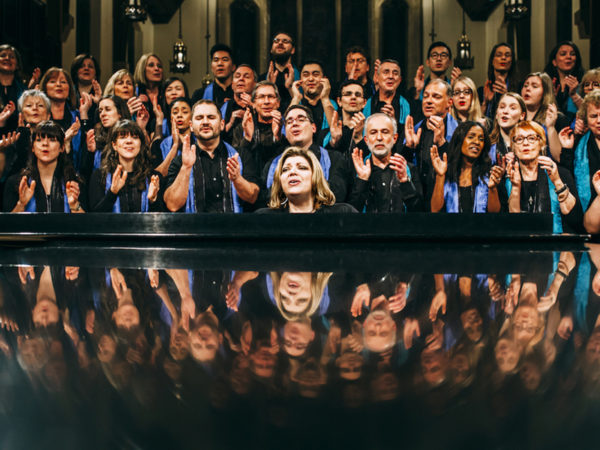 Good Noise Vancouver Gospel Choir (Good Noise) explores the intersection of two historic genres in the final concert of their 2017–2018 season: Jazz Meets Gospel on June 2 at 3pm & 8pm at Christ Church Cathedral. Audiences will be brought to their feet, as the high-octane ensemble are joined by free-wheeling instrumentalist Daniel Lapp and the dulcet-yet-mighty voices of Holy Cross High School's ViBE Senior Choir.
"At Good Noise concerts, we aim to explore music's multidimensionality. For this upcoming finale, we were inspired by jazz and gospel music's shared roots in improvisation — and crafted a program to traverse the past century of spontaneous music-making," says Gail Suderman, Artistic Director, Good Noise. "From swing-influenced gospel arrangements to soaring spirituals, from Latin jazz to Duke Ellington's Sacred Music, this will be an in-depth adventure into two influential genres inextricably connected to socio-cultural histories."
Jazz Meets Gospel's full program includes the high-energy song Revelation by the Yellowjackets, before hitting more soulful notes with Walk With Me Lord and When the Saints Go Marching In(both in new arrangements by Suderman herself). Also of note is the 60's civil rights anthem I Wish I Knew How it Would Feel to Be Free, performed by Good Noise soloist Syllona Kanu in tribute to Nina Simone.
The vibrant set is abundant with opportunities for improvisation, creating a truly singular experience for those in attendance. Each song builds upon the emotional, responsive connection between performer and listener, as both move seamlessly between states of reflection, joy, and celebration.
Guest artist Lapp is a trumpet player, singer, composer, producer, and teacher — as well as the Artistic Director of the Chwyl Family School of Contemporary Music at Victoria Conservatory of Music and Director of the BC Fiddle Orchestra. The musical Renaissance man is known for his homage concerts to Chet Baker, in which he interprets songs by the jazz trumpeter and improvises new rhythms that speak to the same 'cool' essence. Born and raised in Prince George, BC, Lapp learned to play the fiddle at the knees of his grandfather, five uncles, and accordionist aunts. His adolescent rebellion into jazz marked the start of a life-long fascination with diverse music genres, a choice that has led to invaluable opportunities. Lapp was one of six fiddlers featured in the 2010 Winter Olympics opening ceremonies in Vancouver, and has appeared as a soloist with the CBC Orchestra and Vancouver Symphony.
The ViBE Senior Choir received top recognition for two consecutive years at the Kiwanis Fraser Valley International Music Festival Awards in 2016 and 2017. Comprised of 55 students between the ages of 15 to 18, the choir is a dedicated group committed to twice-weekly practices. A portion of the proceeds from Jazz Meets Gospel will go towards ViBE and Good Noise's VIP Young Artist Program, which supports high school students in music education programs.