Combining Mask Dancing and Throat Singing,
Celebrated Inuit Artists Reclaim Indigenous Women's Stories
The Chan Centre for the Performing Arts at the University of British Columbia (UBC) presents Inuit throat singer Tanya Tagaq and Greenlandic mask dancer Laakkuluk Williamson Bathory in an electrifying combination of sound and movement, March 16 – 18 at 7:30pm in the Telus Studio Theatre as part of the Beyond Words series. Lauded for their expressive and emotionally-charged performances, together these powerhouse artists will cast a contemporary light on their shared Inuit roots while celebrating the strength, resilience, and courage of Indigenous women.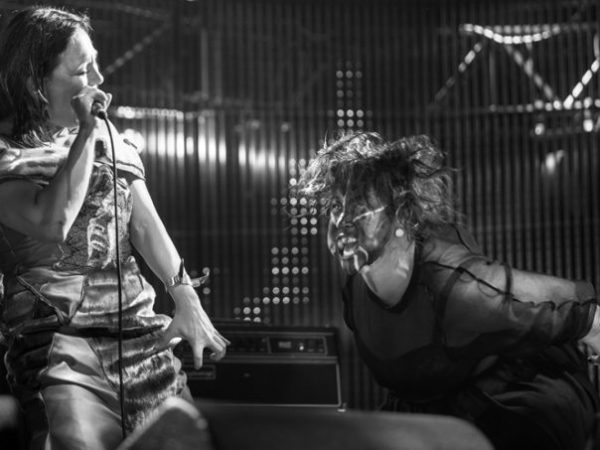 "Tanya and I have known and respected each other for many years," says Williamson Bathory. "Once we started performing together, we realized how much we sink and fly through the same realms of consciousness to create performance – her through her voice and me through my mask dancing. It is an incredible experience to perform together: we are unique from one another and heighten one another at the same time."
Born in Saskatoon, Saskatchewan in 1979, and now based in Iqaluit, Nunavut, Williamson Bathory is a prolific performer of the traditional Greenlandic mask dance known as
uaajeerneq
. This transcendent art form invokes the power of storytelling through sweeping movement and dramatic facial expressions. Regarded as one of the oldest rituals among Greenlandic Inuit,
uaajeerneq
 is traditionally performed during the winter months as a respite from the cold weather. It often focuses on four main themes – the connection to one's ancestors, sex, fear, and hilarity.Described by
The
Globe and Mail
as "captivating," Williamson Bathory is also a published academic, poet, and an outspoken advocate for creative spaces, gender equality, and Indigenous political voice. In addition to her poetry, theatre, and dance, she is currently leading an initiative to develop Iqaluit's first-ever dedicated performing arts centre. Construction on the Qaggiavuut Nunavut Performing Arts Centre is due to begin in 2019, coinciding with the 20th anniversary of the creation of Nunavut. Celebrated in both Canada and Greenland, Williamson Bathory has collaborated with artists across the globe from many lands and cultures.
Born in Cambridge Bay, Nunavut, in 1975, Tanya Tagaq is a critically-acclaimed throat singer, experimental musician, and a member of the Order of Canada. She achieved massive international recognition for her melding of Inuit throat singing techniques and modern dance beats. Called a 'polar punk', Tagaq first took up throat singing while studying visual arts at the Nova Scotia College of Art and Design. Traditionally practiced as a duet, Tagaq honed her own new methods of contemporary throat singing and experimental vocals as a soloist. This distinct and otherwordly vocal style caught the attention of Icelandic sensation Björk, who then invited the groundbreaking artist on tour.
Described by The Guardian as "passionate and always extraordinary," Tagaq is the proud recipient of two Juno Awards and a Canadian Aboriginal Music Award. In 2014, she picked up the prestigious Polaris Music Prize for 'Album of the Year' with her record Animism, for which she was nominated amongst international superstars Drake and Arcade Fire. In 2015, her follow up album Retribution was also nominated for the Polaris Prize. This politically-charged record confronts topics such as climate change and the treatment of Indigenous communities. Williamson Bathory made a haunting appearance in the music video for the title track. Both artists have also collaborated in co-hosting workshops on topics centred around feminism.
For this series of three performances at the Chan Centre, Tanya Tagaq and Laakkuluk Williamson Bathory will be joined onstage by vocalist Christine Duncan, percussionist Jean Martin, and violinist Jesse Zubot.
About the Beyond Words series
The Chan Centre's Beyond Words series  was launched in 2012 to explore the power of storytelling through performance as an agent of change and means of igniting conversation. Previous events have included sold-out engagements with John K. Samson, Brendan McLeod, Shane Koyczan, Ivan Coyote, and Chicago-based performance collective Manual Cinema. Up next in the series is a sold-out performance by avant garde multimedia artist Laurie Anderson.
About The Chan Centre for Performing Arts at UBC (chancentre.com)
Since 1997, the Chan Centre for the Performing Arts in UBC's Arts & Culture District has earned an international reputation for its striking design, stellar acoustics, and exceptional programming. Artists, critics, and patrons alike are unanimous in their praise of the facility, winning it a place among North America's pre­­­­mier performing arts venues. The Chan Centre boasts three unique venues: the superb Chan Shun Concert Hall, the dramatic Telus Studio Theatre, and the intimate Royal Bank Cinema. From classical, jazz, theatre, and opera to world music, the Chan Centre is a vital part of UBC campus life where artistic and academic disciplines merge to inspire new perspectives on life and culture. Past performers and guest speakers include: Wynton Marsalis, His Holiness the Dalai Lama, Renée Fleming, Dan Savage, Yo-Yo Ma, Buena Vista Social Club, Sigur Rós, Mavis Staples, Anoushka Shankar, Trombone Shorty, Chick Corea and Herbie Hancock. This season the Chan Centre is celebrating two decades of world-class performance. Visit the 20th anniversary archives at chancentre.com for memorable stories and never-before-seen photos from the past twenty years.
LISTING INFORMATION
Chan Centre presents:
Tanya Tagaq and Laakkuluk Williamson Bathory
Dates:

March 16 – 18, 2018

at

7:30pm

Tickets:
From $29
Address:
Chan Centre for the Performing Arts
University of British Columbia
6265 Crescent Road
Vancouver, BC  V6T 1Z1
Box Office:
604-822-2697 / chancentre.com

In person at the Chan Centre ticket office
Open Tue-Sat, 12pm-5pm

Website:
chancentre.com