Grammy Award-winning Trio Sara Watkins, Sarah Jarosz, Aoife O'Donovan
Present Sublime Sounds from Acclaimed Debut Album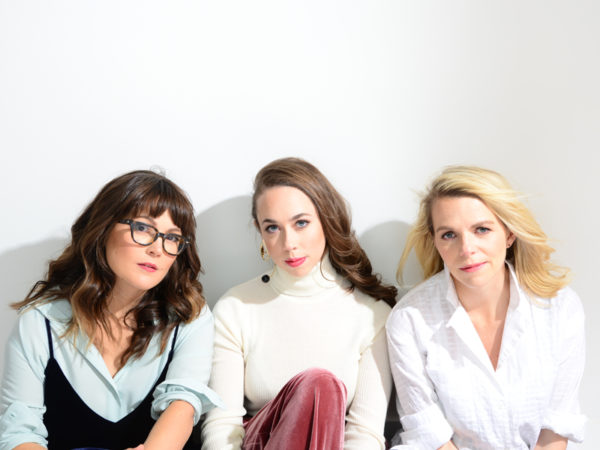 The Chan Centre for the Performing Arts
at the University of British Columbia (UBC) introduces to Vancouver audiences the ethereal harmonies of
I'm With Her
on
September 30, 2018, at 7pm
in the
Chan Shun Concert Hall
. The exquisite vocal and instrumental arrangements by
Sara Watkins
(fiddle),
Sarah Jarosz
(mandolin), and
Aoife O'Donovan
(guitar) will command the stage in their first Canadian performance on the Overland Tour celebrating the release of their debut album
See You Around
.
"I have followed these artists individually for a number of years and was delighted — along with the rest of the folk music world — when they joined forces to create I'm With Her," says Joyce Hinton, Co-Managing Director of the Chan Centre. "They are exceptional artists on their own, but together the combination of their gorgeous harmonies, song-writing abilities, and skilled string playing is superb. As their band name suggests, these musicians also share a very strong bond of friendship — a sense of true camaraderie that is reflected in their seamless collaborations."
The multi-Grammy Award winning "alliance of Americana virtuosos" (New York Times) has earned critical acclaim for their first collaboration, but each came onto the scene of folk and progressive bluegrass music on their own merit. Watkins, Jarosz, and O'Donovan were well aware of one another's career over the years, but it wasn't until an impromptu performance at the 2014 Telluride Bluegrass Festival that they came together for the first time as artists. The ease with which they fell into a rhythm in that initial concert motivated them to form a band. The name — I'm With Her — predates the political machinations of the 2016 presidential election in the United States, but nevertheless speaks to the solidarity the three found in one another amidst a conservative bluegrass realm, historically monopolized by male musicians.
California native Watkins was a founding member and fiddler in renowned bluegrass trio Nickel Creek, alongside her brother Sean Watkins and mandolinist Chris Thile. The group won the 2003 Grammy Award for Best Contemporary Folk Album, before breaking up in 2007. Watkins went on to release several solo albums, including Sun Midnight Sun, and has performed alongside Fiona Apple, Questlove, and The Decemberists.
O'Donovan was the lead singer of Boston-based Crooked Still, a quintet consisting of Corey DiMario, Rushad Eggleston, Gregory Liszt, and later Tristan Clarridge and Brittany Haas. The high-energy band drew from the stylings of Bill Monroe, the "Father of Bluegrass."
Born in 1991, Jarosz grew up listening to Watkins and O'Donovan's bands. The Texan mandolin prodigy first met Watkins when she was 9 years old, and would eventually develop a stunning solo career. Her fourth album Undercurrent won two Grammy Awards in 2016, including Best Folk Album.
Their distinct voices and instrumental plucking come together as a single instrument in concert, emphasizing their nuanced understanding of perfectly balanced melodies. See You Around features hits like "Game to Lose," "I-89," and "Wild One," and was co-produced by Ethan Johns, who has also worked with Paul McCartney, Rufus Wainwright, and Ryan Adams.
About the Chan Centre for Performing Arts at UBC (chancentre.com)
Since 1997, the Chan Centre for the Performing Arts in UBC's Arts & Culture District has earned an international reputation for its striking design, stellar acoustics, and exceptional programming. Artists, critics, and patrons alike are unanimous in their praise of the facility, winning it a place among North America's premier performing arts venues. The Chan Centre boasts three unique venues: the superb Chan Shun Concert Hall, the dramatic Telus Studio Theatre, and the intimate Royal Bank Cinema. From classical, jazz, theatre, and opera to world music, the Chan Centre is a vital part of UBC campus life where artistic and academic disciplines merge to inspire new perspectives on life and culture. Past performers and guest speakers include: Wynton Marsalis, His Holiness the Dalai Lama, Renée Fleming, Dan Savage, Yo-Yo Ma, Buena Vista Social Club, Sigur Rós, Mavis Staples, Anoushka Shankar, Trombone Shorty, Chick Corea, and Herbie Hancock.
LISTING INFORMATION
Chan Centre Presents I'm With Her
Date:
Sunday, September 30, 2018 at 7pm
Ticket Prices:
From $38
Address:
Chan Centre for the Performing Arts
University of British Columbia
6265 Crescent Road
Vancouver, BC V6T 1Z1
Box Office:
604-822-2697 / chancentre.com

In person at the Chan Centre ticket office
Open Tue – Sat, 12pm – 5pm

Website:
chancentre.com