The Eclectic Artist and His World-Touring Ensemble
Celebrate Euphoric Sounds of Sarajevo
The Chan Centre for the Performing Arts
at the University of British Columbia (UBC) welcomes the boisterous cheer of Balkan composer and bandleader
Goran Bregović 
and his
Wedding and Funeral Band
on
October 21, 2018
, at
7pm
in the
Chan Shun Concert Hall
. Drawing on the traditional Balkan rhythms and soulful Romani folk tunes of his homeland, Bregović makes his Chan Centre debut in this exclusive, sold-out evening with a program of all-time favourites and new songs from his latest album,
Three Letters from Sarajevo
.
"Coming from a blended Serbian, Croatian family and having lived through the cruelties of war, Goran Bregović knows first-hand the complexities of the Balkan region. His music joyously celebrates the traditions of Christianity, Judaism, and Islam with the goal to bringing understanding and peace to his homeland," says Joyce Hinton, Co-Managing Director of the Chan Centre. "Goran is a huge star in Europe and abroad. I am truly thrilled to present him and welcome his loyal fan base to the Chan Centre. It also gives me great pleasure to introduce Goran and his amazing band to others not as familiar with this exuberant music. We're in for an enormous treat."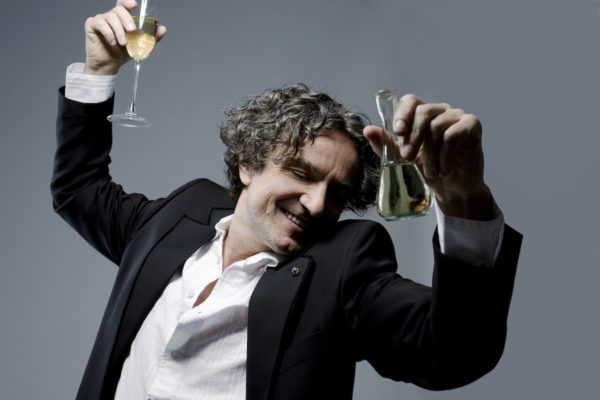 The charismatic artist is "a musical spectacle unlike anything else on North American stages" (San Francisco Chronicle) and has collaborated with such greats as Iggy Pop, Cesária Évora, and Asaf Avidan. Bregović's musical adventures began in the 1960s when he studied music in his hometown of Sarajevo. While there he learned to play the violin, but found himself underwhelmed and yearning for more. The rebellious spirit of the 1960s and rock 'n' roll sparked something inside Bregović and influenced him to form the rock band Bijelo Dugme (White Button). Their first album was an immediate success and over the next 14 years, the group released 12 albums — selling millions and touring internationally.
Throughout his career, Bregović has remained unmistakably Balkan with his uplifting and eclectic melodies. His adoration for the pulsating vitality of a live crowd and passion for the heartfelt harmonies of Romani folk musicians enticed him to start a haphazard, but tightly knit touring group in the mid-1990s. For almost 20 years, Bregović and his Wedding and Funeral Band, which varies in size from nine to 19 depending on the occasion, have been on a never-ending world tour that so far has included more than 1,000 shows. Demonstrating the unique tone and multicultural influences in his work, Bregović's concerts are known for being triumphant affairs that emphasize a love of music that is undeniably intoxicating.
True to his experimental form, Bregović turned to the silver screen in the late 1970s, although his film career did not take off until 1988, when his friend and acclaimed Serbian filmmaker Emir Kusturica enlisted the musician to compose the score for Time of the Gypsies. The two went on to collaborate on the 1995 Palme d'Or winner Underground and the American indie-comedy Arizona Dream starring a young Johnny Depp, in which Bregović worked with the "Godfather of Punk," Iggy Pop.
Performing for the first time at the Chan Centre, Bregović and his Wedding and Funeral Band will play a selection of all-time favourites, such as Bella Ciao and Presidente, alongside new songs like Baila Leila and Pero from Three Letters from Sarajevo. A meeting place for Muslims, Christians, and Jews before the Balkan Wars, the city of Sarajevo has influenced Bregović's music throughout his career. In this new album, Bregović celebrates his birthplace and its cultural history with a mixture of foot-stomping percussion and haunting Bulgarian, Georgian, and Corsican chants for a night of jubilant sounds and lively entertainment.
Chan Centre Connects Events (chancentre.com/connects)
A series of ancillary events programmed in conjunction with Chan Centre performances, exploring the role of arts and artists in society.
Pre-Show Talk with Marija Rakovic — Sunday, October 21, 6:15pm in the Royal Bank Cinema at the Chan Centre. Marija Rakovic is a UBC Ethnomusicology graduate student currently researching vocal music in the western Balkans. Her talk will give context to the work Three Letters From Sarajevo by exploring the inspiration and meanings behind Bregović's music.
About the Chan Centre for Performing Arts at UBC (chancentre.com)
Since 1997, the Chan Centre for the Performing Arts in UBC's Arts & Culture District has earned an international reputation for its striking design, stellar acoustics, and exceptional programming. Artists, critics, and patrons alike are unanimous in their praise of the facility, winning it a place among North America's premier performing arts venues. The Chan Centre boasts three unique venues: the superb Chan Shun Concert Hall, the dramatic Telus Studio Theatre, and the intimate Royal Bank Cinema. From classical, jazz, theatre, and opera to world music, the Chan Centre is a vital part of UBC campus life where artistic and academic disciplines merge to inspire new perspectives on life and culture. Past performers and guest speakers include: Wynton Marsalis, His Holiness the Dalai Lama, Renée Fleming, Dan Savage, Yo-Yo Ma, Buena Vista Social Club, Sigur Rós, Mavis Staples, Anoushka Shankar, Trombone Shorty, Chick Corea, and Herbie Hancock.
LISTING INFORMATION
Chan Centre Presents 
Goran Bregović and His Wedding and Funeral Band
Date:
Sunday, October 21, 2018 at 7pm
Ticket Prices:
From $54 (SOLD OUT)
Address:
Chan Centre for the Performing Arts
University of British Columbia
6265 Crescent Road
Vancouver, BC V6T 1Z1
Box Office:
604-822-2697 / chancentre.com

In person at the Chan Centre ticket office
Open Tue–Sat, 12pm–5pm

Website:
chancentre.com