An Evening of Exquisite Global Guitar Talents
Saturday, January 20, 2018 @7:30PM
Massey Theatre, 735 Eighth Ave, New Westminster
Tickets:  $35 Adult / $25 Students & Seniors / $15 children under 12
(plus service charges)  Buy Now –ticketsnw.ca 
Hit show returns!   With the overwhelming success of last years show, the Massey Theatre is thrilled to again present International Guitar Night – the worlds premiere touring festival that highlights the dexterity and diversity of acoustic guitar for one show only on Saturday, January 20, 2018 at 7:30pm.  Enjoy four of the most innovative and accomplished acoustic guitarists, each with a different style, each playing solo, and then teaming up together in duets and quartets creating an evening of acoustic musical magic.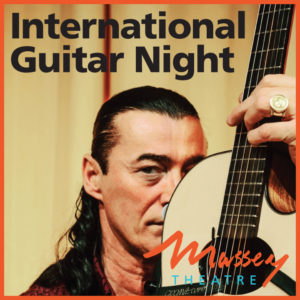 "This is an evening of exquisite intricate guitar music …the speed, fluid movements, captivating rhythms and the relaxed postures of these highly professional players makes this a night to remember."  Review Vancouver
Gypsy jazz legend Lulo Reinhardt is returning as guest host for International Guitar Night's 19th year, he will be joined by three new, incredibly dynamic musicians:  Calum Graham, the young Canadian contemporary sensation; Marek Pasieczny, Poland's innovative classical composer/ performer, and award-winning American guitarist Michael Chapdelaine. Each one of these guitar talents bring their unique style and musicanship Lulo has built on grand-uncle Django Reinhardt's repertoire by introducing Latin rhythms. Calum has a two-handed style that has attracted millions of YouTube viewers. Marek has performed and written for a variety of orchestras around the world, and Michael has won both the Guitar Foundation of America Classical Guitar Competition and the National Fingerstyle Championship for steel string guitar. 
Enjoy these four unique virtuoso guitarists in a spectacular evening of sound that only guitars can create.  A show you want to see and experience again and again – here is a sneak peak.