'Tortilla Soup'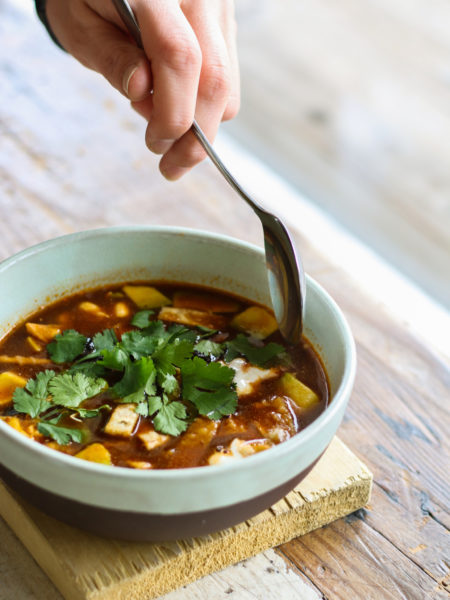 Ingredients
4 litres chicken stock *
4 TBSP ancho purée *
1TBSP ancho powder
2 cups lightly sautéed onion
Salt to taste
3/4 cup fresh squeezed lime juice
Valentina to taste (1/4 cup ish?)
Method
*For the stock we buy free range chicken bones, roast and simmer over night with about 8 whole dried ancho chilies. Strain and cool. No need to skim the fat.
*Skin the anchos and purée them – discard the stem and as many of the seeds as possible.
Add to each bowl: grated aged white cheddar, sour cream, avocado, chicken* , avocado, cilantro, fresh corn chips *, a splash of Valentina  and a wedge of lime.
*We use the thigh meat we put in our burritos but you could roast and shred breast and thighs…
*We cut corn tortillas into long strips, deep fry and sprinkle with salt."
Twitter:  @TacofinoVAN
Instagram: @tacofinovancouver
Facebook: /TacofinoCommissary
Web: http://www.tacofino.com/gastown-home