WHITEWATER COOKS more beautiful food Shelley Adams
Twelve years ago, Shelley Adams arrived on the British Columbia book scene with a gorgeous self published cookbook, Whitewater Cooks: Pure, Simple and Real Creations from the Fresh Tracks Cafe. In about a year, the 5,000 copy print run had sold out. Shelley sold her publishing rights for the first book to Whitecap Books, a highly regarded publisher that has since gone on to sell tens of thousands of copies. But when Shelley self published a second book, Whitewater Cooks At Home, and sold 6,000 copies in its first 4 weeks – Shelley decided to form her own publishing company with husband Mike Adams. Since then, two more Whitewater cookbooks have appeared, all with the same distinctive design, air and super fan following. With well over 200,000 copies sold, the Whitewater Cooks brand has become known nationally for simple, healthy, delicious and fool-proof recipes, many of which have become standards in Canadian households.
Whitewater Cooks: More Beautiful Food is full of new recipes to inspire fans and once again turn home cooks into culinary rock stars, a hallmark of Shelley's earlier books. In the Salad section, try the Grilled Peach, Prosciutto, Burrata Salad, Soba Noodles with Prawns or the Fancy Pants Grilled Caesar Salad. From the Sides and Starters section, choose Cornmeal Crusted Tartes with Caramelized Onions, Fig Jam and Goat Cheese, MIke's Special Potatoes and/or the Hasselback Yams recipe. For an Entreé – there's Marsala Chicken with Lentils and Butternut Squash, Spiced Lamb and Halloumi Meatballs or the Texas Style Beef Brisket to name just a few. Finish off the evening with some baked sweetness and a Hummingbird Cake, French Silk Pie or a Rhubarb Frangipane Tarte. Shelley's innate air for creating and developing recipes will not disappoint and soon home cooks across Canada will be serving their guests…more beautiful food…
Paperback, 10 x 9, 160 pp, french aps • ISBN 978-0-9811424-3-2 $34.95
Alicon Holdings Ltd • December 2017 • Cooking
SANDHILL BOOK DISTRIBUTION, Kelowna, BC • Eml info@nullsandhillbooks.com • Ph: 1-800-667-3848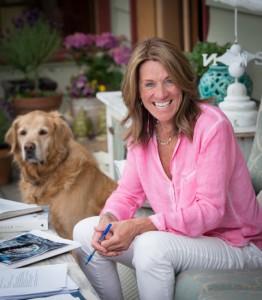 About the Author, Shelley Adams
Shelley Adams is the chef and driving force behind the best-selling Whitewater Cooks series. Shelley's story is now well known. After starting her career as a caterer to the movie industry in Vancouver, Shelley became the creative director of the Fresh Tracks Cafe and owner of Whitewater Ski Resort in Nelson, B.C. She soon became celebrated for her innovative and delicious menu options. Shelley's first cookbook, Whitewater Cooks –  Pure, Simple and Real Creations from the Fresh Tracks Cafe was soon followed by three other national bestsellers, Whitewater Cooks at Home, Whitewater Cooks with Friends, Whitewater Cooks with Passion and the latest Whitewater Cooks More Beautiful Food.
Shelley is a force of nature who thrives on non-stop activity and on creating amazing meals for friends and family. Shelley and Mike's two children, Ali and Conner, create great meals for their friends at university with their dog-eared copies of their mother's cookbooks.   Shelley and Mike live on the shores of Kootenay Lake with Tempy, their large golden retriever and Pants, their elusive cat.
For more information on Shelley Adams and her Whitewater Cooks series, you can visit www.whitewatercooks.com , and you can find her on facebook and twitter @WhitewaterCooks