Holiday Morning Frittata Break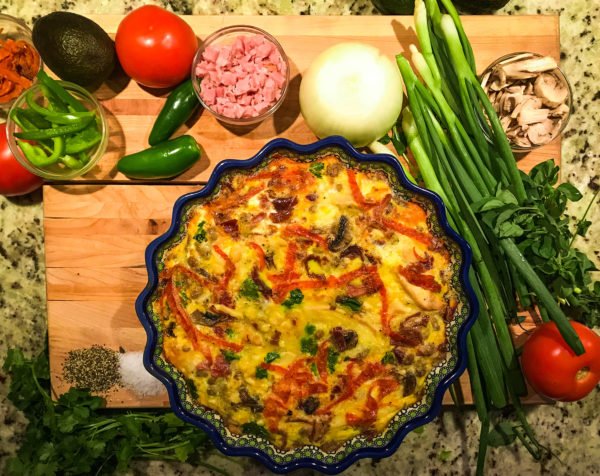 (shhhh…only seven ingredients) Serves 4-6
Executive Chef Perry Mascitti, Tulalip Resort Casino (and Junior Chef Brandon)
Let me tell you about a cinnamon roll tradition along with a super-simple seven-ingredient morning breakfast dish that is warm and comforting for your friends and family.
We all have our holiday traditions that bring back many memories. I would like to share one of our family traditions, which includes me and my teenage son, Brandon, baking warm gooey cinnamon rolls. This unspoken baking ritual takes place right before we sit down to hand out our gifts to each other. Nothing makes me feel the holiday spirit more than the fragrant whiffs of cinnamon and vanilla frosting throughout the house….ahhhh.  Before opening our gifts, Brandon enjoys a mug of hot chocolate with whipped cream along with me and my wife sipping on a "very special" spiced rum hot chocolate — a perfect pairing for a nice, relaxing morning.
Several years back, I realized that we needed a SIMPLE savoury brunch dish that would balance out the plethora of sweets and holiday cookies of the morning. Who wants to spend a lot of time in the kitchen during this special time? Not me! Only having a few ingredients in my kitchen, I came up with an egg frittata that was so versatile, I decided to share it. The key word here is…EASY!
I like to make this egg pie ahead of time, so all I have to do is pop it in the oven right before gift-giving time. Once in the oven, it finishes baking within 30 to 40 minutes. Serving a piece of frittata "pie" and you have a mini brunch, or with a larger slice, it may hold the gang over until the big holiday supper for later that day. Even easier!
The other key here is to be creative and to think like a chef, so with a few base recipes, there are thousands of variations. I will share the base recipe and then I want you to "go with yourself" and create your culinary works of art, which is why I love cooking this egg inspired dish. The eggs are the canvas paired with very few rules, which leads you to many artistic possibilities.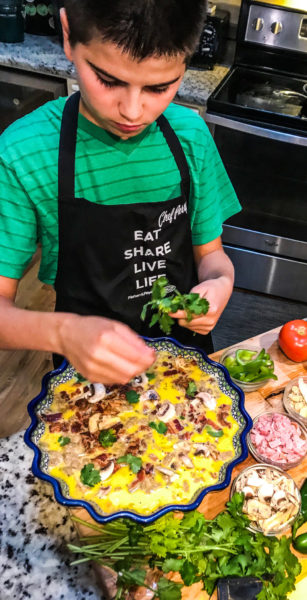 *Note: My son, Brandon, decided to use pepperoni (of course pizza), freshly picked oregano, bacon, sausage and mushrooms to go into the basic recipe.
Holiday Morning Frittata Recipe
Easy Peasy Hack Crust (optional, but I like the base crust)
3 cups Ritz crackers, crushed fine in a zip lock bag or processor, or approximately one inside roll of crackers
1/2 cup, butter, melted
Base egg mix filling
2 cups – either yellow, white, or green onions, diced and lightly sautéed until translucent
12 large eggs
1 cup milk, any fat %
½ teaspoon ground nutmeg
2 cups select one or mix and match: cheddar, jack, Swiss, or mozzarella, all shredded
1 teaspoon salt
1 tablespoon pepper
"Base" Frittata Method
Preheat oven to 350 degrees F
Blend crushed Ritz type crackers with melted butter. Press mixture to the bottom of a round 9" to 10" pie pan (I have even used crushed tortilla chips). As mentioned, this crust is optional for those watching carbs.
In a bowl, whisk eggs, milk, nutmeg, salt, and pepper (optional). Evenly place the cheese on top of the crust. Pour egg mixture over the cheese.
At this point, you can stop here at the "cheese frittata base" or you can add your own creative twists to the dish.
Bake at 350 degrees F for 30 minutes or until firm to the touch. Once finished baking, let it rest for 5 minutes
"Frittata Freestyle"
Same method as the above base recipe, but you get to add one or more of the listed ingredients below, but making sure to not exceed a total of 2 cups. Making sure to bake the Frittata Freestyle for approx. 40 minutes, which allows for the additional ingredients.  Once finished baking, let it rest for 5 minutes.
Suggested additions: cumin, diced ham or sautéed sliced mushrooms; leftover cooked turkey, chicken, or ground beef; pre-cooked breakfast, Italian sausage or bacon; diced and cooked bell peppers; sliced and diced salami or pepperoni; spinach ribbons, diced tomatoes, roasted garlic, diced-hydrated sun-dried tomatoes; diced basil ribbons; fresh cilantro; or salsa. I could go on, but I will let you add your creative culinary genius to the recipe.
Enjoy!