If you love BC wine as much as we do we're sure you have a list of your favourites that you want to have on hand for serving to your guests and to give to friends. Our #FavouriteThings Holiday Gift Suggestions would not be complete without adding the superb wines of  Mirabel Vineyards to our list. Mirabel Pinot Noir, Rosé of Pinot Noir and Chardonnay top our list for holiday gift giving. These premium wines are only available at New District on Dunbar Street in Vancouver or can be purchased directly from the Mirabel website in cases of six (6) bottles. Quantities are limited, please shop early to avoid disappointment.
Not only are the Mirabel wines three of my own personal favourites but they rank very highly with our wine reviewer Sam Hauck (aka Sam_WineTeacher) and with his permission I am including his tasting notes from his previously published review. Mirabel wines make the perfect gift for the special person on your list who has been especially nice this year.

2015 Pinot Noir
Intensely aromatic, brooding dark fruits intertwine with subtle toasty nuances. A powerful Pinot with a layered complexity of red berries and forest floor leads to a firm yet sensual structured finish. This wine will reward cellaring.
$70.00 each (750ml)  | $160.00 (1.5L) from the vineyard / $76.99 (750 ml) at New District
Elegance and well-crafted come to mind. The wine is nuanced with flavours and aromas of cherry, strawberry and floral notes. The oak and fruit is well integrated and the wine has a creamy texture. The lingering finish reflects its pedigree. Right out of the gate, this wine has captured the attention of wine critics. – Sam Hauck
The following tasting notes are reprinted from My Kelowna Journey article on MyVanCity.ca.
"Terroir, terroir, terroir. The South Kelowna west facing vineyard is planted with Dijon clones and is yielding one of the finest Pinot Noirs. The quality of the 2015 Pinot Noir produced by the Reimers will give stiff competition to Pinot coming out of Oregon.  I purchased the Mirabel Pinot Noir at New District on Dunbar Street in Vancouver. You have got to go! Fabulous staff."
"The Pinot was to serve at Thanksgiving with the J.D. Farms turkey purchased at Armando's at Granville Island Public Market. Being a young Pinot I decanted it early, and at dinner, it was poured and served in proper Pinot Noir glasses. The wine was very well received with oohs and aahs expressed by our guests. The wine was silky smooth."
"It is pricey at $70.00 per bottle that's because of the Dijon clones; the winemaker, Matt Dumayne; it's about the commitment to quality by the Reimers; it's also about almost 12 months in French Oak, but it is mostly about the Terroir. It's always about the Terroir."
Comments by Mike van der Gracht, my official red wine taster.
If you're purchasing the Mirabel Pinot Noir as a gift for someone special I recommend that you think about including a set of good quality wine glasses. Reidel wine glasses are my choice and available in the shape and size specifically for Pinot Noir, and they are reasonably priced.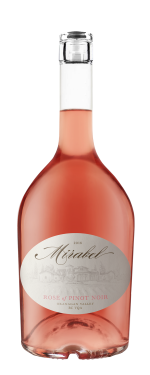 2016 Rosé of Pinot Noir
Gentle handling of the Pinot Noir, including cool fermentation in stainless steel and six months of lees contact, produced this delicate, dry, saignée-method Rosé. The wine offers subtle aromas of guava and melons with a citrus twist overlay.
$30.00 each (750ml) from the vineyard / $32.99 at New District
The 2016 saignée-method Pinot Noir Rosé – made by bleeding off some of the free run juice from the pressed red wine, thereby concentrating the resulting red juice. The wine shows finesse and restraint, with integrated fruit and savoury notes with undertones of minerality. It is packaged in a classy, distinctive eye-catching bottle and is priced at a level that matches some of France's best rosé wines. This is not just another rosé. – Sam Hauck

2016 Chardonnay
Whole bunch pressed Naramata Chardonnay; 30% to new Francois Frere French oak in Puncheon. Full malolactic fermentation took place with 11 months lees aging. A minimal intervention approach to this wine allows the fruit to shine and dictate the end flavour profile.  Little handling means this wine was not stabilized, therefore harmless tartrites, or "wine diamonds" are possible.
$40.00 each (750ml) from the vineyard / $44.99 at New District
The hand-harvested grapes are currently sourced from the Naramata bench. This lovely, well-integrated wine showed aromas and flavours of peach, honey and subdued tropical fruit, brioche and minerality. Lees aging added a creamy texture to the wine. The wine is a blend of stainless steel and large barrel aging and has undergone full malolactic fermentation.   Delicious now and a great match for turkey, though certainly age worthy for another five to eight years minimum. – Sam Hauck