We are pleased to bring you our second Holiday Gift Suggestion – Fairview Cellars Cabernet Franc at $35.99 and Fairview Cellars The Bear Red Blend $46.99. Two of our favourites and both are delicious. All of our recommendations are wines we have personally tasted and enjoyed. Please note that vintage availability will vary. These wines are extremely popular and are currently available at Everything Wine and select VQA wine stores. Shop early to avoid disappointment.
There may technically only be twelve days of Christmas but the reality is the parties, dinners and special events abound throughout November and December. You can be ready for any occasion whether you're the host and hostess or the privileged guest. Fairview Cellars produce some great wines.
Remember it's never too early to start planning, writing your list and doing your Christmas and Holiday Season gift buying. Since most of the shopping falls on the woman of the household, including not just for hubby but everyone else in the family, you deserve a little help. Here are our suggestions for the grown-ups on your list.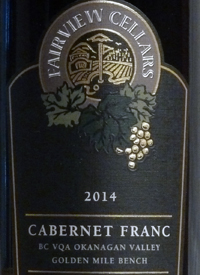 Cabernet Franc:   The most difficult of the varietals to grow due to the late ripening, the quality of the finished product makes it worth it.  Usually in the vicinity of 300 cases are produced annually from the estate vineyard.  The remaining is used in the blends.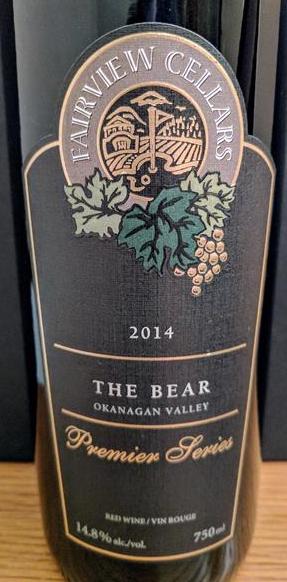 The Bear: Previously called "The Bear's Meritage" this is part of the "Premier Series" wines (along with the higher end Cabs).  A blend of five of the classic Bordeaux cultivars (Cab. Sauv., Merlot, Cab. Franc, Malbec and Petit Verdot) with Cabernet Sauvignon being at least 50% of the blend, sometimes reaching as high as 75% of the blend in exceptional Cab. years.  The best barrels are always chosen for this wine, with the Cab. Sauv. grapes usually coming from a later picking to add to the complexity.  The wine is stored for longer periods of time in the barrel. (anywhere from 14 to 20 months)  The time "on the skins" is usually longer, again to achieve higher extraction from the skins.
About Fairview Cellars
A boutique winery located on the Reed Creek alluvial Fan at the North end of the Benches of the Golden Mile.
Fairview Cellars is the culmination of a life long quest of Bill Eggert's to own and operate his own winery.  The 10 acre property located adjacent to the first green of the Fairview Mountain Golf Course was purchased by Bill in 1989.  After development of the water system the vineyard was started in 1993.  The first commercial vintage was produced from the 1997 crop.  Half the property was planted in Cabernet Sauvignon.  Cabernet Franc and Merlot were planted in equal parts to fill out the property.  One row of Syrah and one row of Petit Verdot were added later, and Sauvignon Blanc was planted on a lower terraced bench close to the first green in 2007.