Skip the milk – pair your holiday cookies with Whitehaven Wine this holiday season.
Putting out milk and cookies on Christmas Eve for Santa is a classic Holiday tradition. They say it's what keeps him fueled for the big night. We definitely agree on the cookie part but maybe there is another way to do this.
Adults know the truth – we are the ones who work tirelessly to make the Holidays magical for our families and friends. We shop, we wrap, we decorate and we cook up a storm. So this year, while the kids put out treats for Santa, the rest of us can skip the milk, and instead treat the adults to Holiday cookies with the perfect wine.
We've worked tirelessly to test out this theory of wine and Holiday cookies and we can unconditionally guarantee that you are going to love it. This could become your favourite Holiday tradition, with Whitehaven of course.
Shortbread + Whitehaven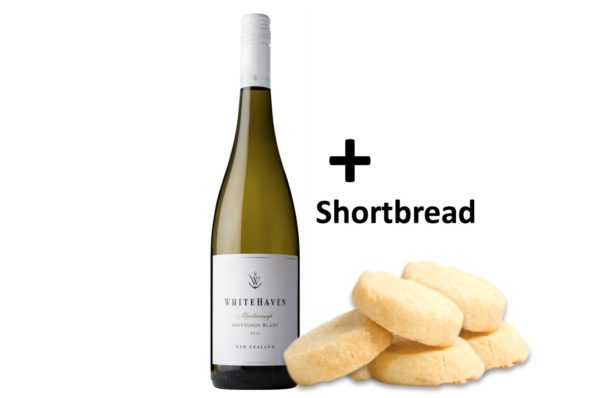 Ingredients:
2 cups butter, softened
1 cup white sugar
2 teaspoons vanilla extract 4 cups all-purpose flour
Directions:
Preheat oven to 350 degrees F (180 degrees C).
Cream butter and sugar until fluffy. Stir in vanilla; add flour andmix well.
Put through cookie press and form cookies onto baking sheets.Bake for 10 – 12 minutes.*Makes 12 servings

TASTING NOTES
Colour / Appearance: Pale yellow-green, with star bright clarity.
Aroma / Bouquet: A fragrant array of gooseberry, blackcurrant leaf, boxwood, greengage plums, and a hint of tropical fruit.
Palate: A medium bodied wine with vibrant acidity supporting bright, fragrant fruit flavours that linger on a long, clean finish.
Cellaring: We recommend drinking our 2016 Sauvignon Blanc while it is young and fresh, however, the wine is capable of developing nicely over the next three to five years if carefully cellared.
Food Match: This wine is a perfect accompaniment to summer salads, poultry and shellfish, such as Marlborough's famous green-lipped mussels. Also, try it with lobster and white fish.
Serve: Lightly chilled.
VITICULTURE
Harvest Date:30th March – 16th April 2016
Climate: Conditions were very dry early in the season, with average temperatures, clear skies and a high risk of frost. Warm conditions over flowering in mid-December resulted in good yields. Decent rain in early and mid-January allowed for healthy canopies and vigorous growth. February was hot and dry, followed by warm, dry March, perfect weather for intense flavour development.
Vine Management: Vines are trained to three or four canes on a vertical trellis. Balanced pruning, shoot thinning, tucking and trimming are used to achieve an open, healthy canopy and clean fruit.
VINIFICATION
Winemaking: The fruit was machine harvested in cool evening conditions and pressed immediately, with minimal skin contact. After settling, the clear juice was fermented at very low temperatures with selected yeast strains to preserve the inherent varietal flavours. The wine was fermented entirely in stainless steel.
Winemaker:Sam Smail and Diana Katardzhieva.