OW a new production from Jennifer Mascall MascallDance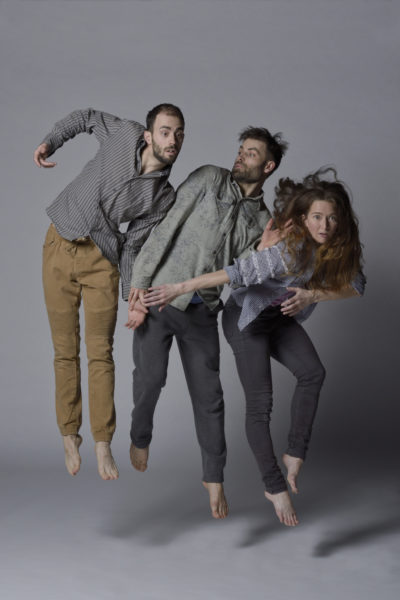 July 4,6,7 and 10,11,13,14, 2018
Vancouver's prolific Isadora Award-winner Jennifer Mascall hits the stage with a new choreographic work OW, aimed at cracking open the relationship between sound and movement.
Enter the wild world of OW – by turns loud, tender, explosive and hilarious, a realm where unpredictability is the only certainty. OW is chock full of the wit, audacity and rapaciously investigative spirit that consistently characterizes Mascalls' 40 year artistic career,hailed by the Vancouver Sun as "one of this town's most unique creative forces." 
Visit the OW website: https://owmascalldance.com/    
Inhabited by some of Vancouver's most intrepid dancers, cast members Lara Barclay, Eowynn Enquist, Vanessa Goodman, Billy Marchenski, Molly McDermott, Anne Cooper, Eloi Homier and Walter Kubanek have collaborated closely with both Mascall and experimental voice expert DB Boyko to create the production's libretto, constructed entirely of gibberish.
Each night, the stage fills with an ensemble of 17 some of Vancouver's most vibrant emerging dancers. Performing live, composer and violist Stefan Smulovitz, creator of close to a dozen scores for MascallDance, performs his original electronic score, while the audience sits high above the action. Shaw Festival costumier Christopher David Gauthier's designs further enliven the experience.
OW takes place in our home of 25 years, the Labyrinth at the historic St Paul's Church. In celebration of the Dancing on The Edge Festival 30th anniversary, we are flinging open our doors to the public. MascallDance is proud to have been a consistent participant in DOTE and acknowledges with gratitude DOTE's profound influence as a platform for Pacific Rim dance creativity.
Jennifer Mascall is a choreographer, teacher, mentor and an advocate for the art form. Mascall and her nearly 200 choreographies have received the Clifford E. Lee Choreographic Award, the Jacqueline Lemieux Prize, Dora Mavor Moore and Jessie awards for her work in theatre, the Isadora Award, the Canada 125 Confederation Commemorative Medal, the International Women's Day Award, the Ann O'Connor Award, and the Edinburgh Fringe Festival Best Performers Award (The Brutal Telling). Mascall has trained extensively with theatre teacher Linda Putnam, as a teacher of Integral Hatha Yoga, and is a Body-Mind Centering ® practitioner who participates annually in national choreographic think tank Eight Days. 
Situated in Vancouver's West End,MascallDance is a hub for creation, guerrilla improvisation and somatic practice. Jennifer Mascall is at the core, creating and working in many forms. The company offers performances and activities that develop creativity and dance in wide-ranging permutations.
The company gratefully acknowledges the support of the Canada Council for the Arts, The British Columbia Arts Council, British Columbia Gaming Commission and the City of Vancouver Cultural Services.
MascallDance's OW:    https://owmascalldance.com/
Contact         :               media@nullmascalldance.ca 
Link to video:                https://vimeo.com/mascalldance
Tickets + Showtimes:   https://owmascalldance.com/