Historical Performance Ensemble Thursday, September 21, 2017, at 12 noon
Scotiabank Dance Centre, 677 Davie St (at Granville), Vancouver
Tickets $14/$12 students, seniors and children from Tickets Tonight 604.684.2787 www.ticketstonight.ca
Info: 604.606.6400 www.thedancecentre.ca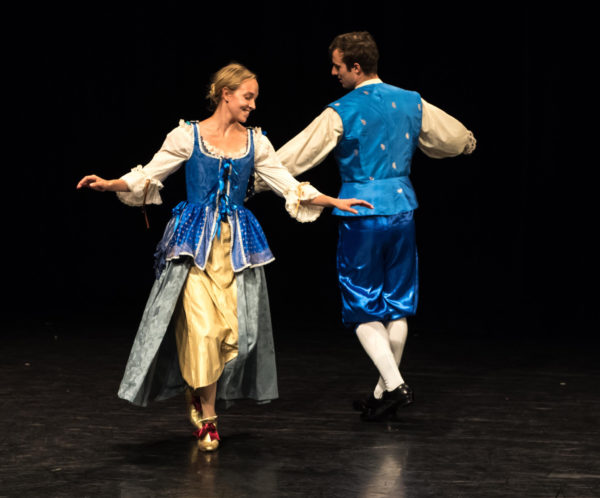 The Dance Centre's popular noon hour series starts a new season with Historical Performance Ensemble, in a presentation of authentically recreated social and theatrical European Baroque dances. Highlighting the elegance, courtly manners and discreet wit of dance from centuries past, the company's work features beautifully constructed costumes, and entrancing music played onstage by specialists on reproductions of period instruments. The performers will demonstrate some of the intricate dances that preceded the development of ballet, from an era which was formative to the modern world.
Historical Performance Ensemble is one of a handful of professional companies worldwide dedicated to the realization and dissemination of historically accurate dance, music, song and theatre, using period costumes and instruments. Founded in 1989, productions have included original full-length plays, interdisciplinary works, recreated concerts (dance and/or song and music) and Soirées (where audiences learn songs and dances and enjoy presentations). Other activities include school shows, commercial events, workshops and masterclasses.  Company members have taught and performed as far afield as Nicaragua, Brazil, England and France. www.historicalperformance.net
2017-2018 Discover Dance! season:
September 21 Historical Performance Ensemble
October 12 Vancouver Tap Dance Society
November 30 Flamenco Rosario
February 22 OURO Collective
March 15 Mandala Arts and Culture
April 26 Arts Umbrella Dance Company
The Dance Centre was established in 1986 as a resource centre for dance professionals and the public in British Columbia and has evolved into a multifaceted organization offering a range of activities unparalleled in Canadian dance. Its goal is to support the development of dance and to develop an environment where it can thrive. The Dance Centre offers programs and resources supporting the professional development of artists, presents public performances and events, manages Scotiabank Dance Centre, Canada's flagship dance facility, and works to promote BC dance.
Facebook.com/thedancecentre | Instagram.com/thedancecentrebc | Twitter.com/dancecentre
Discover Dance! Media sponsors: OMNI Diversity Television, City TV, the Vancouver Courier and the Westender
Official hotel sponsor: Holiday Inn Vancouver Downtown Hotel & Suites
The operations of The Dance Centre are supported by the Canada Council for the Arts, the Government of Canada, the Province of British Columbia, the BC Arts Council, and the City of Vancouver through the Office of Cultural Affairs.

The Dance Centre
Scotiabank Dance Centre, Level 6, 677 Davie Street, Vancouver BC V6B 2G6 Tel 604 606 6400 www.thedancecentre.ca