Thai Dance Company
Thursday September 20, 2018 at 12 noon
Scotiabank Dance Centre, 677 Davie St (at Granville), Vancouver
Tickets $15/$13 students, seniors and children from Tickets Tonight 604.684.2787 www.ticketstonight.ca
Info: 604.606.6400 www.thedancecentre.ca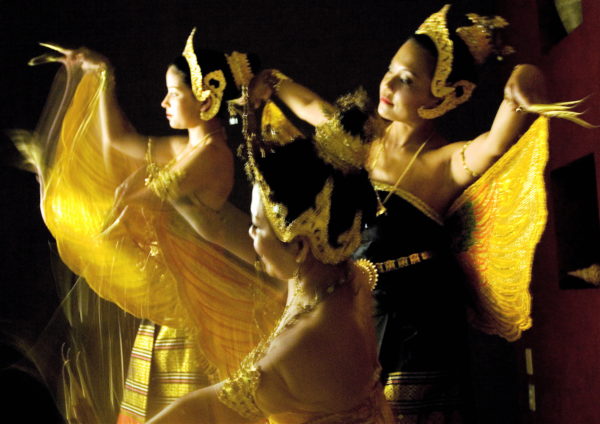 The elegance and precision of Thai dance opens a new season of The Dance Centre's popular Discover Dance! series, with a performance by the Thai Dance Company. Thai dance is famed for its beauty but there is also a strong sacred element between the performers and their spiritual mentors. Artistic Director Megara Solloway teams up with renowned Ottawa-based Thai classical dancer and choreographer Kai Whitcomb to present an exquisitely detailed selection of ceremonial dances as an homage to the divine and a blessing to auspicious occasions. The performance will be followed by a question-and-answer session for the audience.
Thai Dance Company is dedicated to showcasing Thai culture and tradition through dance and drama. The Richmond-based dance company was founded in 2008 by Megara Solloway. Born in Bangkok, her training took place in Thailand. She went on to study in Indonesia and Dubai, U.A.E. before returning to Thailand to continue her training and performing professionally. Thai Dance Company offers an array of dances with choreography originating from the Royal Court of Ancient Siam, traditional dances and Thai mythological dance and drama. The company has performed in Canada, Thailand, India and the Caribbean.
2018-2019 Discover Dance! season:
September 20 Thai Dance Company
October 4 Company 605
November 22 Dancers of Damelahamid
March 14 South Asian Arts
April 18 Ballet BC
May 16 Jacky Essombe
The Dance Centre was established in 1986 as a resource centre for dance professionals and the public in British Columbia, and now offers a range of activities unparalleled in Canadian dance. The Dance Centre offer programs and resources supporting the professional development of artists, presents public performances and events, manages Scotiabank Dance Centre, Canada's flagship dance facility, and works to promote BC dance.
Facebook.com/thedancecentre | Instagram.com/thedancecentrebc | Twitter.com/dancecentre