This week we are excited to share the Ricotta Gnocchi recipe that Chef Mark McEwan demoed at the spectacular event – Chef Meets BC Grape Okanagan Wine and Food Experience – Taste of the Okanagan held at See Ya Later Ranch for our #TasteofThursday feature.
Ricotta Gnocchi with heirloom tomato sauce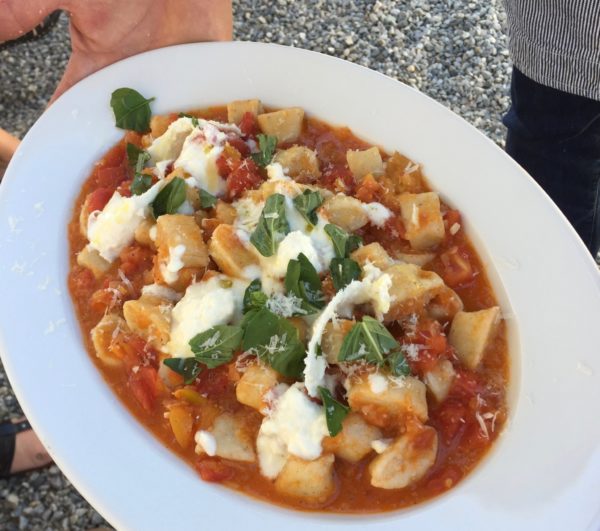 2 lb (1kg) ricotta (preferably buffalo)
1 egg, plus 1 egg yolk
2/3 cups (150ml) all-purpose flour, plus additional for dusting
½ tbsp (7ml) kosher salt
¼ tsp (1ml) black pepper
Grated zest of ½ lemon
1 batch heirloom tomato sauce
2 tbsp (30ml) butter, preferably whipped
1 top-quality burrata (about 8oz/250g)
2 tbsp (30ml) fine olive oil
12 basil leaves, torn
Rinse a sheet of cheesecloth under cold running water, squeeze it dry, and line a large strainer with it. Place the strainer over a bowl; add the ricotta, cover, and refrigerate overnight. The next day, discard the drained liquid, wipe the bowl dry, and tip in the thickened ricotta. Press down on the centre of the mound to form a well. Add the egg and egg yolk, and gently mix into the ricotta with your hands, lifting the mixture, then add the salt, pepper, and lemon zest; gently mix together as before. The dough should be just tacky to the touch-if it feels wet and sticky, incorporate a little more flour.
Flour a work surface and then, working in batches of about a handful at a time, roll the dough into a log about ¾ inches (2.5cm) wide. Flour a knife and trim the end of the log at an angle. Maintaining that angle cut the roll into equal pieces about 1 inch (2.5cm) long. Transfer the gnocchi to a lightly floured baking sheet.
Bring a large pot of salted water to a vigorous boil. Add the gnocchi, and stir very gently to prevent them from sticking. As they float to the surface-after about 2 minutes-remove them with a slotted spoon to a lightly oiled baking sheet to cool. Tomato Sauce recipe continues below.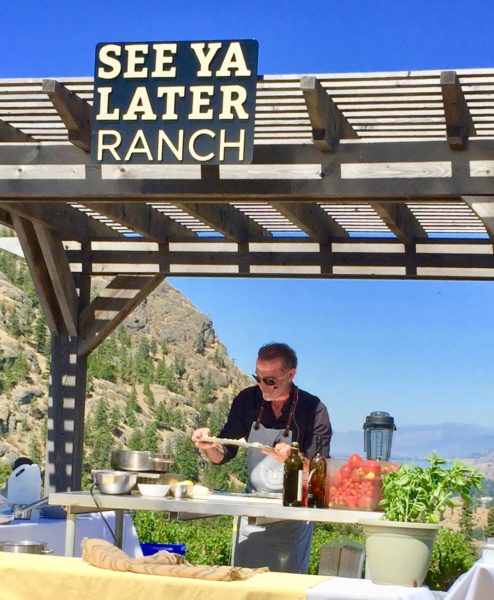 Heirloom Tomato Sauce
3lb (1.5kg) heirloom tomatoes, very ripe-but never mealy
3 tbsp (50ml) olive oil
½ cup (125ml) minced onion
1 tsp (5ml) minced garlic
½ cup (125ml) white wine
2 cups (500ml) basil leaves, torn
Salt and pepper
Blanch the tomatoes for 60 seconds; shock them in ice water, and then peel. Quarter them, then remove and discard their cores and seeds. Set Aside. In a sauté pan over medium heat, sweat the onion in the olive oil until it becomes translucent. Add the garlic, and a minute later deglaze with the white wine. When the wine is reduced to virtually nothing, add the tomatoes. Simmer for no more than 7 minutes, breaking their flesh apart with a wooden spoon as they cook. Add the basil and season lightly.
On medium-high heat, add the cooled gnocchi and stir very gently to cover them with the sauce. When the gnocchi is heated through, taste and correct seasonings. Gently stir in the butter. Divide gnocchi and sauce among warm plates or pasta bowls. Working over a plate, tear the burrata into bite sized pieces and then divide them along with the leaked cream among the servings. Garnish each plate with a drizzle or olive oil and scattering of basil.
Read more about ChefmeetsBCGrape Taste of the Okanagan here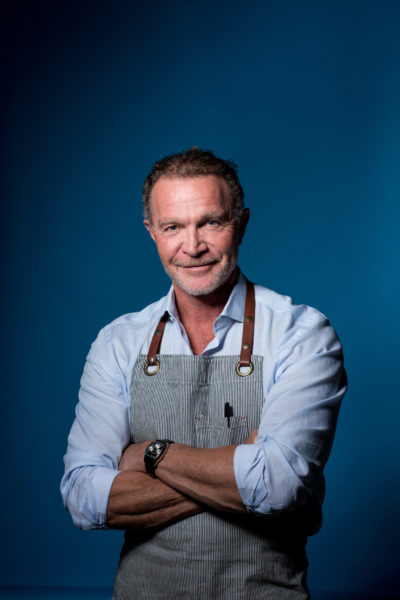 Mark McEwan
From his early years as Canada's youngest ever, executive chef at Toronto's upscale Sutton Place Hotel to his latest endeavour, trendy resto bar Fabbrica, Mark McEwan is never content to rest on his laurels.
McEwan has led the restaurant scene in Toronto for many years. He joins the ranks of the truly innovative with groundbreaking Toronto standards from "North 44" to "Bymark" to the always interesting "ONE", a staple for the "see and be seen" crowd in Yorkville. With "Fabbrica", he has taken another turn and captivated customers with rustic Italian fare in a warm, yet contemporary setting at The Shops at Don Mills.
But, it doesn't stop with dining — in early 2009 he turned his attention to upscale gourmet food and opened McEwans at The Shops at Don Mills. Always attentive to the changing needs of the consumer.
His best selling cookbook "Great Food at Home" added author to his resume and he hasn't stopped there. In late 2011 Mark, with the help of Jacob Richler once again wowed us with "Fabbrica" the cookbook based on the recipes featured in his latest restaurant.
Mark has also added television personality to his long list of talents and was the head judge on "Top Chef Canada". His first show for The Food Network, "The Heat" was a riveting behind the scenes look at North 44 Caters as well as the building of McEwan's grocery store – a ratings winner.
In 2013 Mark paired with OTG Management to consult on menus for two restaurant concepts that were built at Toronto's Pearson International Airport, Fetta and Nobel have received many accolades since their openings that year. Mark's grocery store McEwan also took on the task of feeding commuters…there are now 10 grab and go stations in the airport that feature a selection of sandwiches, salads, snackboxes and mini meals all made and shipped daily from the store to the terminals.
Mark has now taken his famous McEwan food store to the downtown core. The new McEwan is situated in the PATH under the TD Tower and focuses on prepared foods, making breakfast, lunch and dinner on the go a breeze.