The Wines of British Columbia, a non-profit organization that promotes BC VQA wines, put together an exceptional event. The Chef meets BC Grape Okanagan Wine and Food Experience – Taste of the Okanagan held on Saturday, August 26th was a huge success.
The day started with a VIP Reception held on the patio adjoining the See Ya Later Ranch tasting room. An hour to take in the sights and mingle with other guests and the attending chefs.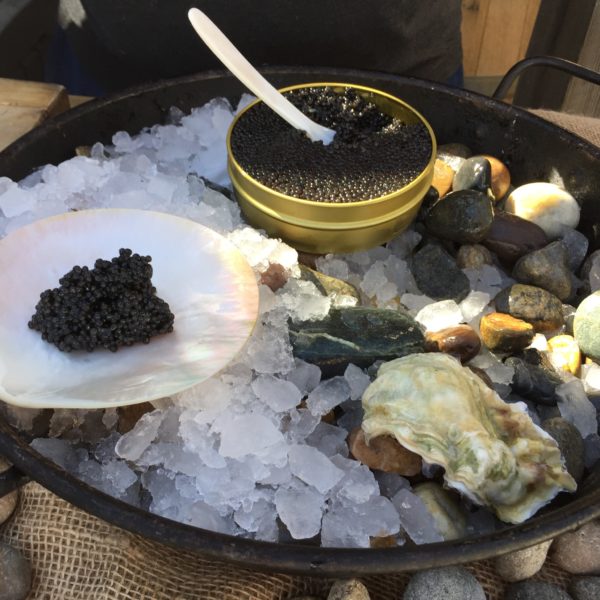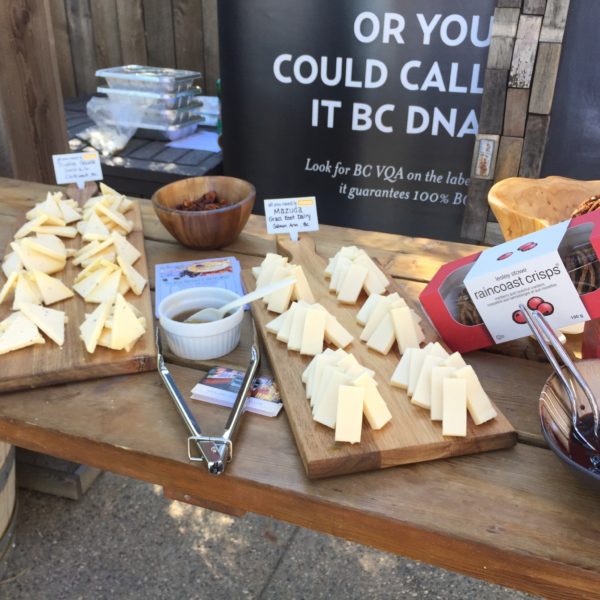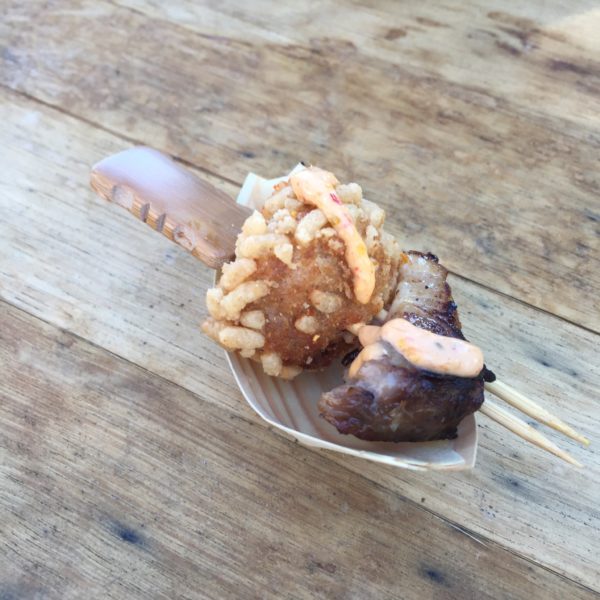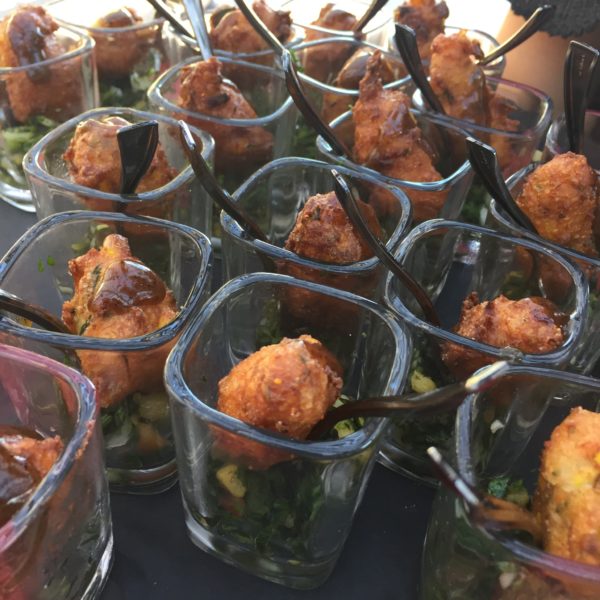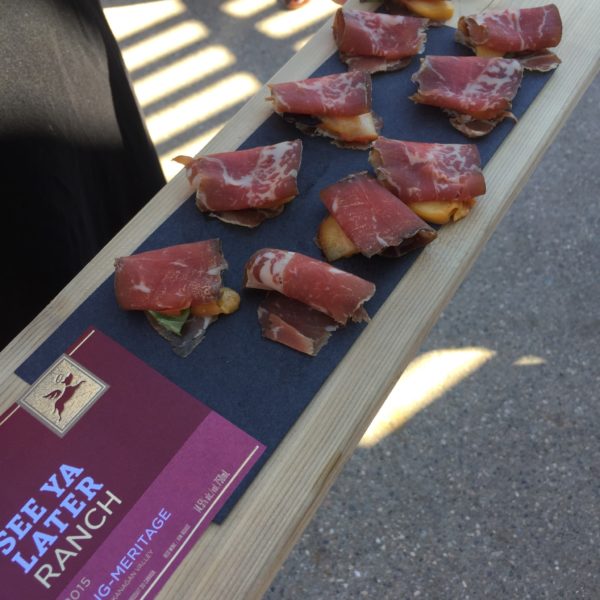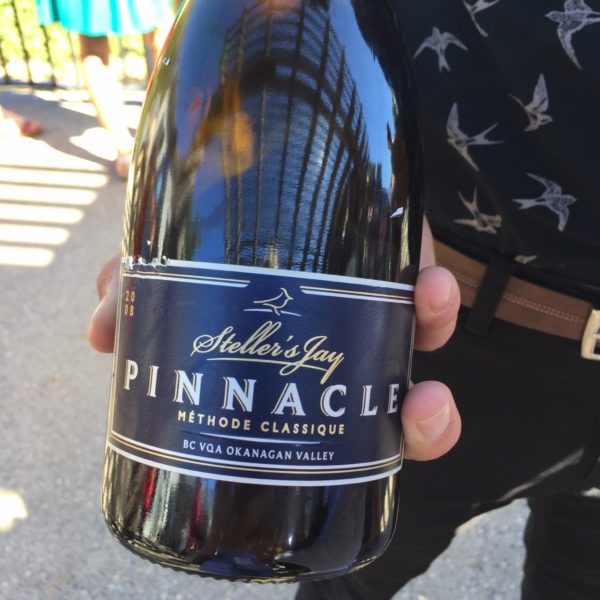 The day included tastings from over 40 BC wineries, master class wine education seminars with Rhys Pender, chef demonstrations, food and wine pairings, and food stations prepared by the country's top chefs.The vast expanse of the See Ya Later Ranch became the site of the most incredible wine and food tasting event to grace the Okanagan this year.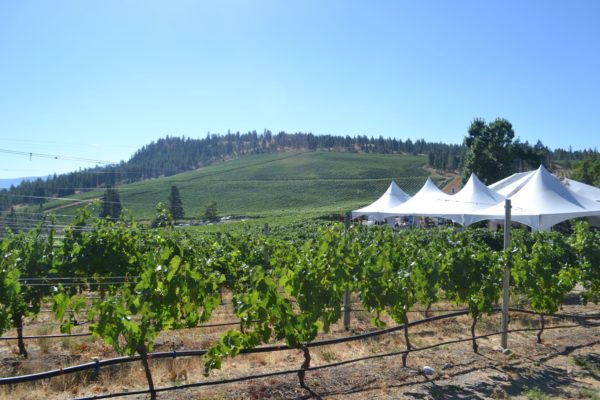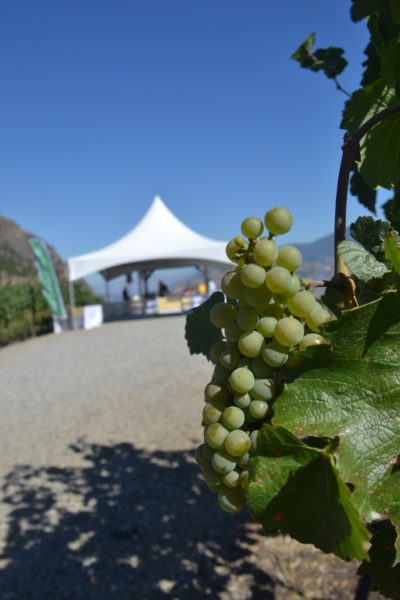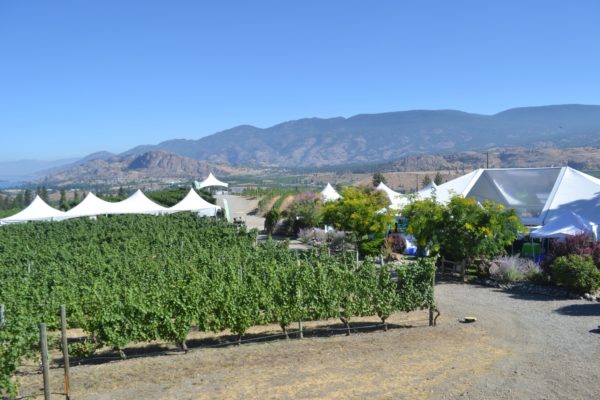 Most impressive were the number of food and wine stations that dotted the extensive grounds of See Ya Later Ranch. The vistas were outstanding and the venue couldn't have been better placed.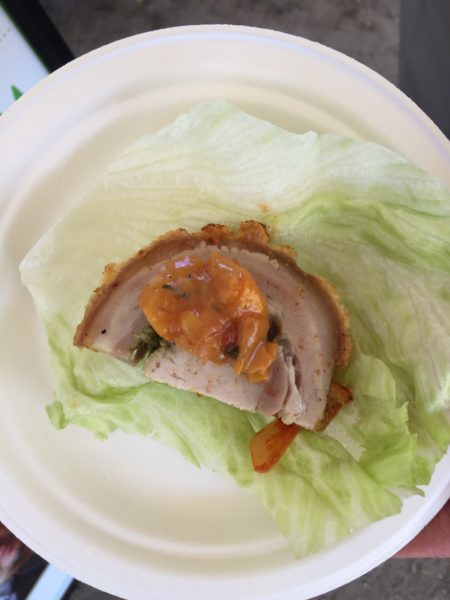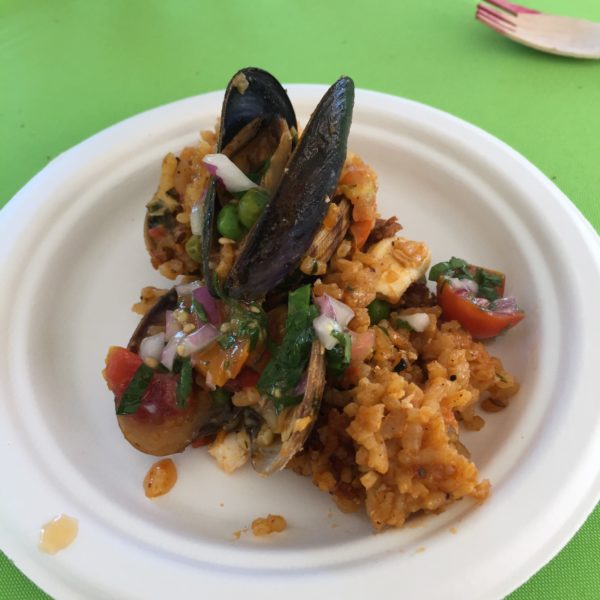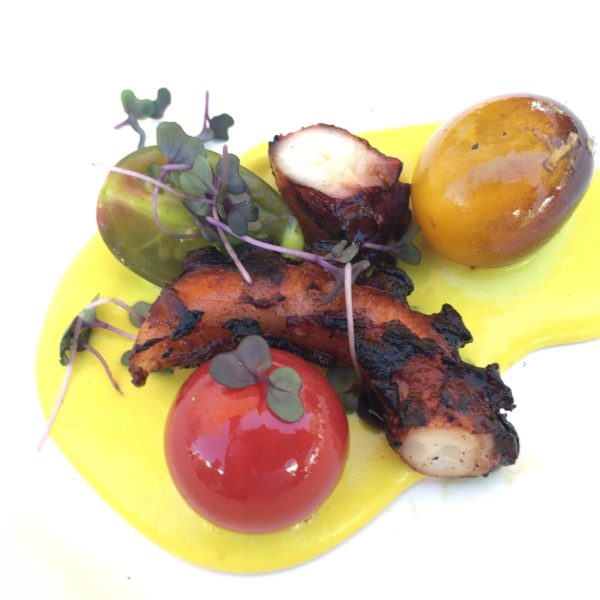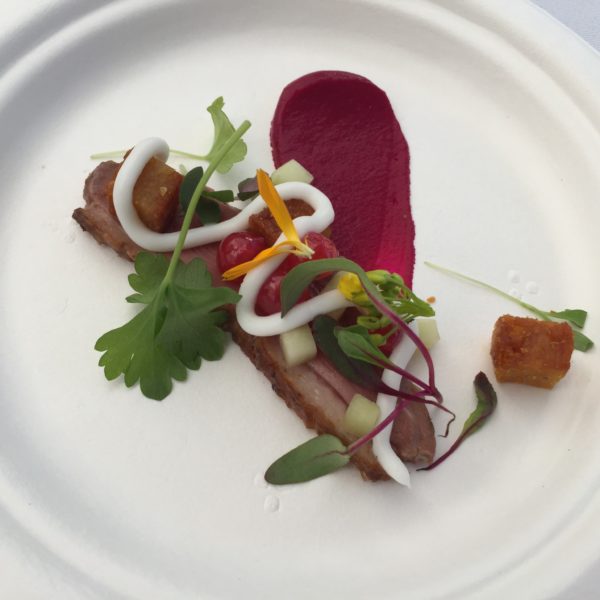 I never encountered a lineup more than 5 or 6 people and many times almost no lineups at many of the food and wine stations because there were so many stations. This event was so different from many crazing events I've attended, and in the best way. The food was amazing.
Food Network stars including Chefs Mark McEwan, Nicole Gomes, Trevor Bird and Connie DeSousa, as well as top BC Chefs from the Okanagan and Vancouver, were on hand throughout the afternoon along with winery owners and their principals or representatives. There were many opportunities to talk with the chefs and the winery representatives as we strolled among the tents set up throughout the grounds.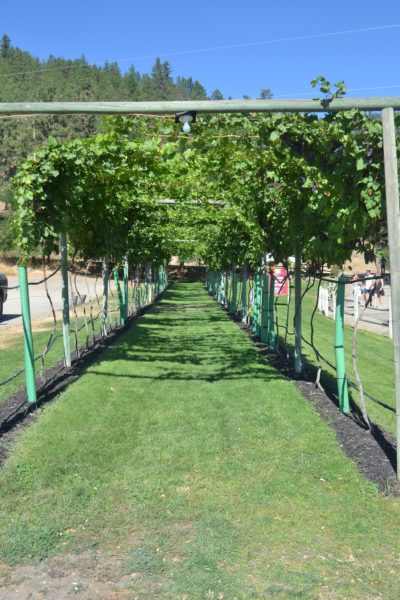 We spent the majority of our time sipping and munching our way around the grounds but did take time for a few of the seminars. Unfortunately, the cooking demos and the wine seminars were held simultaneously which meant you had to choose between learning about wine or sampling a delectable dish. Of course, the upside was, even more, opportunities to chat with chefs and winery types in the tents during this time while many of the guests were occupied with seminars and demos.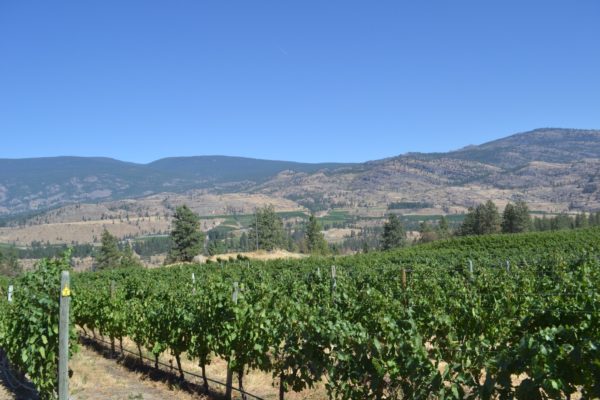 The weather was its usual Okanagan spectacular and it did get fairly warm as the day wore on. The tents shielded guests from the sun and there were a number of relaxing areas furnished with chairs or lounges where you could take a break from the action.
I attended the wine and cheese pairing seminar conducted by David Beaudoin. It was informative and a bit of a hoot. Beaudoin is as gregarious as he is knowledgeable and everyone had a great time learning about which BC cheeses go well with which BC VQA wines.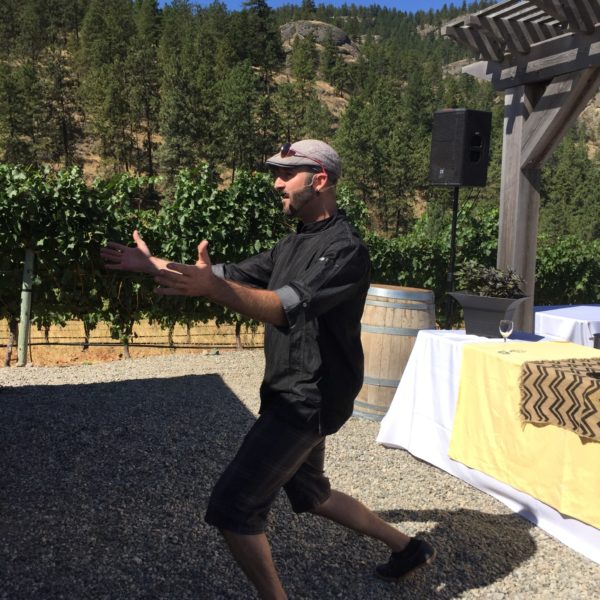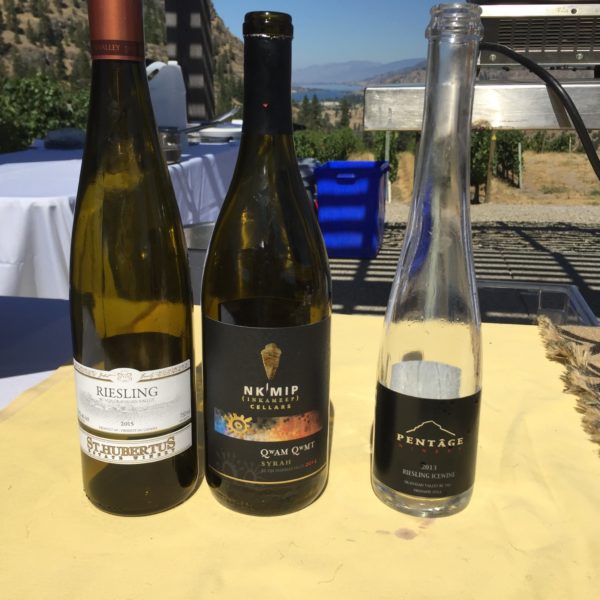 The cooking demos by Chef Mark McEwan were very popular and it was standing room only for about half the people who attended. I managed to fit in the Ricotta Gnocchi cooking demo which I really enjoyed. Chef McEwan is a consummate showman and kept everyone entertained.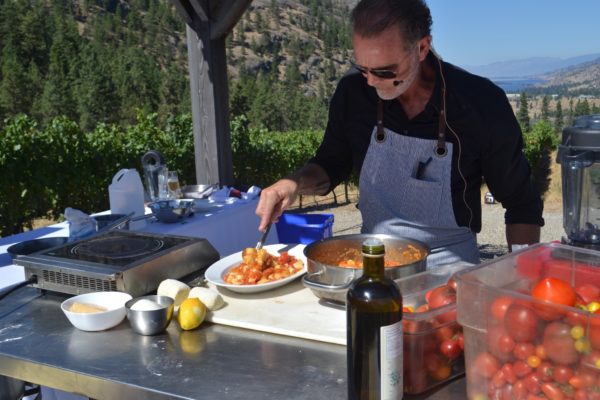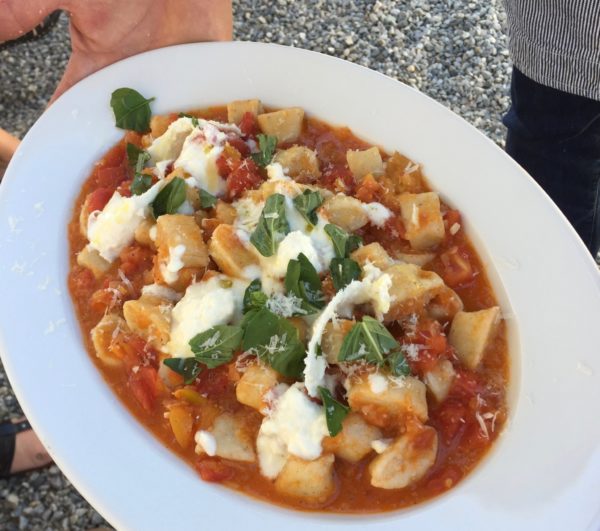 The wine seminars were limited to 30 guests and not surprisingly the Bubbles and Rosé seminars were the most popular, filling up well ahead of the start time. The Gamay seminar I attended was informative and it was interesting to discover which BC wineries produce this "next big thing" wine.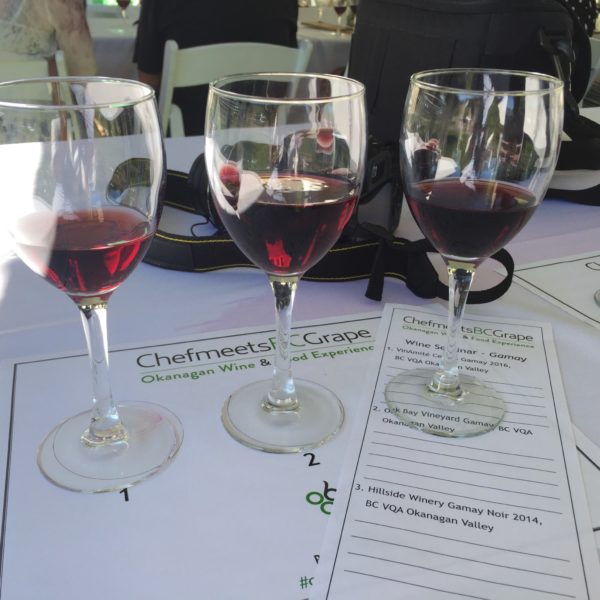 The event ran from 11:00 a.m. (for VIP guests) until 4:30 p.m. I started my day at 10:30 in order to take photographs before the crowds arrived so by 3:30 I was ready to call it a day. Kudos to those with the stamina to handle five and a half hours of food, wine, and the sunshine.
Overall it was one great day in the vineyards.
VIP Tickets included an exclusive VIP Welcome Reception, with wines and canapés, meet and greet and photo opportunities with Food Network celebrity chefs as well as early access to the festival grounds, and parking.  VIP tickets were limited. Cost $155.00 including taxes.
General admission tickets included complimentary shuttle bus transport from downtown Okanagan Falls to the festival site.  Cost $115.00 including taxes.
Fingers crossed that Chef meets BC Grape Okanagan Wine and Food Experience and Taste of the Okanagan returns next year. It was just too good not to be back.
WINERIES, CHEFS & SEMINARS  
MAIN TASTING HALL   CHEFS & WINERIES
Mark McEwan – The McEwan Group
Matthew Stowe  – Joseph Richard Group
Matthias Fong – River Café
Duncan Ly & Jinhee Lee – Foreign Concept
David Beaudoin – The Canadian Cheese Poet
Dirty Laundry Vineyard
Hillside Winery
House of Rose Winery
Howling Bluff Estate Winery
Inniskillin Okanagan Vineyards Estate
Jackson-Triggs Okanagan Estate
Kismet Estate Winery
Kraze Legz Vineyard and Winery
Little Straw Vineyards Estate Winery
SYLR BARN  CHEFS & WINERIES
Ryan O'Flynn – The Guild
Rod Butters – RauDZ Regional Kitchen
Trevor Bird – Fable Kitchen
Bench 1775 Winery
Black Hills Estate Winery
Black Sage Vineyard
Bordertown Vineyards & Estate Winery
C.C. Jentsch Cellars
Clos du Soleil Winery
Crescent Hill Winery
Culmina Family Estate Winery
Hester Creek Estate Winery
VINEYARD WAY – EAST CHEFS & WINERIES
Connie DeSousa & John Jackson- Charcut
Shane Chartrand- Sage at River Cree Resort
Moon Curser Vineyards                               –
Mt. Boucherie Family Estate Winery
Nighthawk Vineyards
Nk'Mip Cellars
Osoyoos Larose Estate Winery
Painted Rock Estate Winery
Pentâge Winery
Perseus Winery
VINEYARD WAY – WEST  CHEFS & WINERIES
Nicole Gomes – Cluck N' Cleaver
Wesley Young – Pidgin
Quails' Gate Winery
River Stone Estate Winery
Savard Vines
See Ya Later Ranch
St Hubertus & Oak Bay Estate Winery
Steller's Jay
vinAmité Cellars
CHEF DEMO STAGE
12:15 pm    David Beaudoin: Wine & Cheese Pairing Seminar
1:15 pm      Mark McEwan: Gnocchi Demo
2:15 pm      Nicole Gomes: Tuna & Tomato Consommé  Demo
3:15 pm      Mark McEwan: Heirloom Tomato Sauce Demo
WINE SEMINARS WITH MASTER OF WINE, RHYS PENDER
12:15 pm     BC Bubbles—Celebrate every day with BC Bubbles.
1:15 pm     Rosé—Rosés are trending… elegant, sophisticated and dry.
2:15 pm    Gamay—Ga-what? Rhys will convince you it is the next big thing.
3:15 pm    Vertical—Examine how well BC wines age.
Disclosure: I received complimentary tickets to attend this event. Travel and accommodation for the weekend were at my own expense. All opinions are my own.