Crispy Pork Schnitzel Sandwich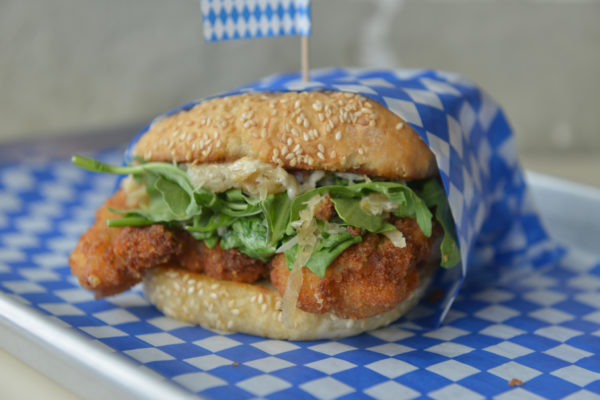 Serves 4 
INGREDIENTS: 
4 pieces thin sliced pork shoulder 
1⁄2 cup buttermilk
1 Tbsp. grainy Dijon mustard
2 sprigs fresh thyme
1⁄2 cup canola oil
Sauerkraut
4 of your favourite burger buns (Bells and Whistles uses squishy sesame milk buns) 
2 cups Panko bread crumbs
1 lemon wedge
Mayonnaise
Arugula
salt to taste
METHOD: 
Combine the buttermilk, mustard and thyme. 
Marinate the pork in the mixture overnight. 
Coat the pork in the bread crumbs. 
Shallow fry in a large frying pan on medium heat with canola oil 
Once golden brown and cooked through, drain on some paper towel and season with salt and 
lemon juice. 
TO ASSEMBLE: 
Toast the buns and spread the mayo on both sides. 
Place the sauerkraut on the bottom, then the schnitzel, followed by arugula and the top bun. 
Enjoy! 
Alessandro Vianello, Development Chef, Gooseneck Hospitality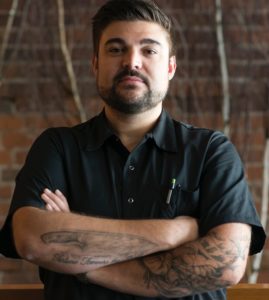 As Gooseneck Hospitality's Development Chef, Alessandro Vianello oversees menu development and kitchen operations at all four of the company's Vancouver restaurants — Wildebeest, Bufala, Lucky Taco and Bells and Whistles — and employs his passion for serving dishes comprising locally sourced and sustainable ingredients that underscore the bounty available to chefs plying their trade in the Pacific Northwest. 
Vianello first embarked upon a clear-cut path to culinary success when he enrolled in a chef training program in high school in 2004, then headed overseas to further sharpen his skills in Castello Vicchiomaggio's kitchen and vineyards in Tuscany, where he developed an abiding appreciation for fine wine and food pairing. He returned to Vancouver to work as Lead Cook at the iconic Fairmont Hotel Vancouver and earn his Red Seal certification while graduating at the top of his class at Vancouver Community College before bouncing back across the pond in 2007 to take on the role of Head Chef at 3 AAA Rosette for Esperante in the Fairmont St Andrews in Scotland. 
After opening a pair of Prestons Restaurant + Lounge locations in Chilliwack and Vancouver as Executive Chef in 2009, Vianello took his culinary show on the road as co-owner/chef of the highly rated Street Meet food truck in 2011 and went on to helm the back-of-house opening team at ARC Restaurant in the Fairmont Waterfront in 2013 before joining the Gooseneck Hospitality family as Executive Chef of Wildebeest in early 2016. 
Instagram: @bellsandwhistlesyvr @chefavianello Facebook: /bellsandwhistlesyvr
Website: www.bellsandwhistlesyvr.ca