It's always a treat to receive a recipe from Chef Perry Mascitti of Tulalip Resort Casino because he provides us with lots of advice and suggestions to make our time in the kitchen easier, and the results beyond our expectations. This #TasteofThursday feature is no exception. Thanks, as always, for sharing with us Chef Perry.
You have a cooking job to do.…  
Not a job to make more work, but the opposite.  I have one simple tool in my kitchen to do just that…let me explain and show you the way to easy cooking.
Chefs spend hours in a kitchen to prepare a classic dish, which is sometimes required and necessary to cook it perfectly.  The reality is—that's why guests go to restaurants, because chefs give diners a culinary experience that frees them from the many hours of labor in their own kitchens, right? 
Chefs tell me all the time that they don't relish the thought of spending more time cooking at home, after all, it's something they do as their profession. Chefs need a break, too!  Home cooks and chefs are always looking for kitchen "hacks" (shortcuts) because hacks do make life a little easier and that's always a good thing.
The one "tool" that I use in my kitchen all of the time is…and I hate to admit, it's not the most exciting or exotic tool in the world. It isn't a hand-forged African ebony wood handled-700-layered steel knife flown in from Japan, and it might even be considered, well, bland.  This tool is something I cannot go without. It's the one-sided shining star…yes, it's aluminum foil. Not the cheap thin stuff. I am talking about the glorious thicker luxurious variety.  It's worth the cost to make life that much easier, which frees cooks from the kitchen.  
A few ways that I use this shiny friend are, double lining all of my roasting pans for super easy clean up, protect the bottom of my oven, top seal roasting pans to braise meat to steam-tender yumminess (got ribs?), not to mention that I crinkle it up in long rolls to act as a rack at the bottom of my roasting pans and protect my pie crust edges from burning.  By doubling up the foil you can create your own special shaped pans for baking anything you want. You can even crumple it up and use it to scrub your outdoor grill.
For this recipe, I am taking a French cooking method "en Pappillote," which means "food cooked in closed parchment."  I am hacking this method by using, what else, standard aluminum foil. I love preparing this recipe when we have guests over for dinner.  There are so many other advantages by allowing you to flex your own creative juices.  It can be prepared ahead of time, so you can spend more time with your guests.  The beauty about this recipe is that it be cooked on any outdoor gas or wood-fired grill because it cooks in its' own juices. The dish comes out moist and full of wonderful flavour.  Please, use this recipe as only a guide and give yourself creative wings to fly around your kitchen.
Enjoy!
Spanish Style Salmon en Pappillote  aka "en Foil-llote"  
Executive Chef Perry Mascitti
serves 5-6
You will need:
A 3 pound side of Sockeye Salmon, skin off or skin on with pin bones removed (this recipe will work with a variety of seafood like halibut, ling cod, and shrimp)
Aluminum foil, one sheet of thick, doubled if it is a thinner brand, approximately 24"x24"
Compound butter
¼ stick (1/4#) salted or unsalted butter, softened
1 tablespoon garlic, chopped
1 teaspoon cumin, ground
½ cup cilantro, chopped
½ cup green onion, chopped
½ cup red bell pepper, finely chopped (small diced or sliced in thin rings)
1 each jalapeño (optional), seeds removed and finely chopped or diced
Black pepper and salt to taste (recommending 1 sprinkle of each)
4 ounces Mexican brand beer (or any brand), beer* is optional for this recipe.
*Refreshing tip…Drink the rest of the cold beer while cooking.

Method
Mix butter with garlic and cumin (this is called compound butter).  Add salt (if the butter is unsalted) to taste. Set aside to soften well.
Place salmon on one half of the foil.  Spread or spoon compound butter evenly on the salmon.  Sprinkle all of the other suggested ingredients evenly over the top. Now pour the beer over the salmon. Fold the foil over the salmon and tightly crimp together all the three open sides.
Warm up the outdoor grill to high, or if preferred, preheat the one to 425 degrees F.  Ten minutes before serving, place foiled salmon on the grill or in the oven for about 12 minutes.  The cooking time will vary depending on the thickness of the salmon.
Just another "hack" side note.  If you want to add a light smoky flavour, place a 2 cup pouch of wood chips on your grill—made with what else, foil! Make sure the aluminum pouch is riddled with tooth pick holes.  Place it on the grill 10 minutes before starting the salmon..oh-so-nice.
EXECUTIVE CHEF PERRY MASCITTI
Tulalip Resort Casino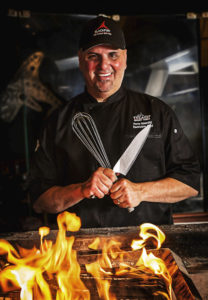 Executive Chef Perry Mascitti of Tulalip Resort Casino has more than twenty-six years of diverse culinary experience under his toque. A 1990 graduate of the prestigious Culinary Institute of America, Mascitti has been responsible since 2007 for overseeing seven very different dining venues as well as the catering operations in this world class destination resorts' extensive banquet facilities. He also masterminds the gastronomic portion of the award-winning "Taste of Tulalip," a top national wine, food and tradition weekend event showcasing Washington state's best pours, in partnership with sommelier Tommy Thompson.
Fresh from New York's CIA at Hyde Park, Perry completed his apprenticeship at Loews Coronado Bay Resort in San Diego. From there he went on to serve as Executive Chef at some of California's top resorts and was chef/owner of Sage Catering Company in San Diego. Mascitti gained notoriety for his innovative menus, making a meal an event to remember. From private dinners for two to multi-course galas and celebrations, his personal touch and fervor brought a distinctive note to the table that his large roster of clientele sought.
Ten years ago, he was enticed to move to the Pacific Northwest from Fantasy Springs Casino Resort in Indigo, California, as much by the local bounty as the chance to shape dining at the then new Tulalip hotel and conference center. In his position as executive chef, Mascitti manages nearly 190 kitchen staff, including chefs, sous chefs, and cooks.
For his passion, skills, and outstanding creativity in the kitchen, he has been honored with the Master of Taste "Maître du Gout" Award from the Chefs of America Awards Foundation, among other accolades. A guest chef invitee at the James Beard House in New York as well as on Holland America Cruise Lines, his cuisine has also been featured at The Auction of Washington Wines and Seattle Magazine's Best of 2010 "Party of the Decade".  
Mascitti, his wife Mary Beth and son Brandon reside in Arlington. An ardent believer in giving back to the communities that have supported him throughout his career, he is involved with several charities including the Pendleton Foundation devoted to helping meet the financial needs of Coachella Valley residents suffering from cancer, the Children's House Foundation in San Diego, and the Fireman's Fund, which benefits the families of firefighters who have lost their lives while on duty.
When he removes his chef's toque, Mascitti can be found exploring off-beat and ethnic restaurants – and always taking notes on food. He also enjoys singing rock and roll and is an ardent amateur photographer.