Journeys East Asian Ice Cream Surprise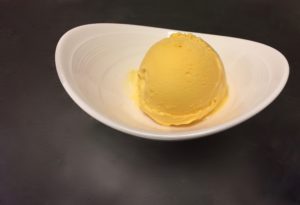 Yield:  approximately 1 quart
All of the sweet creations from Tulalip Resort Casino are produced at our in-house bakery for  guests to enjoy throughout the property.  At the resort's Journeys East restaurant, the pastry team creates a signature ice cream dessert that utilizes an ice cream base, which is much easier to make than the standard custard based American style (resulting in a denser ice cream mixture) that everyone is more accustomed to eating. This particular ice cream recipe mixture is different due to the lack of eggs and the use of condensed milk, which is a very popular sweetener in Asia. It also gives it a distinct flavor and mouth feel. When making the recipe, I recommend adding a favorite fruit puree to the mixture. Currently at Journeys East, we are showcasing passion fruit, mango, and strawberry fruit flavors. As the weather begins to heat up, and the fruit options become more plentiful, breaking out this recipe would be a welcomed cooling, sweet treat!
Ingredients
1 can sweetened condensed milk
1 cup heavy cream
1 cup whole milk
1 cup pureed fruit *see note
1 ounce fresh lemon juice
Method
With a whisk mix all ingredients in a large bowl until incorporated. Once fully combined, place in an ice cream machine and operate per manufacturer's instructions

Freeze until set. This ice cream will keep in the freezer for two weeks
*NOTE: Use frozen fruit, ripe fresh fruit purees, or unsweetened juices. If making your own purees is preferred, start by removing the skin and seeds, if any. Place into a food processor and run until smooth. Pass through a strainer to remove any seeds or membrane that isn't desired in the final product.
Pastry Chef's "Tricks of the Trade"
When making ice cream or sorbet, pre-freeze the ice cream container before adding any ingredients. This will prevent the ice cream or sorbet from having any melty sides and keep the product optimal.
Enjoy!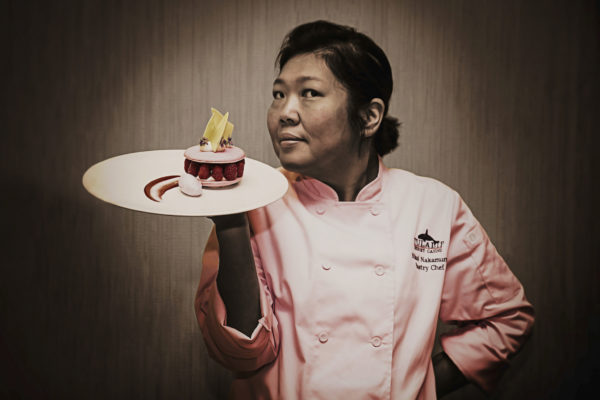 CHEF NIKOL NAKAMURA
PASTRY CHEF, Tulalip Resort Casino
Nikol Nakamura has a true love for pastry with over 25 years of experience under her belt. A 1996 Pasadena Culinary Arts graduate, she has orchestrated the dessert program for the Resort's restaurants ranging from fine dining to casual, their signature buffet, onsite catering, room service and espresso outlets. Nakamura has former Tulalip Chef Dean Shinagawa to thank for bringing her back to the Pacific Northwest.
Post-graduation, she began her career with an externship at the renowned Herbfarm Restaurant under star chef Jerry Traunfeld. In years following, Nikol worked as an assistant to Donald Wressell, one of the top American pastry chefs. Under his tutelage at the Four Seasons hotel, she further honed her techniques and personal style.
Nikol has a passion for learning and truly enjoys sharing new found knowledge with her team of eleven bakers and assistants. Her sweet team is responsible for providing the anticipated dessert station at the Auction of Washington Wines and all VIP events. Nakamura embraces the freedom and autonomy afforded her by the Tulalip Resort.
An Issaquah resident and 2014 kidney transplant survivor, Nikol has a new found love for traveling the country (as time permits), spending time cooking big dinners for her close knit family, and spending time with her husband, step-son, and their dog, Charlie.
About Tulalip Resort Casino
Award winning Tulalip Resort Casino is the most distinctive gaming, dining, meeting, entertainment and shopping destination in Washington state. The AAA Four Diamond resort's world class amenities have ensured its place on the Condé Nast Traveler Gold and Traveler Top 100 Resorts lists. The property includes 192,000 square feet of gaming excitement; a luxury hotel featuring 370 guest rooms and suites; 30,000 square feet of premier meeting, convention and wedding space; the full-service T Spa; and 7 dining venues, including the AAA Four Diamond Tulalip Bay Restaurant. It also showcases the intimate Canoes Cabaret; a 3,000-seat amphitheater. Nearby, find the Hibulb Cultural Center and Natural History Preserve, Cabela's; and Seattle Premium Outlets, featuring more than 122 name brand retail discount shops. The Resort Casino is conveniently located between Seattle and Vancouver, B.C. just off Interstate-5 at exit 200. It is an enterprise of the Tulalip Tribes. For reservations please call (866) 716-7162.