Tulalip Resort Casino Chefs Go Crazy For indi chocolate In Their Kitchens 
Tulalip Resort Casino chefs are going crazy for cacao in their kitchens from February 1st through March 31st. During a recent trip to Seattle, Executive Chef Perry Mascitti discovered Seattle's indi chocolate location at Pike Place Market, which is a true small batch, single origin roasted "bean-to-bar" operation.
After his visit, Mascitti brought back samples for his chefs to taste and he challenged them to understand the nuances and complexities of the cacao bean. He went on to ask them to create a dish presentation that would best match those unique and wonderful characteristics. The excitement was so high that some of the chefs decided to not only use indi's cacao beans in their roasted nib form, but to also find a place in their recipes for indi's cacao tea blends, numerous spice rubs and un-tempered chocolates, as well as their 72% chocolate bars.
"We wanted to feature chocolate because it possesses a special magic that can bring a big smile to anyone's face whether young or old at heart. The allure of chocolate is so strong that cultures from around the globe have always found a way to incorporate this versatile ingredient into their recipes. Once the chefs tasted the indi chocolate, they were hooked. And nothing says 'I love you' like chocolate," states Mascitti.
"Chef Perry Mascitti reached out to indi chocolate because he wanted to form a local partnership for Tulalip's upcoming Chocolate Exposed dining event. He wanted his chefs to get as close as possible to a local cacao supplier. He ultimately selected indi chocolate because he understood that finding the right cacao bean is like a winemaker choosing the right grape to create their top wines – and a perfect pair was born," states indi chocolate's, Erin Andrews.
Chocolate lovers eager to try new dining options: this line-up is for you.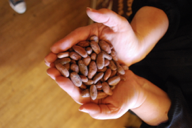 Chef Brent Clarkson's Cedars Cafe's featured dish is a Chicken Mole Torta with tender chicken breast simmered in Chef Brent's house-made mole sauce prepared with indi chocolate's cacao nibs and mole spice rub; topped with coleslaw, chef's tomatillo salsa, and pickled jalapeño. Served on a grilled torta bun and topped with his house-made black refried beans. To end the meal on a sweet note, guests can enjoy a Warm Chocolate Cobbler with pecans and indi cacao nib streusel.
Chef David Buchanan's Blackfish Wild Salmon Grill and Bar will feature indi chocolate Dusted Filet Mignon – an 8 ounce filet with chocolate demi-glace, potato torte, broccolini, and spaghetti squash. Dessert consists of indi cacao nib churros with a Peruvian chocolate dipping sauce.
Chef Jeremy Taisey's Tulalip Bay Restaurant will feature Cacao-Citrus Tea Smoked Duck Breast served with a chocolate ravioli, foie gras cake, black truffle, and dark chocolate. And that's not even dessert! Enjoy indi cacao infused Amaretto Zabaglione with fresh raspberries, indi chocolate sorbet and cacao nib tuile post-meal.
Chef John Jadamec's Eagles Buffet featured dish will include Pork Ribs seasoned with indi chocolate barbecue spice rub and bitter sweet chocolate; served with a house-made BBQ sauce.
At Journeys East go right for the finale by trying Pastry Chef Nikol Nakamura's Warm Chocolate Fondant Cake with indi chocolate Gochujang chocolate sauce and ginger whipped cream.
Chef Brent Clarkson wants guests to order up a game day sandwich at The Draft Sports Bar and Grill, featuring a Spiced Cacao Rubbed Flank Steak Sandwich rubbed with their special blend of spices and indi chocolate cacao nibs, grilled and served warm on a buttery toasted ciabatta roll; topped with spiced cilantro sour cream slaw and fresh pico de gallo. Served with fries.
For more information about Tulalip Casino Resort or to grab a spot at one of the Chocolate Exposed restaurants, visit tulalipresort.com.
About Tulalip Resort Casino
Award winning Tulalip Resort Casino is the most distinctive gaming, dining, meeting, entertainment and shopping destination in Washington state. The AAA Four Diamond resort's world class amenities have ensured its place on the Condé Nast Traveler Gold and Traveler Top 100 Resorts lists. The property includes 192,000 square feet of gaming excitement; a luxury hotel featuring 370 guest rooms and suites; 30,000 square feet of premier meeting, convention and wedding space; the full-service T Spa; and 7 dining venues, including the AAA Four Diamond Tulalip Bay Restaurant. It also showcases the intimate Canoes Cabaret; a 3,000-seat amphitheater. Nearby, find the Hibulb Cultural Center and Natural History Preserve, Cabela's; and Seattle Premium Outlets, featuring more than 122 name brand retail discount shops. The Resort Casino is conveniently located between Seattle and Vancouver, B.C. just off Interstate-5 at exit 200. It is an enterprise of the Tulalip Tribes. For reservations please call (866) 716-7162.
Bio for Erin Andrews
Erin Andrews started making chocolate in 2008 when she took her daughters to Belize to show them "how chocolate grows from trees." Erin co-founded a bean-to-bar chocolate making company, Cotton Tree Chocolate, in Belize in 2008. In 2010, she founded indi chocolate in Seattle. Her experience in Belize, meeting cacao farmers and making chocolate from their beans, showed her the positive community impact that results from buying directly from farmers and cooperatives rather than middle men. Compensating farmers and cooperatives for the best-tasting beans allows indi chocolate to make a great tasting chocolate, and reward the hard work from responsible for those great tasting beans. Erin's early entry into artisan chocolate making lead her to collaborate with Diamond Custom Machines to provide better machines for the chocolate making community. In addition to bean-to-bar chocolate and the machines to make chocolate, indi chocolate has a wide range of cacao-based products including cocoa butter body care, savory cacao spice rubs, cacao teas, and a chocolate mixology line to further encourage the exploration of chocolate. indi chocolate will be opening the first bean-to-bar factory in Pike Place Market in spring 2017, along with a new cafe and a gathering space for classes.
About indi chocolate
indi chocolate is a small, independent bean-to-bar chocolate making company located in Pike Place Market in Seattle, WA. They source cacao beans directly from farmers to make our single origin, dark chocolate in small-batches from hand selected, heirloom, cacao. indi only adds a little extra cocoa butter and sugar to their beans to make great tasting chocolate. Their philosophy of the fewest and best ingredients results in the best experiences for their customers. They make a wide range of cacao based teas and spice rubs, as well as a mixology line and body care products made from cocoa butter. indi chocolate is excited to announce that they will be moving to their new Market Front in  the Pike Place Market during the spring of 2017, which is the very first bean-to-bar chocolate factory in the Market. Guests will be able to watch how chocolate is made, learn about where chocolate comes from and try chocolate that is ethically sourced from around the world. In addition to seeing the whole process of bean-to-bar chocolate, enjoy coffee, drinking chocolate, and other indi chocolate inventions at their cafe.